After initially trading down a topline miss, shares of Disney (NYSE:DIS) have reversed in trading on Wednesday, 2/8, to trade marginally higher. Shares are now up more than 16% since Donald Trump won the US Presidential Election, representing roughly 900 basis points of alpha over the S&P 500. While the stock isn't a screaming buy here, the combination of a relatively attractive valuation, strong cash flows, and a healthy earnings growth outlook continue to make us long-term bullish.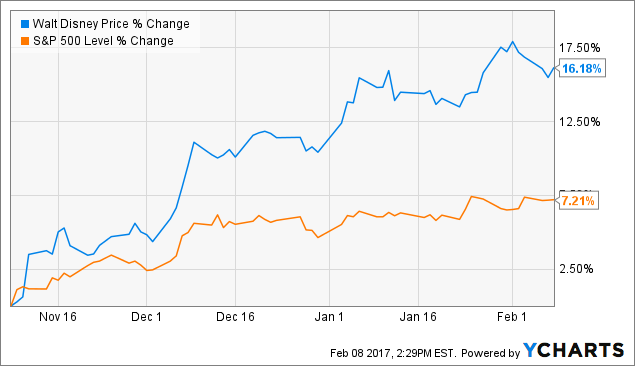 DIS data by YCharts
In the Media Networks segment, revenue and operating income continue to fall due to higher programming costs and lower ad revenues at ESPN. NBA and NFL cable contracts keep getting more expensive, while viewership continues to fall. That isn't a winning combo, but multi-channel service build-out and enhanced mobile capability serve as a basis for long-term growth. In a broad sense, we think people have grown accustomed to watching sports and sports highlights on ESPN. That isn't changing. What is changing is how people consume media, and once Disney figures out the optimal way to distribute ESPN content direct to the consumer, the Media Networks business should bounce back and be primed for sustainable, long-term growth. We remain long-term bullish on this segment.
The Parks and Resorts segment performed much better than we expected in the quarter. Despite Hurricane Matthew and a shift in the New Year's holiday, revenues still rose 6% while operating income rose 13%. Shanghai was a huge hit for the Chinese New Year, while Paris and Hong Kong performed above par. Domestic attendance was down 5% due to numerous factors including weather, but that decline was offset by higher average guest spend. The good thing about the Parks segment is that Disney has significant pricing leverage over consumers (regardless of the price, there will always be demand to go to a Disney park), so any unusual attendance drops can be offset by higher average ticket prices and higher average hotel room rates. Such price hikes will also prove additive to the operating margin. Going forward, there are multiple catalysts in this segment investors can get excited about, including the World of Avatar launch this year and Star Wars Land build-outs at Disneyland and Disney World (set for 2019 open). We remain long-term bullish on this segment as well.
The Studio Entertainment and Consumer Products segments should both benefit over the next several years from a very strong Disney movie line-up. On the Consumer Products front, Cars will be a huge boost this year. On the Studio Entertainment front, as we get closer and closer to the Infinity War movies set to launch in 2018 and 2019, consumer excitement surrounding the Marvel Universe should build. All the while, a Star Wars movie every year will gross between $1 and $2 billion worldwide. Comps will get tough, but each of these segments is set-up for solid growth into 2020.
On the valuation front, the stock is trading around 16.4x FY18E earnings on 1-year EPS growth expectations of 12.9%. The S&P 500, meanwhile, is trading at 15.5x FY18E earnings on 1-year growth expectations of 11.6%. That puts Disney at a 1.27 PEG versus a 1.34 PEG for the market, so we can see that Disney trades at a slightly more attractive valuation than the market. Per Morningstar, we can see that Disney has grown operating cash flow at a 14% CAGR and free cash flow at a 20% CAGR over the past 5 years. A relatively attractive valuation, strong historical cash flow growth, and a promising earnings growth outlook continue to make us long-term bullish on Disney. We aren't rushing to buy the stock here, but will look to buy on any dips.
Disclosure: I/we have no positions in any stocks mentioned, but may initiate a long position in DIS over the next 72 hours.
I wrote this article myself, and it expresses my own opinions. I am not receiving compensation for it (other than from Seeking Alpha). I have no business relationship with any company whose stock is mentioned in this article.