The Company
NYX Gaming Group Limited (OTC:NXXYF) [CVE: NYX] is a leading digital gaming provider headquartered in Las Vegas. NYX provides one of the world's largest portfolios of leading content and technology to gaming operators, lotteries and casinos across the globe. NYX also has one of the broadest distribution bases in the industry with over 200 unique customers. The diversified game catalogue delivers content across web and mobile formats, focusing on Bingo, Casino, Lottery and Sportsbook verticals. NYX's Open Gaming System was recently named 2016 Platform of the Year in acknowledgement of its position as the industry's market-leading gaming offering, which allows licensees to leverage the best-of-breed multi-vendor casino content from around the world.
The online gambling industry
The gambling industry could be separated into destination casinos such as Las Vegas, local casinos and online gambling. Due to the economic turmoil, people have been opting for the local casinos rather than to the fancier destination casinos. This has been impacting some casinos such as the ones in Atlantis. Having said that, more people have been preferring online gambling over physical casinos.
Online gambling is very attractive for many reasons. Playing online could be done anywhere at any time such as at the wee hours of the night after partying or even on the toilet at work on your cellphone. Also, you could play for cents, for free or you could go big and bet thousands and realize your dream and quit your job the next day. But the most attractive feature, specially for poker players, is the opportunity to be playing against players from all over the globe and the ability to be playing multiple tables simultaneously.
Thus are the main reason many sources project this industry growing by 9-10% annually in the next couple of years, such as Statista that estimates 10.5% for 2017-2018 or Technavio that expects global online gambling to grow at a CAGR of more than 9% by 2020.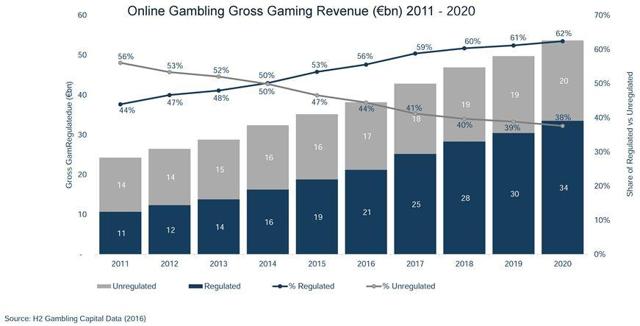 However, the biggest challenges for this industry are the legal issues. Though several countries permit land-based casinos because it promotes tourism and is the primary source of revenue for several of them, they are extremely strict on online gambling. Some of these countries include South Korea, Japan, Portugal, and Norway. However, online gambling cannot be fully banned as users can access foreign websites with a proxy server and gamble easily with international credit or debit cards. But, there has been a major shift in online gambling regulations, which allows gamers from all over the world to participate in such games. Due to the ease in the rules on online gambling, the governments receive a significant amount of revenue in the form of taxes, which is used for the welfare of the society. This form of gambling also creates employment opportunities across the globe.
The opportunity
NYX seems to be a very attractive investment story as it is in a very interesting position in the life cycle of the company and the industry. While NYX is not an online gambling platform, it sells the platforms (web or mobile) to those clients such as 888 (OTCPK:EIHDF) and PokerStars. After the latest acquisitions of OpenBet, NYX has started a strategy of monetizing via three main focuses:
Growing revenues organically - As mentioned above, the industry is projected to grow at around 9-10% in the next couple of years. With the consolidation strategy for its platforms, I believe it would capture a larger share of this growth. But to be conservative, I am assuming in my model that NYX would maintain its market share. As per 3Q16, management mentioned that 95% of the revenues are recurring, lowering the acquisition and development costs of those clients in the future.
Refinancing debt - Opportunistically, management will be refinancing the debt. While it seems as a sound strategy to lower the financing costs, I believe that obtaining lowering rates during 2017 seems difficult. If NYX delivers the 40% margin by the end of 2017, accessing to lower financing in 2018 may become a reality.
Cutting the cost covering the real performance - As any growth phase company, NYX did not follow closely its costs while growing, now that it has reached a certain scale where it makes sense to monetize its assets and start growing organically. Actually, NYX has mentioned in the last calls that its intention is to increase its EBITDA margin to the 40% level by the end of the year.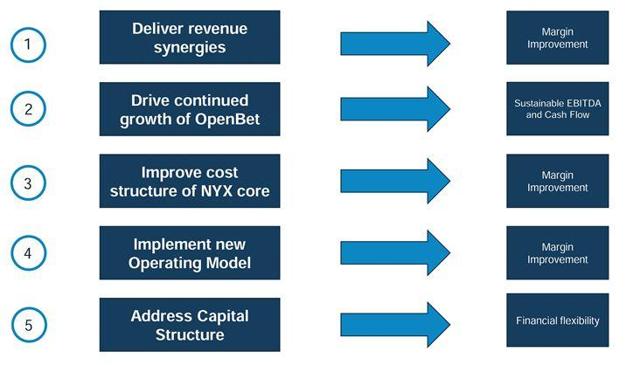 Source: Company 3Q16 Conference Call Presentation
The Valuation
Based on my DCF valuation, NYX stock fair price is USD 3.45 (CAD 4.70) based on the following assumptions:
Revenue growth of 9% annually in the following three years and gradually decelerating to 2% by 2024, which is also the terminal growth rate. This scenario is a bit more conservative (but realistic) than the forecasted growth of the industry. However, this will only be valid if it continues to be successful at basing its revenue scheme on the activity on the platforms. In the pessimistic case that growth is 2% annually forever, the valuation drops to USD 0.44 (CAD 0.59), a downside of 49% of the current price.
Increasing EBITDA margin to 40% for the 2018 full year. In order to achieve that, NYX needs to shave 17MM CAD of the costs. Cost of sales should increase with activity in 2018 thus NYX actually needs to reduce around 23 MM CAD of the SG&A cost. While it seems significant, it just reflects around a 10% reduction of its pro forma 2017 SG&A.
Most of the capex is development cost. I believe that as NYX transfers its platform to a digital solution and dilutes the development cost of some solutions on more clients with minimal tweaks, this cost, as a percentage of revenues, will decline to around the industry average of 9-10%.
The Catalysts
I foresee two main catalysts moving the stock price to its intrinsic price:
Acquisition target: Thanks to the strong market position of NYX and its low price tag (market cap 120 MM CAD) it is an attractive target acquisition for larger gaming players that want to enter this specific market via a strong player with a solid presence in this industry.
Improving margins: Despite growth revenue being an important factor in the business plan of NYX, improvement of the margins may be a stronger catalyst to the stock price as it would send a strong signal about the delivery of new management.
The Risks
Low liquidity of the stock: while the Canadian stock [CVE: NYX] is relatively liquid, the US pink sheet (OTCMKTS: NXXYF) is illiquid. As I see this as a longer term story I am not worried about the liquidity, but it is something to keep in mind before investing.
Regulations: The online gambling's largest risk is regulation. Regulation is coming. We are still not sure whether it will be a global regulation, national, state-wide, a combination etc. But there is certainly one coming. Regulation can be beneficial to the market as it may open up the informal market but also, if structured improperly, can limit this market as the gambling laws did for the French market.
Delay in the margin improvements or increase in the financing cost: While an important part to improve margins is to digitize the platforms, another piece is the dilution of fixed costs through revenue growth. Thus, if revenue growth is not achieved, the improvements would be more difficult and consequently, would be more difficult to attain cheaper financing.
Acquisition target: Even though I stated this as a catalyst, also it can cap the upside to just 20-30% of the current stock price depending on when the acquisition would be done.
Disclosure: I am/we are long NXXYF.
I wrote this article myself, and it expresses my own opinions. I am not receiving compensation for it (other than from Seeking Alpha). I have no business relationship with any company whose stock is mentioned in this article.