Welcome. In this article we'll see International Speedways Corp (NASDAQ:ISCA) is financially positioned to facilitate continued growth. The dividend yield, a meager 1.13%, is easily covered by incomes. I believe ISCA is a reasonable choice for long-term investors because it has demonstrated consistent growth in revenues which have reliably accrued to shareholder's equity.

ISCA's Involved In A Big Hotel Deal
ISCA owns and operates motorsport racing facilities and entertainment venues. The company has historically monetized through selling advertising, admission tickets, and concessions, all activities tightly focused on the motorsport entertainment business.
An October 2016 press release by the company (available here) gave additional details on the branded "DAYTONA ONE" mixed-use hotel and commercial facilities located across the street from the company's legendary Daytona International Speedway.
The hotel project marks an expansion in the variety of the company's (potential) revenue streams. This facility has been under development since 2013 and vertical construction on the hotel began during the latter half of 2016.
Will ISCA Lose Their Operational Focus By Trying To Get Into The Hotel Business?
ISCA will receive incomes based on the hotels profitability, given the firm's 33.25% equity ownership in the joint venture.
Summing up the relevant news around this venture, it looks like ISCA won't be participating in running the facility (which is good, its outside of their established skill in running speedways), and ISCA effectively owns an option on the hotel's profits. It looks like the company will remained focused on the speedway business.
Stock Valuation
The most recent balance sheet from ISCA reports $263M cash and a similar amount of long-term debt. Its good this firm isn't debt laden, considering their revenue growth for the last ten years has put along around 2.5% per annum. It'd be hard for management to justify a debt load on such modest earnings growth.
ISCA is a steady grower and outside of risks such as economic slowdown, terrorism, and negative stock market events, the big risk to their business is motorsports losing popularity. The major Daytona 500 event continues pulling in 250,000 attendees each February so popularity does not appear to be waning.
The following graph shows ISCA's slow and steady revenue growth of 2.5% per year and the success they've had increasing net worth: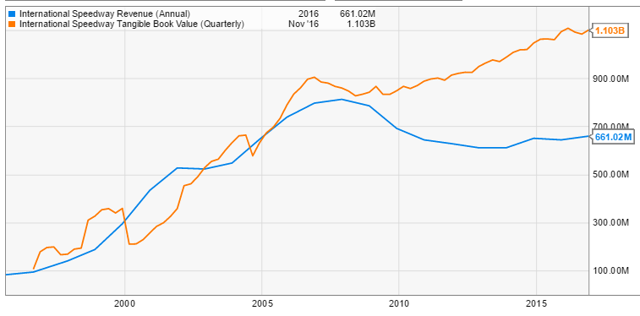 Source: Faloh Investment, YCharts
To model the stock's fair value, I dug a bit deeper into the financial figures and smoothed the company's free cash flow earned per year, which I found to average around $100M annually. I projected the company's free cash flow generation to grow at 3% per year in-line with its historical trend. The result is a fair value of $31.38 against today's market price of $36.35: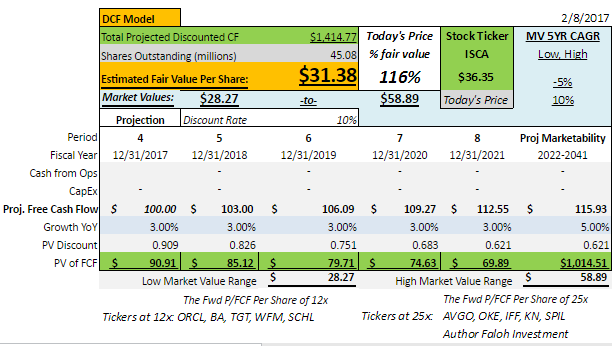 Source: Faloh Investment, YCharts
The valuation isn't compelling enough for me to rate this a buy. But if my growth expectations are beat over the next five years, ISCA is likely to deliver good stock price performance.
Why Speedway Revenue Growth Is Slow
ISCA's primary challenge is in growing profitable sales revenues. Their incomes depend on people coming to their facilities, then what price they can sell advertising space, concessions, and the admission tickets themselves. With the new hotel going up in Daytona, assuming its success, the company will add a welcome few million to the bottom line each year. I believe 3% annual revenue growth accounts for the potential of this operation.
The company is trading at a 16% premium to fair value. Overall, I believe ISCA is fairly valued. From this price level, long-term investors appear in-line to earn a respectable 5% annual return and a small dividend.
Appendix: International Speedways Corp
Source: Faloh Investment, YCharts
ISCA Chart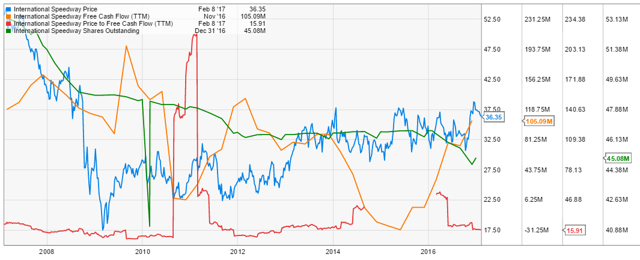 Trial YCharts and make charts like these.
Disclaimer: This article represents the opinion of the author as of the date of this article. This article is based upon information reasonably available to the author and obtained from public sources that the author believes are reliable. The author does not guarantee the accuracy or completeness of this article. This presentation is the author's interpretation of the information contained in the article. The author may close his investment position at any point in time without providing notice. The author encourages all readers to do their own due diligence. This is not a recommendation to buy or sell a security.
Please click the + icon next to my user name and follow me, Faloh Investment, as I work to keep you informed on further developments as the market continues to present major value opportunities.
Disclosure: I/we have no positions in any stocks mentioned, and no plans to initiate any positions within the next 72 hours.
I wrote this article myself, and it expresses my own opinions. I am not receiving compensation for it (other than from Seeking Alpha). I have no business relationship with any company whose stock is mentioned in this article.