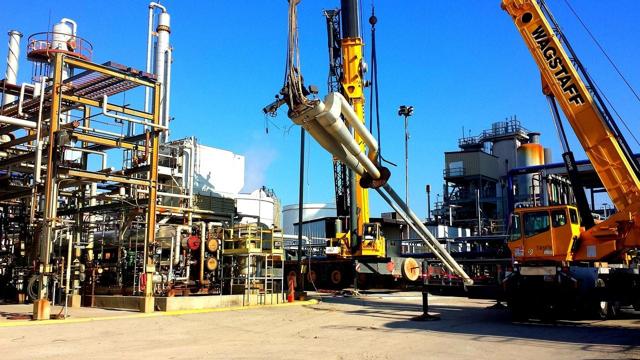 source: Stock Photo
Since talks about cutting production in order to support oil began earnestly in October, the market has rapidly and radically changed, frustrating the efforts of OPEC and Russia to re-balance the market by the second half of 2017.
Huge amounts of supply are coming from several different producers this year, while the pace of demand growth from China has dropped to the lowest level in three years.
Also important, is OPEC in particular asserts it doesn't have any concern over the increase in supply from U.S. shale producers, saying demand will offset any added output this year. The problem there is you don't hear the cartel talking much about Brazil and Canada, which together will boost supply by over 400,000 barrels per day this year.
As for U.S. production, crude inventories soared by 14.2 million barrels to 503.6 million barrels, according to data from the EIA, easily surpassing analyst expectations of 2.5 million barrels.
Why analysts continue to miss on their outlooks
U.S. production continues to be misread, for two reasons in my understanding. The first is not all production comes from U.S. shale, and some offshore oil is increasing supply. The other and probably most important factor is the improved efficiencies coming from shale producers.
I think what's happening is rigs and wells are being measured in the same way they've been in the past. In other words, if over a couple of months 30 more rigs were added, they're being discounted because they are producing much more oil per well and rig than they were in even the recent past. That means a lot more oil is being produced than is being projected, which is why output and inventory levels are always outperforming estimates.
There is also the possibility during this period when U.S. producers are growing exports, there is a period of volatility as they work through balancing production for the domestic market and production targeted for international markets. In that case more oil may be coming from Canada and other exporters to offset the oil now being used to compete globally.
It's more probable is a misreading of the productivity coming from U.S. shale producers. This is partially understandable because we still don't know how much more oil is coming from the increasing completed wells and adding of rigs; there is no historical track record to guide the market.
One thing that is apparent, there is a lot more oil being produced than most in the market are figuring into their models, which means we're going to have to upwardly revise our inputs into those models to get a more accurate reading on U.S. oil production and supply. I think that will probably take a few more months to put in place.
U.S. isn't the only producer growing significant supply
It's also worth noting that Canada and Brazil, from projects started years ago, are now ready to add over 400,000 more barrels to the market this year, which will offset a chunk of the supply cut. This isn't mentioned much in the media or from OPEC or Russia for obvious reasons: it would further weaken the effect of the cut on the price of oil.
Within OPEC the numbers aren't as strong as it appears when including the countries excluded from the agreement, and Indonesia, which suspended its membership not too long ago.
Including the 13 countries now in OPEC, the drop in production from December to January, was a modest 690,000, far below the 1.14 barrels per day decline cited by the media. It's disingenuous to only report the data coming from the countries participating in the production cut, and leave out the additional supply coming from non-participants in the cartel.
Not only does it give the impression of the deal having more impact than reality points to, but it in fact isn't removing as much oil as suggested. After all, just because there may be fairly decent compliance to the deal doesn't remove the oil coming from Iran, Libya and Nigeria from the market.
Also not being factored in is the 73,000 barrels per day produced by Indonesia, which would bring the total January production within the cartel to 32.89 barrels per day, if it was still a member.
The outlier that could disrupt all of this
Now that the Trump administration has taken a more aggressive stance against Iran, this could throw a wrench in my thesis that oil will be driven down in the near future.
American economic sanctions on Iran would remove a lot of oil from the market, which of course would completely change the balance of the market in favor of higher oil prices. The obvious problem is investors can't count on this happening, unless they're into gambling rather than investing.
Unless Iran wants to play chicken with President Trump and the U.S., which is obviously not in its best interests, it's unlikely economic sanctions will be implemented; but Iran doesn't always operate rationally, so doing something against its own interests could happen, which would press the U.S. to impose economic sanctions on it.
Under that scenario, and with a production cut deal still in place, that would support oil beyond the fundamentals.
Conclusion
Based upon the fundamentals, I think WTI oil will experience a drop in price in the near future, probably falling to below $50 per barrel - probably around $48 per barrel, with Brent a right at, or a little above, $50 per barrel.
With an historical record of longs in the market, whom apparently believe they can continue to drive the market while ignoring the fundamentals, oil is being set up for a sharp downward correction. Outside of the Iranian factor, I see this as inevitable.
The key to my thesis is the oil market has been completed disrupted by U.S. shale production, led by the shale segment, which has made the U.S. the global leader in oil. For that reason, when considering OPEC and Russia, the market no longer works in the way it did when there were only two major players. It's also important because that third player, meaning the U.S., doesn't engage in artificial production cuts in an attempt to manipulate prices.
That means, along with major producers like Canada and Brazil, OPEC and Russia have less impact on the markets than they have in the past. It also means the U.S. is the new swing producer, and what it does will be more important than what the former dominant forces do.
The U.S. is ramping up production, as are other countries. At the same time the pace of demand from China is slowing, which will probably cut back on the projected demand growth for 2017, which has been estimated to be in a range of 1.2 million barrels per day to 1.6 million barrels per day by various sources. The most likely scenario is demand growth will be closer to the 1.2 million mark than the 1.6 million mark.
Wells and rigs continue to be completed and added in the U.S., while inventory climbs. This isn't a bullish scenario, it's a bearish one. Until the market catches up with the reality OPEC and Russia no longer have the ability to impact the market as they have in the past, it'll continue to defy the fundamentals, right up until the time the price of oil plummets and they scramble to cover their positions.
Disclosure: I/we have no positions in any stocks mentioned, and no plans to initiate any positions within the next 72 hours.
I wrote this article myself, and it expresses my own opinions. I am not receiving compensation for it (other than from Seeking Alpha). I have no business relationship with any company whose stock is mentioned in this article.