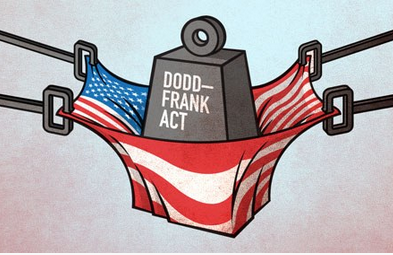 Article Purpose
The purpose of this article is to:
Dodd-Frank
Dodd-Frank is obviously not a person; it is a law that haunts the financial services sector and is experiencing strong opposition by the new Republican administration that believe it has been a drag on the U.S economy since its inception.
Too Big To Fail
The Dodd-Frank Act was designed and enacted to ensure that a financial crisis like that in 2008 won't happen again. As such, it sought to attack the principle problem that policymakers believe caused the crisis in the first place - the growth and proliferation of too-big-to fail banks.
Dismantling Dodd-Frank
Trump recently slammed the Wall Street reform law as a disaster and vowed to do "a big number" on it.
More than 22,000 pages of regulations are destabilizing the banking industry with the most significant consequences falling on smaller regional banks. Banking costs to meet federal requirements are highly onerous.
Trump blamed excessive regulation as the cause behind making it extremely difficult for individuals, medium sized businesses and business start-ups to obtain bank loans. Banks cannot efficiently loan money to consumers and small businesses.
Although 64% of net new jobs in the U.S. economy between 2002 and 2010 came from employment by small business, this source of growth has disappeared since the enactment of the Dodd-Frank Act. While larger firms have access to credit in the capital markets, millions of small firms, limited to borrowing from beleaguered community banks, are not getting the credit they need to grow and create jobs.
In essence, the regulations are not working to stimulate the economy and act as a major drag on economic growth. The Trump administration will seek to remake the way the U.S. overseas the Banking sector.
Executive Orders
On Friday, the President signed an executive order to "water down" Dodd-Frank's regulatory framework to provide Americans with "better choices and better products that do not burden banks with regulatory costs in the billions of dollars. The intent is to provide greatly needed financial assistance to facilitate greater economic growth.
Banking Stocks Surging
Many bank stocks have surged since the presidential election anticipating a possible change in the Dodd-Frank legislation.
The banks presented in the chart below are selected from a larger group and they represent startling share value gains since the election on November 8. Please note the close aggregation and rising pattern at the beginning and end of the chart.
Three Banks Leading the Charge

Source Perfcharts
Morgan Stanley (NYSE:MS) topped the three by climbing approximately 65% from a negative reading last June. Citizens Financial (NYSE:CFG) also exceeded 55% from the negative low in June. JPMorgan Chase (NYSE:JPM) rose short of the first two but made a respectable showing gaining approximately 38% from its June low. All three rose with the presidential election results.
The Financial Select Sector SPDR ETF (NYSEARCA:XLF) was included to represent a broader market context to the comparative mix. It tests to what degree changes in Dodd-Frank might impact a broader range of financial stocks within that ETF.
As noted in the chart, XLF also reflects a similar pattern across the time interval used hitting a low point in June and then beginning an assent which accelerated 25% from the low after the election results.
On the other hand, the 25% gain for XLF was significantly smaller than MS and CFG and less smaller than JPM. One can speculate that the deviations represent greater similarities in make-up between MS and CFG and closer similarities between JPM and XLF with XLM deviating the most from more traditional banking companies.
As a Financial Sector Index, XLF invests at least 95% of funds through investment in: real estate; diversified financial services; insurance; capital markets; REITs, consumer finance; mortgage finance; real estate management and development; and banks.
Morgan Stanley Profit and Revenue Top Estimates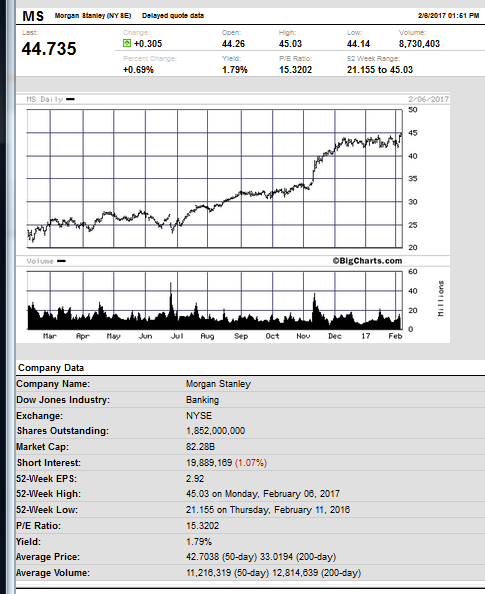 Source Bigcharts
Beginning in July, Morgan Stanley began an accelerated rise which closed at 34 on November 7. From that point share value rose more sharply closing at 44.43 on February 3, an increase of 23.4% in the three months post-election.
Morgan Stanley Earnings and Revenues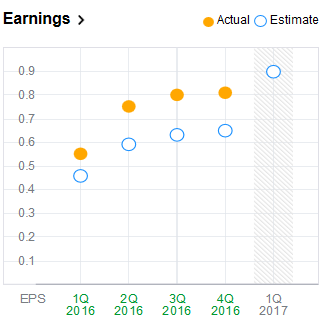 Source Yahoo Finance
Actual and estimated earnings are on the rise with an increase for Q4 and a projected increase for Q1 2017.
Reported post-earnings on January 19 for Q4 and full year 2016 indicated quarterly diluted earnings per share rising by 108% y-o-y. Net revenues for FY16 were $9.02 billion, 17% above Q4 FY15 and beating market consensus estimates of $8.5 billion.
Multinational net Q4 FY16 income was $1.67 billion or $0.81 per diluted share compared to $908 million, or $0.39 per diluted share, in Q4 FY15. Projected Q4 FY16 net income was $0.65 per diluted share, $0.16 below what was achieved.
FY16 net revenues were $34.63 billion compared to $35.16 billion in FY15. Net income applied to Morgan Stanley for FY16 was $5.98 billion, $2.92 per diluted share. The previous year it was $6.13 billion, or $2.90 per diluted share. Morgan Stanley outperformed 2015 financial results.
Citizens Financial Group Tops Earnings and Revenues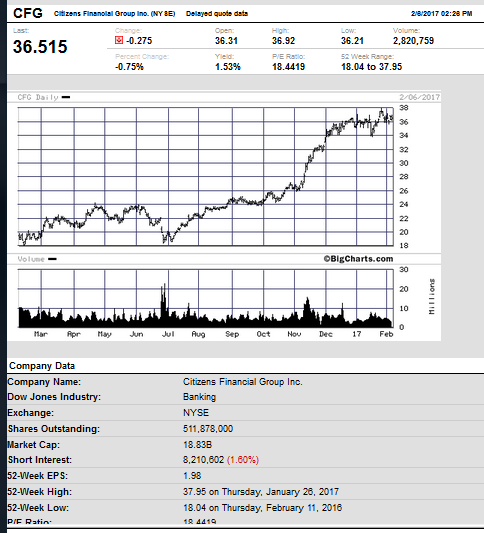 Source Bigcharts
In early July, Citizen's shares began to rise closing at 27.35 on November 7. Subsequently, stock prices continued to increase closing at 36.79 on Friday February 3. This represents a share value increase of 25.6% after post election results.
Citizens Financial Group Earnings and Revenues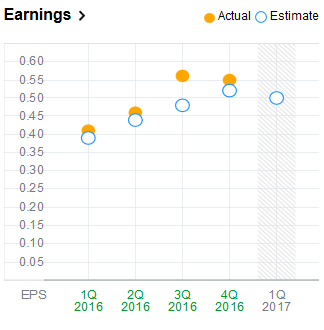 Source Yahoo Finance
As noted in the graph above, both actual and estimated earnings rose for Q4 2016 and estimated earnings for Q1 2017 projected a small decline.
Active post earnings reported on January 20, 2017 for Q4 2016 showed quarterly GAAP and non-GAAP total revenues and diluted EPS increases of 10.63% and 31%, year to Year. Both outperformed market estimates.
Q4 2016 revenue was $1.36 billion compared to Q4 2015 revenue that was $1.23 billion and beat Q4 2015 consensus estimates of $1.33 billion. Net interest income rose 13% to $986 million increasing from $870 million the previous year.
Q4 FY16 GAAP and Non-GAAP net income applicable to common shares was $282 million, or $0.55 per diluted share. In Q4 2015, it was $221 million or $0.42 per diluted share. Citizens topped 2015 financial results.
JPMorgan Chase Tops Market Estimates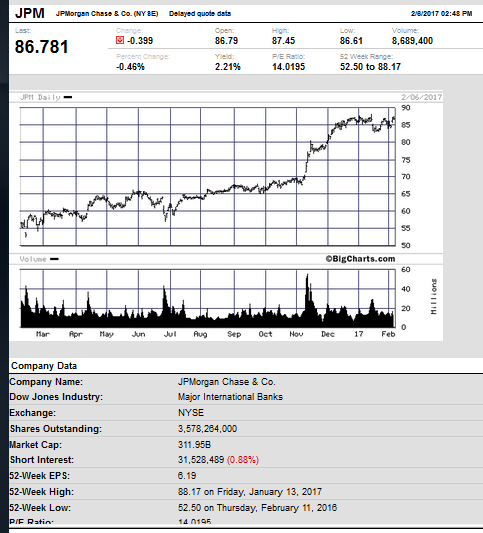 Source Bigcharts
JPMorgan followed the same pattern noted above beginning to climb in price until it reached a pre-election closing value of 68.38. Then it went on a tear closing a 87.18 on February 3 for a three month post-election gain of 21.5%.
JPMorgan Chase Earnings and Revenues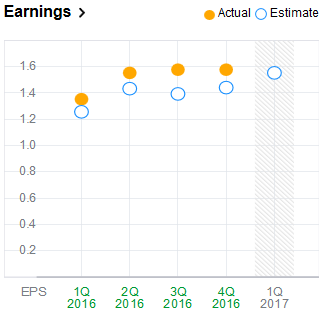 Source Yahoo Finance
Actual earnings rose during 2016 with a projected earnings increase for Q1 2017.
Q4 FY16 post earnings for JPMorgan were released on January 17, 2017. Quarterly diluted EPS outperformed by rising 30% y-o-y. Q4 FY16 net revenues of $24.33 billion were 2% higher than Q4 FY15 earnings of $23.75 billion and beat consensus estimates of $23.1 billion.
Corporate and Investment Bank's revenues increased 20% during Q4 FY16 to $8.46 billion from $7.07 billion.
Commercial Banking net revenues were up 12% to $1.96 billion y-o-y.
Asset Management net revenues were $3.09 billion in Q4 FY16 compared to $3.05 billion the previous year.
Financial services Q4 net FY16 income came in at $6.73 billion, $1.71 per diluted share. This represents an increase from the Q4 FY15 net income of $5.43 billion, or $1.32 per diluted share.
Net interest income grew to 5% y-o-y to $12.07 billion with increased rates and growth in loans. The return on common equity grew to 11% in Q4 FY16 from 9% in Q4 FY15.
Take Away
In their own right, and with impending changes to regulatory restrictions of the Dodd Frank Act, the financials for MS, CFG and JPM have shined during 2016. They are solid profitable companies.
What remains to be seen is how they will fare by unleashing some of the Dodd-Frank restraining provisions, especially for making loans that foster the growth of businesses and increase U.S. GDP. IMO, such actions could also grow revenues, earnings and share values for banks.
Implications to draw from the results are that Morgan Stanley and Citizens Group profit greater from anticipated changes to Dodd-Frank. Maintaining the status quo could prove the converse.
Finally, bear in mind as you watch this enfold, that to successfully repeal Dodd-Frank would require 60 votes in the Senate, a situation that the Democrats are highly likely to filibuster. But, selected revisions can be made through Congressional amendments to the Law. In addition, "Trump-appointed regulators" can change some of the financial rules.
NOTE: Thank you for reading and commenting. You can follow my articles on SA by clicking the circle ("follow") after my name on top of the page.
Disclosure: I am/we are long "MS".
I wrote this article myself, and it expresses my own opinions. I am not receiving compensation for it (other than from Seeking Alpha). I have no business relationship with any company whose stock is mentioned in this article.