Taking a Look at the Earnings of Each Segment
Balchem (NASDAQ:BCPC) generates revenue from four segments: Human Nutrition and Health, Animal Nutrition and Health, Specialty Products, and Industrial Products. The information for the chart below was pulled from the Q3 2016 Earnings Report, Q2 2016 Earnings Report, Q1 2016 Earnings Report, and Q4 2015 Earnings Report.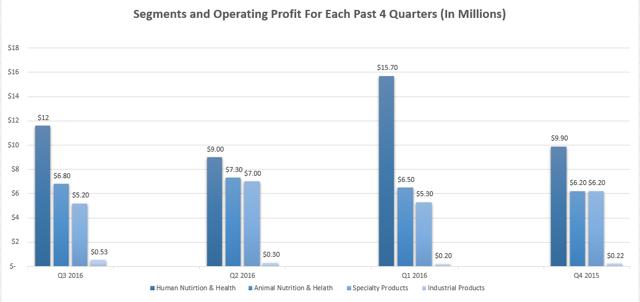 The largest profit driver for Balchem is their Human Nutrition and Health segment. It brings in the largest profit of all the segments. Animal Nutrition and Health comes in second, followed relatively closely by the Specialty Products segment. The least profitable segment of the business is currently the Industrial Products segment of the corporation.
Significant Diversification
One of the most impressive things about Balchem in my opinion is how it is diversified over several different sectors. This adds an attractive safety net for investors. Its profits are not tied to any single industry. The Human and Animal Nutrition & Health segments are fairly straight forward they rely on the markets they are named after. The specialty products segment packages hazardous chemicals such as Ethylene Oxide which is used in the healthcare industry for sterilizing medical items. The industrial products segment sells chemicals to the oil, and gas industry for use in hydraulic fracking.
This diversification helps keep the company's bottom line solid even when certain operating segments struggle. Most recently this can be seen in the industrial products segment which has struggled in recent quarters due to the decrease in new drilling operations in the United States. However, Balchem has still managed to perform well without what used to be one of its primary revenue streams.
Significant Room for Growth in Certain Segments
Currently the Industrial Products, and Animal Nutrition and Health segments are being held back by industry head winds. Management says that the Animal Nutrition and Health segment is being held back by low milk and milk protein prices. If the pricing environment improves here it could lead to more profits from this segment.
The Industrial Products segment could see an increase in profits if oil companies begin drilling aggressively again. In Q4 2014 when the oil and gas environment was better the company made 11.5 million dollars in this segment. That is a huge difference from the most recent earnings of about half a million. Since oil companies are expected to increase drilling in 2017 relative to 2016, this should be a catalyst to this segment of Balchem's operations.
Looking at Valuation Measurements
Basic chemical companies on average currently have a trailing P/E Ratio of 19.05. Then specialty chemical companies have a trailing P/E Ratio of 33.69. Balchem is significantly higher than both of these averages with a P/E Ratio of 47.33. As I mentioned earlier in the article Balchem is very diversified so it is difficult to find a direct competitor, but it is still worthwhile to see some of the valuations of other chemical companies. The following numbers are pulled from Yahoo Finance.
| | |
| --- | --- |
| Company | Trailing P/E Ratio |
| Dow Chemical (DOW) | 8.73 |
| Eastman Chemical Co. (NYSE:EMN) | 13.09 |
| Celanese Corporation (NYSE:CE) | 29.18 |
| Sociedad Qumica Y Miner De Chil S.A. (NYSE:SQM) | 34.66 |
| Air Products & Chemicals Inc. (NYSE:APD) | 51.93 |
| Balchem | 47.33 |
It's easy to see from the table that Balchem's Valuation is very high. When looking at these valuation measures it is fairly safe to assume that there are better buys in the chemical sector. In my opinion such a high valuation could cause the Balchems' stock price not to rise as quickly as some of its peers.
Lackluster Dividend Yield In Comparison To Peers
Another issue with Balchem is that compared to several of its peers its dividend is not attractive. Below in the table are the dividend yield of the chemical companies I previously mentioned. These numbers were pulled from Yahoo Finance.
| | |
| --- | --- |
| Company | Dividend Yield |
| Dow Chemical | 3.08% |
| Eastman Chemical Co. | 2.63% |
| Celanese Corporation | 1.64% |
| Sociedad Qumica Y Miner De Chil S.A | 2.74% |
| Air Products & Chemicals Inc. | 2.40% |
| Balchem | .40% |
It is easy to see that Balchem does not even come close to its peers in dividend yield. There may be some potential for Balchem to increase its dividend, but it is still a long way away from being close to some of its competitors.
Conclusion
Balchem is a well-diversified company that has the potential to take advantage of an improving oil and gas environment in 2017. However the valuation measures on this stock are not attractive, and the dividend yield is well below average. In my opinion Balchem will be a fairly low risk slow growing stock moving forward. I personally cannot justify an investment in Balchem because it is possible to buy a stock with a much more attractive valuation, and better dividend yield in the same sector.
Disclosure: I/we have no positions in any stocks mentioned, and no plans to initiate any positions within the next 72 hours.
I wrote this article myself, and it expresses my own opinions. I am not receiving compensation for it (other than from Seeking Alpha). I have no business relationship with any company whose stock is mentioned in this article.