Investment Thesis
The growth of Michael Kors (NYSE:KORS) is gone and the company has reached market saturation. With no obvious drivers of growth present, investors should sell their shares and invest their money on better opportunities.
About the Outlook
Michael Kors Holdings Ltd. presented disappointing earnings numbers. The CEO commented on the results like this:
"Overall, we were disappointed with our North American and European comparable store sales performance during the quarter. We believe that headwinds in these markets will continue throughout the Spring season as we face reduced traffic trends in shopping malls, currency fluctuation, uncertainty surrounding certain political changes in European countries and the implementation of our reduced promotional cadence in North America."
In November, the company forecasted earnings per share in the range on $4.37-$4.43. The updated forecast states $4.15-$4.19.
Also, the revenue forecast dropped from $4.55 billion to $4.48 billion.
The Growth is Gone
KORS has been growing with a fierce rate in the past. Before we go into the freezing of growth, we should discuss how the growth should be analyzed.
First of all, to measure growth we should look at revenue, not earnings. Net results is affected by many different factors. Because of this, it is an indirect measure of company growth.
Revenue growth, in turn, is only affected by the increase of sales and is thus a more direct measure. Because of this, it contains less variation. Also, once revenue growth stops, earnings can of course be improved by e.g. cost savings, but there is a limit to this.
When revenue growth is measured, it is important to take effect of seasonality and one-time events into account. Short time interval quarter-to-quarter comparisons yield misleading results, like this: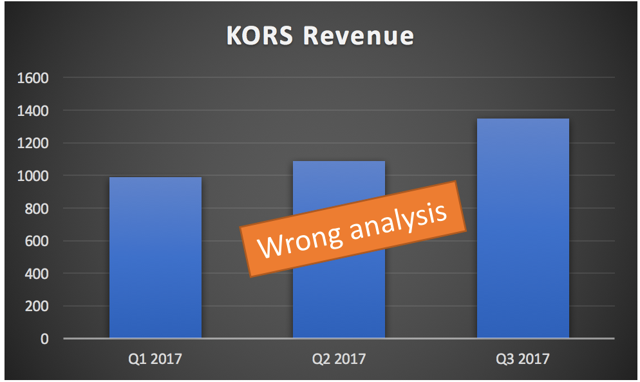 To take seasonality into account, one has to compare same time periods, i.e. Q1 with Q1, Q2 with Q2, etc. To clean the data from variations caused by one-time events, one has to make the comparison using a long enough time frame. When we do this, one can see that the growth showed alarming signals already in fiscal Q1.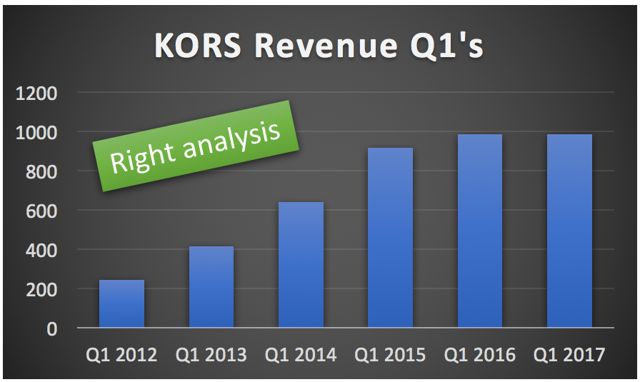 The same trend continued in fiscal Q2.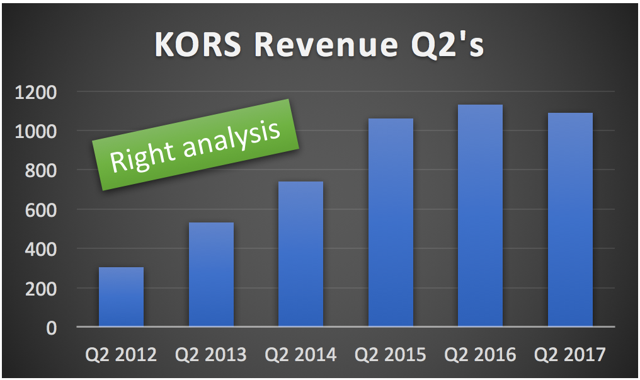 The result for fiscal Q3 is no better.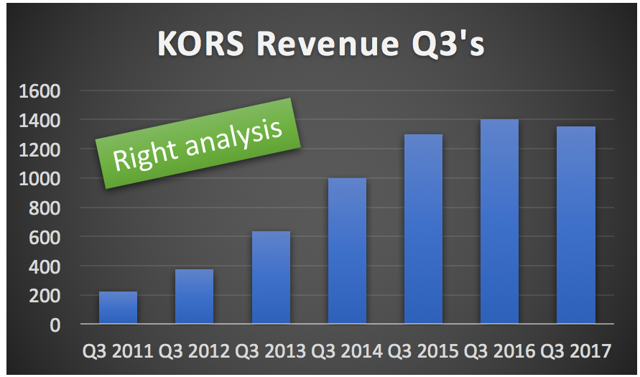 To sum up these charts, we conclude that KORS has reached market saturation.
Some Takeaways From Reaching Market Saturation
Michael Kors has a physical product in the luxury category. Both of these set a limit to the length of the S-curve because there is a limited crowd that wants to pay the price for the product.
Compare this with Facebook (NASDAQ:FB). Here the growth of the company is based on number of users. It is free to set up a Facebook profile. Thus, price does not limit growth of Facebook like it does for KORS.
Founder-led companies are known to perform better than their peers. However, Michael Kors is Chief Creative Officer and director, not CEO nor chair of the board. The company has thrived because of great design, not superior business model.
Compare this with Reed Hastings from Netflix (NASDAQ:NFLX). Reed Hastings is not a film director. Instead, his value lies in having a track record in revolutionizing the DVD business and later on streaming television.
The customers of Michael Kors do not benefit from each other. Compare this with the platform of Alibaba (NYSE:BABA). Sellers want to use the platform of Alibaba because it has a huge number of potential customers. Buyers want to use the platform of Alibaba because it has many sellers.
Michael Kors does have an APEX structure to benefit from. Consider Amazon (NASDAQ:AMZN). The APEX structure allows continuous computer aided integration of value adding services. Continuous integration allows new features to be added on an every day basis. These new services can then be used to produce several new products by means of alternative combination with existing services.
Disclosure: I am/we are long KORS, NFLX, BABA, AMZN, FB.
I wrote this article myself, and it expresses my own opinions. I am not receiving compensation for it (other than from Seeking Alpha). I have no business relationship with any company whose stock is mentioned in this article.
Additional disclosure: I am selling my KORS shares, so I could also state "no positions in the stock".