Though Blackstone Mortgage Trust's (NYSE:BXMT) shares have recently hit a new 52 week high, investors can still buy this income gem. Blackstone Mortgage Trust is a high-quality real estate finance company that produces significant excess dividend coverage, putting income investors at ease with respect to dividend continuity. Further, Blackstone Mortgage Trust's shares are not that expensive yet on a run-rate core earnings basis, and positive interest rate sensitivity further tilts the odds in favor of a dividend hike in 2017.
The truth of the matter is that high-yield income vehicles, whether in the business development company or real estate investment trust sector, have had a very good run in 2016 and so far in 2017, too. Money has flowed back into high-yield stocks lately, largely because of growing investor and business optimism with respect to the election of Donald Trump. Many high yield income vehicles have approached new 52-week highs on the back of the post-election surge in stock prices, but several high yielders are not too expensive, and Blackstone Mortgage Trust is one of them.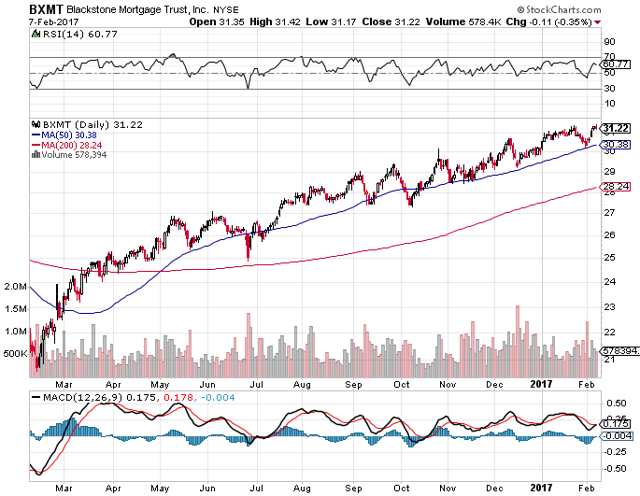 Source: StockCharts.com
Reasonably Valued Given Its Prospects
Blackstone Mortgage Trust pulled in $0.71/share in core earnings in the 3rd quarter, which means the real estate finance company is on track to earn $2.84/share over the next twelve months (which is most likely understating Blackstone Mortgage Trust's income potential due to positive interest rate sensitivity related to its floating rate investment portfolio). Since Blackstone Mortgage Trust's shares are changing hands for $31.22 at the time of writing, investors effectively pay only ~11x run-rate Q3-16 core earnings.
Strong Dividend Coverage And Interest Rate Upside
Besides a reasonable core earnings multiple, there are two other reasons to consider Blackstone Mortgage Trust at today's valuation.
For one thing, Blackstone Mortgage Trust has excellent dividend coverage. The minimum dividend coverage ratio in the last five quarters was 105 percent (!), meaning the real estate finance company earns a lot more money than it is paying out as dividends.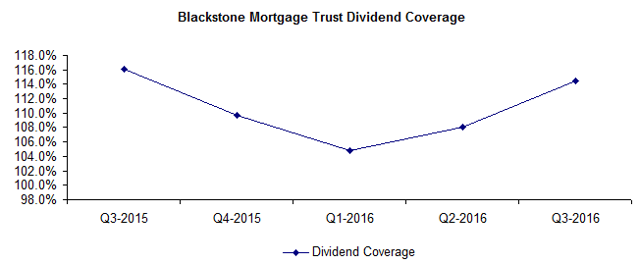 Source: Achilles Research
Another reason why I think Blackstone Mortgage Trust is a buy today relates to the market expectation that the Federal Reserve will hike interest rates up to three times this year. Higher short-term interest rates are a positive catalyst for companies that have invested in floating rate assets, just like Blackstone Mortgage Trust did.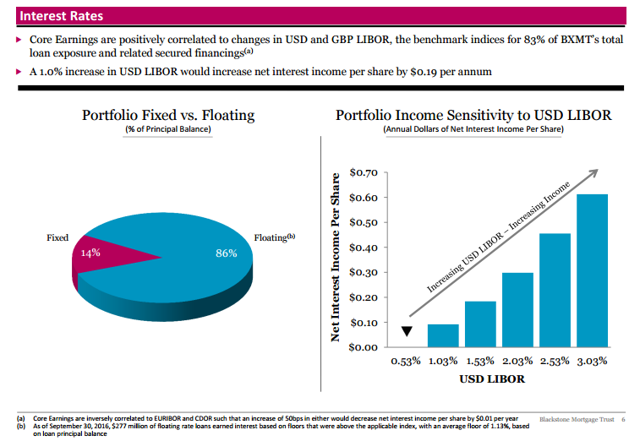 Source: Blackstone Mortgage Trust
As of today, management expects that a 1 percent increase in U.S. LIBOR will be accretive to net interest income in the amount of $0.19/share. This potential for NII growth is a huge deal for income investors because interest rate-related earnings upside strongly tilts the odds in favor of a dividend hike. At the very least, Blackstone Mortgage Trust's dividend coverage ratio is poised to improve even further.
Your Takeaway
Blackstone Mortgage Trust is no longer as cheap as it was a year ago, but shares surely aren't overpriced today, even though they have advanced to new 52 week highs lately. Paying ~11x run-rate core earnings for a high quality income vehicle with ample dividend coverage and positive asset sensitivity is a fair deal. Importantly, a net interest income boost could translate into a dividend hike in 2017. Buy for income and capital appreciation.
If you like to read more of my articles, and like to be kept up to date with the companies I cover, I kindly ask you that you scroll to the top of this page and click 'follow'. I am largely investing in dividend paying stocks, but also venture out occasionally and cover special situations that offer appealing reward-to-risk ratios and have potential for significant capital appreciation. Above all, my immediate investment goal is to achieve financial independence.
Disclosure: I am/we are long BXMT.
I wrote this article myself, and it expresses my own opinions. I am not receiving compensation for it (other than from Seeking Alpha). I have no business relationship with any company whose stock is mentioned in this article.