With outstanding growth rates showed in the past, Facebook (NASDAQ:FB) might be considered too big to maintain similar growth rate in the coming years. But we don't agree. Additional sources of revenues will help the company's top-line expansion. At the same time, we do not consider growing costs as a big threat to the bottom line. We believe FB is still a good stock to own for a long-term investor.
What will drive FB revenue?
Facebook is, without a doubt, an ad business. In fact, 98% of its total revenue is generated by ads. It is also a predominately mobile-oriented company with 'mobile' accounting for 84% of all ad revenues.
Facebook's ad revenue is driven by the number of ads shown to users (ad impressions) and the average price-per-ad paid by advertisers. In Q416, price-per-ad grew 3% y/y, and ad impressions increased 49% y/y.

While impressions are growing at a considerable pace, management's tone around ad load growth remains cautious. On Q416 earnings call, management reiterated its expectation of ad load growth to come down meaningfully this year. This is not new information, as for some time now, investors have anticipated a slowdown in ad load growth, as it seems impossible to increase ad load forever. At some point, it will hurt user experience and drive users away.
Q416 results, in our view, showed that the increase in ad load is not the only path for revenue growth. We believe, that going forward, growth will also be driven by the following six drivers:
1) User base growth: Monthly active users (MAUs) reached 1.86B in Q416, growing 16.8% y/y, which was the highest growth rate since Q313. Facebook user base showed solid growth, driven by Internet.org efforts and its Facebook Lite application which is used in emerging markets. The introduction of low-cost data plans in certain emerging economies also helped. India was its fastest growing market in Q416, and will likely remain a significant growth driver. Instagram continues to experience strong growth. In December 2016, Instagram daily active users (DAUs) increased to over 400M, compared to 300M in June, and MAUs grew to 600M, up from 500M in June.
2) Increased pricing on Facebook: This will be achieved by improvements in targeting, measurement, and ad formats.
3) Instagram monetization: Instagram ad load has not reached full capacity and will continue to grow. On Q416 earnings call, management commented, that Instagram has lower ad load than Facebook, and presents an opportunity for FB to continue to grow ad load on Instagram in a longer time frame than on Facebook.
4) Video: Video Tab, Facebook Stories, and Facebook Live will continue to build engagement. Additionally, FB will invest more in video content in 2017, in which case advertisers' demand and monetization will follow.
5) Desktop ad revenue: It grew by 22.5% y/y in Q416. Growth is accelerating for the sixth consecutive quarter as the company continues to benefit from measures taken to prevent ad blocking.

6)Messenger/WhatsApp/Oculus: FB already started testing Messenger home screen ads. However, it is not anticipating significant contributions from either Messenger or WhatsApp over the next two years. Oculus also offers an embedded option on accelerated revenue growth in three-to-five years.
Expenses are not a concern
Expense guidance was another key focus of the Q416 conference call. Management anticipates FY17 will be an aggressive investment year and expects OpEx to grow by 47-57% on a non-GAAP basis. This compares to 41% growth in 2016 and ex-ante consensus estimate of 46%.
In our view, higher OpEx should not be a concern as it is needed to support revenue growth. Additionally, in the past, actual OpEx growth was always meaningfully lower than the early guidance. We believe, it is reasonable to expect favorable OpEx guidance revisions.
On average for the last four years, actual OpEx growth was 9.4% lower than the mid-point of initial growth guidance.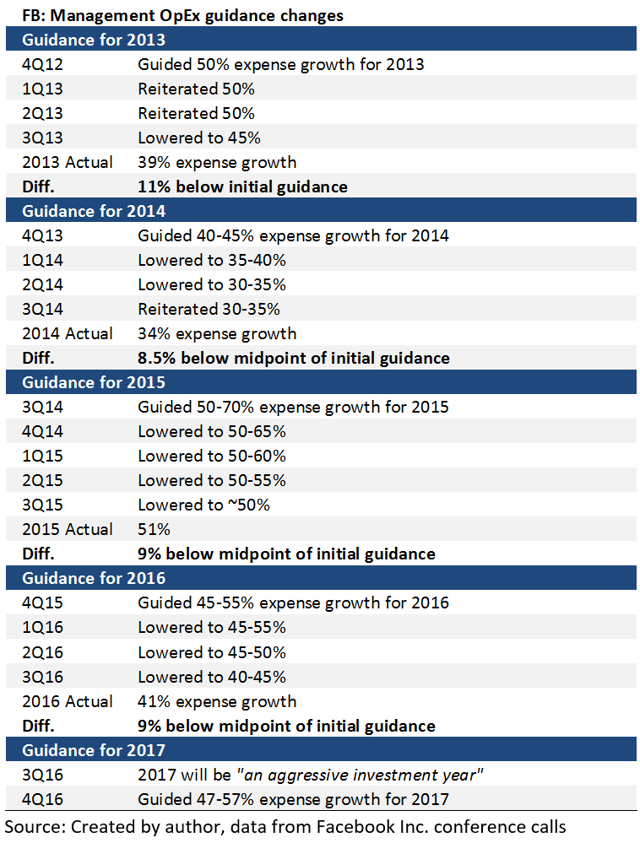 Accounting change will help earnings
In Q416, FB implemented a new accounting standard (ASU 2016-09) that changes where certain stock-based compensation-related tax benefits are recognized. From now on, the tax benefit will be recognized in income tax rather than in equity. This will result in a 1-2% lower tax rate and higher net income. During Q416, this change resulted in a tax rate of 21.3%, compared to an average tax rate of 25.8% for the first three quarters of 2016.

The new standard does not change cash taxes paid but changes the presentation of cash flows, resulting in higher operating cash flows and lower financing cash flows.
Conclusion
FB has historically traded in a range of ~22-58 P/E since its IPO. FB is currently trading near the bottom of the range at 24.1 P/E, much below NASDAQ Internet Index at 32.1x, which seems very attractive especially taking into account the company's strong revenue growth expectations.
Disclosure: I/we have no positions in any stocks mentioned, and no plans to initiate any positions within the next 72 hours.
I wrote this article myself, and it expresses my own opinions. I am not receiving compensation for it (other than from Seeking Alpha). I have no business relationship with any company whose stock is mentioned in this article.