Parsley Energy (NYSE:PE) announced yesterday that the company is buying approximately 71,000 net acres for $2.8 billion from Double Eagle Energy Permian. The land purchase adds to Parsley's bulking Midland Basin, and the company now has a total of 227k net acres.
The acquisition multiple for the following land purchase is as follows:
$2.8 billion in aggregate purchase price.
71,000 net acres for an implied per acre valuation of $39,436 per acre.
Estimated production of 3,600 boe/d for $777k per flowing boe/d.
A cursory view of the acquisition leads us to the simple conclusion that this purchase was not for existing production as the per acre valuation is in line with other valuation multiples.
Permian acquisitions have been on fire since last year's acquisition totaled $28 billion, with 2017 racking up $12 billion already. With WTI (NYSEARCA:USO) above $50, most Permian plays have all-in breakeven around $40 to $46, making the play the most attractive out of all the other US shale plays. Characteristics that make the Permian attractive comes down to economics, and with expectations that oil will remain lower for longer, E&P companies situated in the region are more likely to pursue capital expenditures in the Permian versus Eagle Ford.
Permian oil production performed well last year as producers were able to replace the lower decline rates and grow production.
With Parsley's latest land acquisition, it begs the question of what other peers are best situated in the Permian play.
Resolute Energy
We are currently long Resolute Energy (NYSE:REN). The company is not a pure Permian player, but the company's CapEx guidance for the foreseeable future will be concentrated in the Permian. On a land basis, Resolute trades at a higher relative multiple to recent peer acquisitions, but the company trades below peer multiples on a per flowing boe/d basis. In our Permian producer database, Resolute is expected to grow production at the fastest rate amongst peers, targeting 35,000 boe/d by 2018.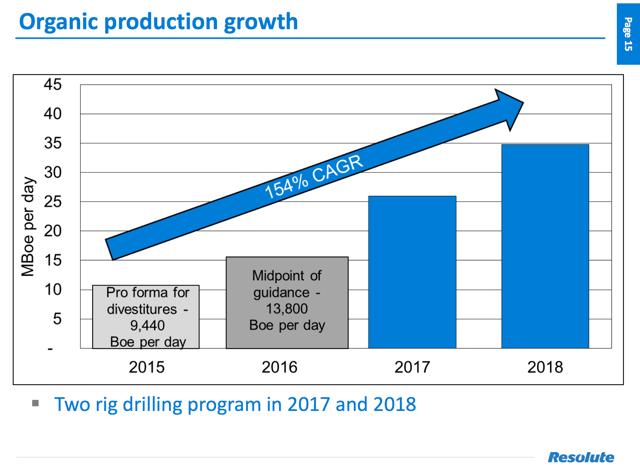 Source: REN's IR Presentation
Due to Resolute's aggressive production growth, it is NOT expected to grow production within cash flow. The company has resolved most of its credit concern issues over the past year thanks to a rising stock price and relative Permian producer valuation, but trades at a considerable discount to the forward expected production growth. Our analysis of Resolute is that it should be able to deliver on its operational guidance, with the potential for more land acquisitions in the region similar to the strategy Parsley is pursuing.
The recent Permian land acquisitions provide a good roadmap and relative valuation to how investors should assess E&P companies in the area. It is likely that Permian land acquisitions remain red hot for most of this year as recent activity by Exxon (NYSE:XOM) and Noble highlight interests from big players in the region. Another investment theme we see is for service providers that focus in the Permian to outperform as our recent discussions with management point to a lack of available frack crews and higher impending servicing costs.
We evaluate potential energy long ideas along with weekly updates on our portfolio longs in the premium service. If you enjoy our energy write-ups in oil and natural gas, we think you will find our premium service to be more detailed and comprehensive. You can sign up here if you are interested.
Disclosure: I am/we are long REN.
I wrote this article myself, and it expresses my own opinions. I am not receiving compensation for it (other than from Seeking Alpha). I have no business relationship with any company whose stock is mentioned in this article.