Overview
The core of the thesis lies in an overblown fear in FireEye's (NASDAQ:FEYE) ability to have an effective turnaround in an increasingly competitive space. Based on an analysis of FireEye's management and capabilities, we believe this turnaround is very probable and the stock is heavily undervalued.
Cause of Recent Price Decline
FEYE recently experienced a substantial decrease in price due to two underlying reasons in addition to missed earnings:
Lack of faith in management: Former CEO David Dewalt resigned in May and the new CEO, Kevin Mandia, has not been able to turn FireEye around yet.
Change in cyber security landscape: Although the volume of cyber attacks is increasing, they are becoming smaller in nature and are targeting fewer recipients. Such a pattern does not align with FEYE's traditional business model and would allow for larger companies to crowd out FEYE.
Thesis
The core of our thesis lies in the fact that concerns/anxiety about FEYE's ability to create a business turnaround are exaggerated:
Large competitors would not dominate the space: FEYE specializes in a niche field as a market leader with strong company ties. It would be very difficult and expensive for large companies to develop such a niche.
While recent management turnover has spooked investors, new management has demonstrated strong expertise. The recent aggressive cost cutting after having a new management team come together just three months ago provides evidence of strong capabilities.
At the same time, an investment in FEYE has a strong margin of safety due to its strong R&D practices that would allow it to tap into the rapidly growing cyber security market. New product launches to enter the cloud space and transition away from hardware allow FEYE to significantly lower costs (more scalable) and gain access to a larger customer segment.
Thesis Evidence 1: Leader in Niche specialized
Cybersecurity is too vague a term, and further analysis reveals that FEYE actually is a leader in advanced persistent threats (APT) within the subfield of specialized threat analysis and protection (STAP).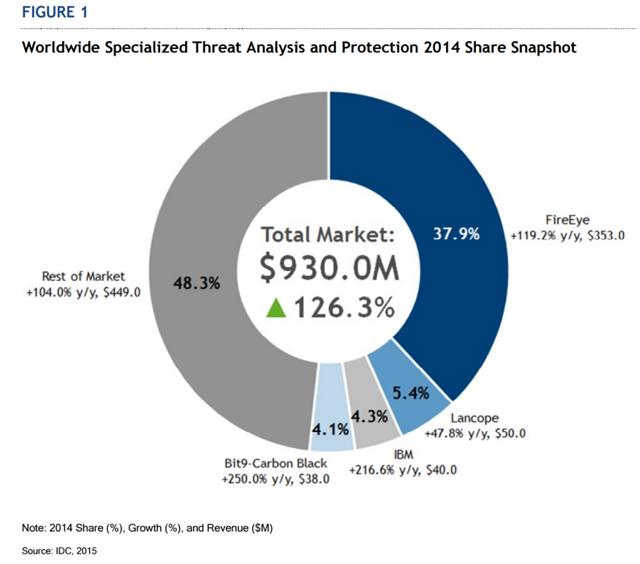 As per the IDC, STAP is actually one of the fastest growing subfields within cybersecurity and expects the worldwide market to reach $1.17B by some point in 2017. FEYE's dominant market share in this segment and close customer ties will allow it grow rapidly and capture even more market share from potential competitors.
Thesis Evidence 2: Capability of Management
In 2014, FEYE acquired Mandiant for $1B. In June 2016, the CEO of Mandiant, Kevin Mandia, was named the CEO of FEYE. This decision initially caused the stock price to drop by 5-7% due to uncertainty about the capability of the management.
However, we see that these concerns are unfounded because, within a short time frame, Mandia has demonstrated strong capabilities:
Beat both top-line and bottom-line growth expectations in Q3 2016
Significantly reduced operating margins through assertive shown cost cutting
Most importantly, as mentioned earlier, FEYE has to pivot to a new customer base due to the change in the industry landscape. Mandiant's client specialty aligns with those of FEYE's futures goals and thus, Mandia would have the appropriate relationships needed to make FEYE's business transformation a success.
Thesis Evidence 3: Safety of Margin Due to Technological Expertise
FEYE is making necessary moves to enter the cloud market, which is one of the hottest segments of cybersecurity. This is evidenced by the recent launch of Cloud MVX and MVX Smart Grid.
The biggest differentiating aspect of this product is its ability to easily integrate with third-party providers and of both boundary and endpoint security systems. This compatibility is especially important in the current environment in which clients are often partnering with multiple cybersecurity solution companies.
The overall transition from a hardware business model to a subscription-based business model would allow for increased business partnerships and significant margin expansion.
Valuation
We created a five-year projection of future cash flows. Due to continued negative cash flows, a conventional DCF was an ineffective technique, and instead, we valued the company based on a weighted sum average of EV/Sales multiples:
| | | | |
| --- | --- | --- | --- |
| | Revenue (2021) | Multiple | Discounted Share Price |
| Bear (20%) | 1,128.2 | 2 | $7.51 |
| Base (60%) | 1827.8 | 2.5 | $15.45 |
| Bull (20%) | 2,615.6 | 3 | $26.77 |
Weighting the discounted share prices as per the percentages above, we get a final valuation of $16.12.
Key Assumptions
| | |
| --- | --- |
| | Assumptions |
| Bear | Software revenue growth at 15%: Essentially losing market share and growing slower than the whole cybersecurity market; Multiple below current EV/Sales multiple due to potential stabilization in industry |
| Base | Software revenue growth at 30% for first three years and then tapering to 20% in last two years, essentially growing on pace with sub-industry, and then during times of increased competition/maturity growth would slow down; Multiple used is current EV/Sales multiple due to continued strong growth within the industry |
| Bull | Software revenue growth at 35%: Will be able to gain market share and grow at expected sub-industry growth rate due to already large market share; Multiple slightly above current EV/Sales multiple because average EV/Sales multiple of peers ~ 4 |
Hard Catalysts
Things to look for in upcoming quarterly calls: increased margins, product mix turnaround, aggressive cost cutting
Success and usage rate of MVX cloud
Macro defense spending changes with new administration
Investment Risk
Larger competitors choose to aggressively enter FEYE's space
Unable to make transition from hardware to software
Negative FCFs are unsustainable
Conclusion
Thus, based on the analysis above we see that FEYE is an undervalued company. As signs of a turnaround become more apparent within the market, we expect the stock price to increase significantly.
Disclosure: I/we have no positions in any stocks mentioned, and no plans to initiate any positions within the next 72 hours.
I wrote this article myself, and it expresses my own opinions. I am not receiving compensation for it. I have no business relationship with any company whose stock is mentioned in this article.