Note: Unless otherwise specified, all figures are in Canadian dollars.
AltaGas (OTCPK:ATGFF) recently announced that it's going to acquire WGL Holdings (NYSE:WGL). This article will examine the financial side of the transaction. A number of Seeking Alpha authors have written articles on the merger as well, and I suggest that you read them.
Before I begin, let me tell you my story around AltaGas' stock. I bought my first shares of AltaGas last December at $33.91/share (on the Toronto Exchange). I discovered the company a few months before my purchase. I liked the assets, the predictable cash flows, and the reasonable price. The 6%-plus dividend yield paid monthly could attract income investors and push the price higher. Even if the price stayed flat or went down, I could enjoy the dividends and buy more shares. I was pretty satisfied with my investment.
In late January, the company announced that it agreed to acquire WGL Holdings, an $8.4B transformative transaction that basically doubles the size of the company. "Oh no, more analysis work to do amid my busy schedule," I told myself. Well, that's the life of an investor, I guess. Now it's time to work.
Here is a summary of the transaction: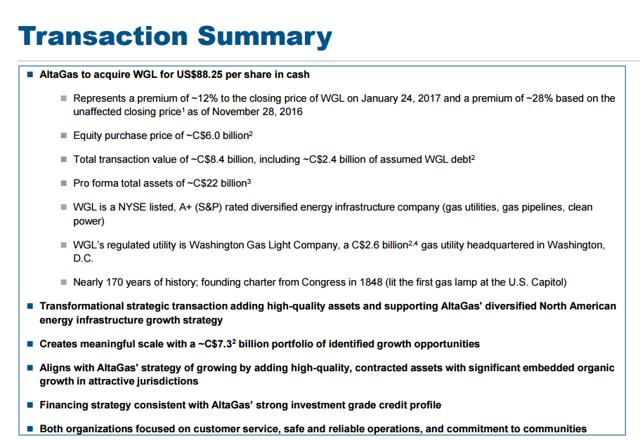 Source: AltaGas investor presentation
Let's see what management has to say about the financial consequences of this acquisition.
Management Sees Accretive Growth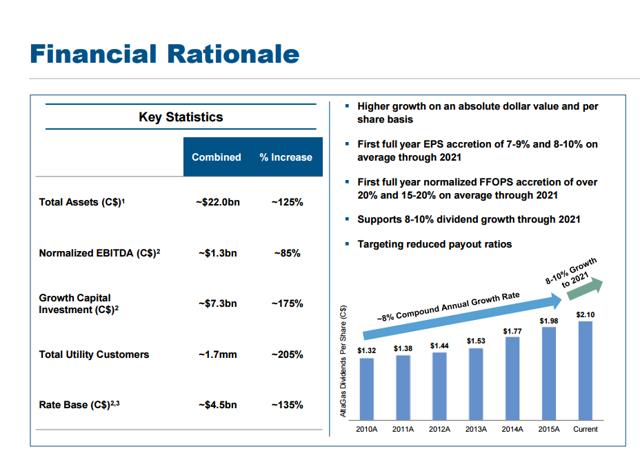 Source: AltaGas investor presentation
Management sees extremely accretive growth after the merger, on an absolute dollar value and even in the per-share figures. Earnings per share (EPS) is projected to grow 7%-9% in the first year of completion and 8%-10% through 2021. Even more impressive, funds from operations per share (FFOPS) is projected to grow over 20% the first year and 15%-20% through 2021. The cash flow growth should support a dividend hike of 8%-10% per year to 2021, reducing the payout ratio at the same time.
This is impressive: The expected returns are dizzying when you add the 6.8% dividend yield to the growth per share. Not a lot of investors expect that much of a stable and predictable company.
Before you rush to buy the stock, I will issue a few caveats. First, this is management communication, which often tends to be optimistic, Second, this is a projection; a lot of variables can move and the future is always uncertain. Third, the projected growth is dependent on a $7B capex program. Again, project costs, returns, means and costs of financing can vary widely.
Moreover, investors should always have some concerns when a company puts itself in the middle of such a big and transformative acquisition because of the multiple risks it creates. We should ask ourselves three questions: Is the management capable of running the new assets? What price do we pay for the assets? How is it financed? Let's try to answer these questions together.
Operational Risk
AltaGas and WGL operate in the same business. Both companies own a diversified mix of assets made up of utility, midstream and power assets. AltaGas management claims that the purchase fits into their strategy to acquire high-quality, low-risk, long-term energy infrastructure assets. AltaGas management's track record of acquisition is excellent (though we should note that this is the biggest transaction they've ever done) and the asset types are similar. Therefore, I tend to trust that management is capable of running the merged company.
Here is a snapshot of the combined asset map: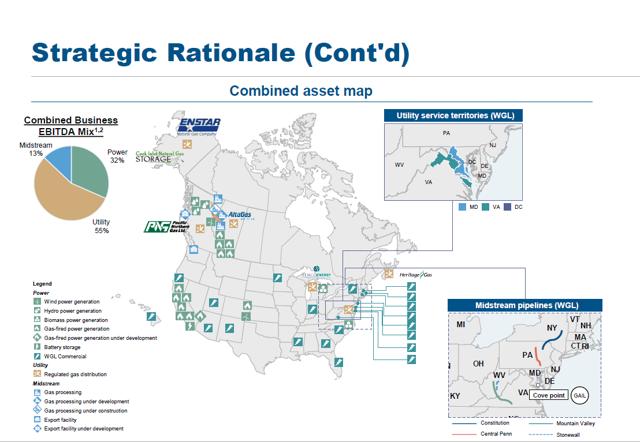 Source: AltaGas investor presentation
Acquisition Price
AltaGas pays US$88.25 per share of WGL's stock. The transaction values WGL at US$6.3B, of which US$1.8B is debt and US$4.5B is equity. Over the last four quarters, the company generated US$451.9M in EBITDA. The EV/EBITDA ratio is 13.9.
Now we have the price of the company being acquired, but that alone doesn't tell us a lot. Let's compare that with the current valuation of the acquirer, AltaGas. AltaGas issues shares at C$31/piece, so if we use that to calculate the EV, we get C$8.9B, of which C$3.8B is debt and C$5.1B equity. Over the last four quarters, EBITDA was C$680M. The EV/EBITDA ratio is 13.1. AltaGas is paying a little premium over its own valuation to acquire WGL. The difference is, however, not dramatic.
Financing the Deal
AltaGas is planning to fund the $8.4B all-cash deal through multiple sources of financing. First, AltaGas will assume $2.4B existing debt from WGL. Then, equity is issued through subscription receipts for $2.5B. $800M will come from hybrid instruments and preferred stock issuance. Finally, the remaining $2.7B will be funded through a combination of asset sales and additional debt.

Source: AltaGas investor presentation
Dilution
Earlier this month, AltaGas issued subscription receipts at $31/piece to fund WGL's acquisition. Each subscription receipt will entitle the holder to receive one common share of AltaGas. The subscription receipt holders will also get the dividend declared on the common. The advantage of the subscription receipts over a common share issuance is that if the deal doesn't go through, they will simply get refunded against cash plus accrued dividends.
A total of 80,710,000 receipts have been issued, representing $2.5B. AltaGas has currently 165,000,000 shares outstanding. If the deal closes, total share count will be up 49%.
AltaGas Post-Merger Enterprise Value
Let's go through some quick math here to see how much the new AltaGas (i.e., the merged company if the deal goes through) is worth. The market equity value at $31/share is $7.6B, taking into account dilution. I use $31 because that's the price the receipts are issued at.
AltaGas' current net debt is $3.8B, WGL's assumed debt is $2.4B, additional debt is $2.7B if there is no asset sale. That's a total of $8.9B debt. AltaGas also announced its intention to issue some hybrid instruments and preferred shares for a total of $0.8B.
With all that, we've got an enterprise value of $17.3 billion. Keep in mind that that's a rough approximation. Normalized EBITDA is $1.3B. That give us an EV/EBITDA ratio of 13.3. Given the predictability of the cash flows and the growth potential, it doesn't seem like a high price. But it's not crazy cheap either.
To Sum Up
AltaGas management sees a huge increase in value per share through 2021. Personally, I believe there will be growth, but maybe less than what management projected. This is a big merger, but the AltaGas team has some experience from managing smaller acquisitions in recent years. The price paid for WGL is in line with AltaGas' own valuation. If the merger closes, the combined company is currently trading at a 13.3 EV/EBITDA ratio. Given the predictability of the cash flows and the growth potential, the price seem reasonable. And the 6.8% dividend yield should attract income investors.
Personally, I'm holding on to my shares and might add to my position because of the quality of the assets and the reasonable price.
Disclosure: I am/we are long ATGFF.
I wrote this article myself, and it expresses my own opinions. I am not receiving compensation for it (other than from Seeking Alpha). I have no business relationship with any company whose stock is mentioned in this article.
Editor's Note: This article discusses one or more securities that do not trade on a major U.S. exchange. Please be aware of the risks associated with these stocks.