There are absurdities and then there are absurd absurdities.
I like writing about the former (it's what I live for). The latter, not so much.
Plain old absurdities are fun because in order to explain them, I get to delve deep into the topic at hand and give readers some perspective based on what I certainly hope is my nuanced understanding of the subject matter. Good examples include ETF liquidity, volatility, and high yield credit.
Those are subjects where I am thoroughly convinced I can add a significant amount of value based on one, my understanding of the mechanics involved in the markets, and two, access to information that might not otherwise be available to some investors.
Absurd absurdities on the other hand are things that are (or at least should be) readily apparent to anyone with common sense. You don't even have to follow markets or know anything about investing to understand absurd absurdities. By definition then, it's impossible to add much value.
Over the past year, oil prices (NYSEARCA:USO) have become an example of an absurd absurdity. And while that means the crude market is no longer very much fun to write about, I'm going to take one for the team here and highlight a few things that are completely ridiculous.
Now first of all, let's review why the only prerequisite for understanding oil markets is common sense.
You tell me that a group of people who used to collectively dictate the price of a certain product (a cartel) no longer has pricing power. That group decides not to curtail production to support prices and prices subsequently plunge. Exactly two years later, that same group decides to do the opposite. That is, they cut production to support prices and prices subsequently rise. Well, clearly you were wrong to suggest that said group had lost its pricing power. If they had, no one would have cared about their decisions. That's tautological. Tautologies are highly amenable to common sense.
You also tell me that a separate group of people producing the same product fell on exceptionally hard times when the cartel described above caused prices to plunge by refusing to curtail production. Fortunately for this second group of producers, there were plenty of people willing to extend credit to get them through the rough patch. They survived long enough to see prices rise when, after three years, the cartel finally decided to slash output. Clearly, the first thing this second group of producers is going to do when prices rise is start producing again. Again, common sense.
Finally, you ask me what I think the outcome of all of this will be in terms of prices for the product that's being produced. Obviously, I'm going to tell you that the ramped up production of the second group of producers is likely to offset the production cuts from the cartel.
Point me to anything in those three paragraphs that requires any understanding of commodities or investing in general.
The product could be M&Ms. It doesn't matter. The whole thing is common sense.
And yet somehow, a lot of very smart people with a whole lot of money (still) don't seem to get it. What am I basing that contention on, you ask? This: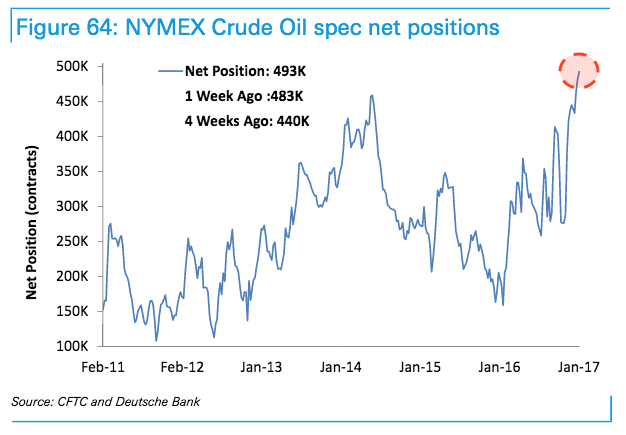 (Chart: Detusche Bank)
And you know, it's not like the data isn't screaming at people. Just look at some headlines from Tuesday (including, of course, the massive API print):
API: Crude inventories +14.2m bbl last week
API: Cushing +624k
API: Gasoline +2.9m
API: Distillates +1.37m
WTI EXTENDS DROP AS API SAID TO REPORT 14.2M CRUDE SUPPLY GAIN
Market is on the defensive for a second day as worry that U.S. petroleum inventories rose again last week weighed on market sentiment
U.S. output will rise to average 9.53m b/d in 2018, up from 9.3m b/d estimated in January, EIA says in Short-Term Energy Outlook
Oil output from U.S. will surge next year to highest level since 1970, according to updated est. from EIA
Baker Hughes worldwide rig count hits highest since Dec. 2015
Global inventories won't fall dramatically until 2H due to factors such as transport lags
Would you say the writing is on the proverbial wall? I would.
"There's a recognition that even with the OPEC production cuts, it's going to take some time for this large inventory overhang to be reduced to more normal levels," Ric Spooner, chief market analyst at CMC Markets in Sydney told Bloomberg, adding that "it leaves the oil price vulnerable to a move back below $50." Yes Rick, it sure does.
Standard Chartered agrees. The "oil market has been range-bound as it tries to assess the precise nature of the U.S. shale response," Paul Horsnell, the firm's head of commodities research said in interview in New York. "OPEC cuts are protecting the downside, U.S. output is capping the upside."
"That was quite a build compared to estimates," Michael Poulsen, an analyst at Global Risk Management observed, in a hilarious understatement. "If confirmed, it shows the shale oil guys are up and running again."
So obviously, based on the API data, everyone knew Wednesday's DOE numbers were going to be bearish (this is the "confirmatory" data old Michael - quoted above- was talking about). But in a testament to what happens when the bullish bar is set really, really low, crude rallied sharply when the EIA numbers hit. Here are the highlights from the government report:
Crude +13,830k Bbl, Median Est. +2,500k Bbl
Cushing crude +1,143k
PADD 3 crude +10,913k
Gasoline -869k vs est. +1,500k
PADD 1B gasoline +415k
Distillates +29k vs est. +500k
PADD 1 Distillates +1,507k
Refinery utilization -0.5 ppt vs est. -0.2 ppt
Refinery crude inputs -54k b/d
Crude imports +1,082k b/d
Crude production +63k b/d
So on my end that looks like one of the largest builds ever for crude, but the market didn't care precisely because one, the cat was already out of the bag thanks to the API number, and two, the gasoline draw was "positive" for RBOB.
You'll love this quote: "the gasoline story is not looking as dismal." That's from Bart Melek, head of global commodity strategy at TD. That's what counts as a bullish thesis now: "the story is not as dismal" as it was yesterday.
Check out the chart:

So basically, bad news is bad news but then when the bad news is confirmed, it's actually good news because the bad news didn't get any worse.
I mean really, when it comes to supply, you can pretty much just pin a random analyst note to the wall, throw a dart at it, and come up with a random bearish factoid.
As regular readers know, I don't just say things like that to be funny. I actually conduct these little experiments. So on Wednesday, I chose a SocGen note, swiped one time with my index finger on my mouse's scroll ball, and this is what I landed on (my highlights):
Figure 1 below shows the number of active rigs drilling horizontal wells in the US, which we use as a proxy for shale oil. Since bottoming out in May 2016, drilling activity has reversed course and the number of active rigs has increased by 90%. The rig count was up for 31 of the last 37 weeks, increasing on average by 2% week-on-week. Year-on-year, the number of horizontal rigs has increased by nearly 30% (Figure 2).

In itself, this is a strong leading indicator of a rebound in US shale production. As noted by Baker Hugues, "rig count trends are governed by oil company exploration and development spending". Stated differently, shale oil operators are investing heavily in their capacity to produce more supply.
All of this and there's a record spec long position.
What do you imagine that might mean given everything said above? If you said "sharp liquidation event" you win a blue star (Heisenberg gives blue starts, not gold ones).
Consider the following from a Citi note out earlier this week (my highlights):
Aggregate ICE Brent and NYMEX WTI money manager net length has been scaling new records since mid-January, hitting the paper-equivalent total of ~820m bbls. Combined with petrol products, fund net length hit an all-time high above ~1bn bbls. With crude vol so low and the market stretched so long, we see the potential for a sharp liquidation event this quarter. Directionally, hedge fund gross shorts for both oil markers are historically low at 1-2% of futures/options open interest. Though OPEC cuts are material and deep (for now) US stocks look heavy across the board (crude, products and even biofuels). Observed inventories drew like mad in December but appear to have built ever more sharply in January; a bearish overhang for prices. US oil-linked ETF holdings have also dropped ~50% y/y to ~108k futures-equivalent lots. As a proportion of nearby OI, this is an 11 point decline in ETF holdings y/y. We see this decrease in ETF holdings a function of a 'complacent' investor sentiment in crude but prone to shift quickly if prices do not hold in the mid-$50s through the winter. As nearby term structure has improved and ETF short-interest has declined, there has been a collapse in financing levels for long ETF products and lack of inflows in short oil ETFs, leading to share redemptions on both sides. Along with the level of vol compression, we see the ETF market as yet another risk for spec oil financial flows this winter.
Summing things up is Commerzbank who earlier this week told clients simply this: "The sell signal for oil has become more pronounced."
So coming full circle, I think all of this fully supports my assertion that there's really not a whole lot that's complicated about this. It's common sense. I've been saying for months that as long this ridiculous back and forth ebb and flow between OPEC supply and US supply continues, there isn't any reason to be particularly bullish about crude.
And certainly no reason to be record long as the specs are.
Disclosure: I/we have no positions in any stocks mentioned, and no plans to initiate any positions within the next 72 hours.
I wrote this article myself, and it expresses my own opinions. I am not receiving compensation for it (other than from Seeking Alpha). I have no business relationship with any company whose stock is mentioned in this article.