Accenture (NYSE: ACN) is a Dividend Champion with a proven track record of rewarding shareholders with dividend increases and share repurchases. The company's stock price is currently near its all-time high at $115.92. Its all-time high price is $125. The company has a market capitalization of $71 billion and an enterprise value of $70.69 billion. It has a trailing twelve months P/E of 17.17 and a forward one-year P/E of 18.10. Before making an investment at these levels, investors should consider carefully whether there is a potential for growth. In this analysis, I will look at the implications of a Trump presidency on Accenture, and why I believe there is still room for the company to grow.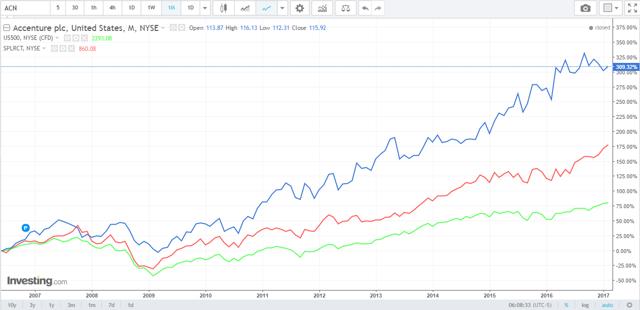 (Source: Investing.com)
Accenture provides strategy, consulting, digital, technology, and operations services to its clients in more than 40 industries. The company has succeeded in a very competitive industry against Indian companies such as Wipro (NYSE: WIT), Infosys (NYSE: INFY), and Tata Consulting Services (NYSE:TCS). In the United States, the company's competitors include IBM Corp. (NASDAQ: IBM), Oracle (NYSE: ORCL), Cognizant Technology Solutions (NYSE: CTSH), and other companies like PriceWaterHouseCoopers, among others.
In December, Accenture reported its Q1'17 quarter with revenues of $8.5 billion, which missed by $70 million. In local currency, revenues were up 7%. The EPS of $1.58 beat by $0.08. In the quarter, the company generated FCF of $1 billion and returned $1.4 billion to shareholders through dividends and repurchases. In fiscal year '16, it generated revenues of $34 billion, up $1.9 billion from the previous year. FCF for the year stood at $4.8 billion, up from $3.7 billion in the previous year. In fiscal 2017, the company forecasts net revenues between $8.15 billion to $8.40 billion.
Donald Trump campaigned with the promise of bringing back jobs to Americans. He complained that countries like Mexico and China were stealing American jobs. He also campaigned on the promise of easing "job-killing" regulations and the the tax burden on companies and individuals, a tax overhaul, investing in American energy, and renegotiating trade deals. When implemented, these policies have a chance to impact companies positively and negatively as well.
The general consensus among many analysts is that reducing regulations, a tax overhaul, and easing the tax burden have a chance to spur growth. The stock market seems to be buying the idea. since the major benchmarks are now at their all-time highs. Another consensus is that some of Trump's proposals, such as mass deportations, trade war, and protectionist policies, could have negative implications for companies and the American economy. Deutsche Bank has warned that Trump could soon name China a currency manipulator, which could escalate tensions between the two countries.
For Accenture, the performance to a large extent depends on economic growth. The logic is that companies spend highly on consultants in periods of economic growth and stability. As shown below, most of the company's revenues come from North America.

(Source: Accenture)
As shown above, consulting leads outsourcing in terms of revenues. In the last quarter, consulting contributed 59% of the revenues, while outsourcing contributed 41%. Most American companies use Indian firms such as Wipro and Infosys for outsourcing services because of their access to a cheaper workforce. The Visa H1-B program helps them in this. Fearing Trump's protectionist agenda, the companies have warned their employees of tough times ahead. The chart below shows projected offshore outsourcing operations until 2020.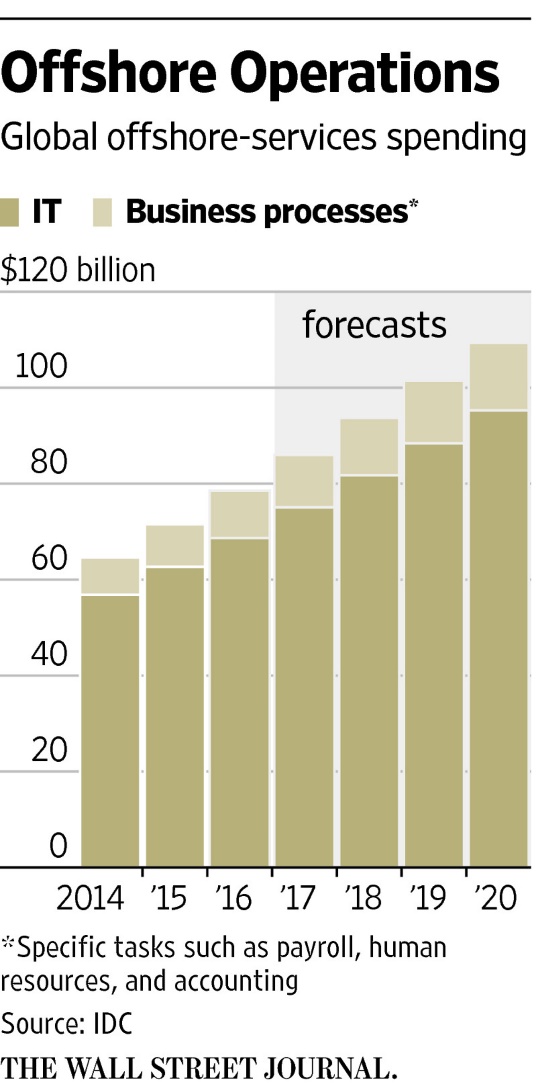 (Source: Wall Street Journal)
Outsourcing is a major division of Accenture, as explained above, bringing in 49% of total revenues. The company has more than 384,000 employees, with the most being in India. Trump's crackdown on outsourcing could have negative implications on Accenture. In fact, according to the Wall Street Journal, organizations have started asking their consulting firms like Accenture to prepare to move jobs to the United States.

(Source: Accenture)
While the outlook of outsourcing is not very encouraging, consulting work, especially in the United States, is expected to grow. As funds from abroad are repatriated to the country, these companies will increase their spending. At present, the economy is doing well, with the recent nonfarm payrolls number increasing by 227,000 and the unemployment rate staying little unchanged at 4.8%. Consumer confidence, which was at a 15-year high in December, eased in January but remained at relatively higher levels. In addition, according to the Institute for Supply Management, manufacturing in the country expanded at the fastest rate in two years as companies anticipated a friendlier regime. The financials have also rebounded as Trump promises to ease the regulatory environment and make banks "lend again". Fidelity believes companies will continue investments in cloud, Big Data, and artificial intelligence. I believe Accenture stands to benefit from these investments.
Accenture will also benefit from the new tax regime. In Q1'17, the company had an effective tax rate of 20.4%, down from 29.3% in the same quarter in the previous year. The low tax rate was as a result of "higher benefits from adjustments to prior-year taxes, as well as our early adoption of the new accounting standard on employee share-based payments". Trump promises to significantly reduce corporate taxes. Accenture stands to benefit significantly even with a point reduction in corporate taxes. As a global company, some of its revenues are held overseas, which could benefit the company and the shareholders if this cash were to be brought back.
Valuation
Accenture has a market valuation of $71 billion and a trailing twelve-month P/E of 17.14. The P/E is slightly higher than the industry average of 15.34, but is much lower than the S&P 500 average of 25.34 and higher than its 5-year median of 17.98. Also, as shown in the chart below, Accenture's P/E is near its 52-week low.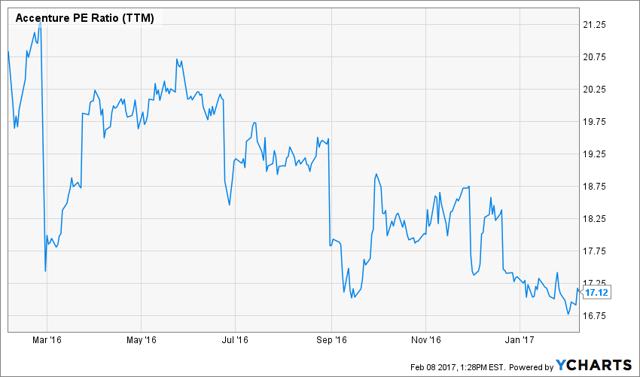 ACN has a 1-year forward P/E ratio of 18.06, which is slightly higher than that of its closest competitors such as Wipro, Infosys, and Cognizant Technologies, which have a P/E of 16.46, 13.96, and 13.88 respectively. This could be because of the challenges the competing firms are facing. For instance, INFY, Tata, and Wipro have recently been hit the US' threat to cut on skilled visas. Though ACN lowered its full-year guidance, it attributed this to foreign exchange challenges, not the business challenges its competitors have raised. In addition, the company's operating margin of 13.93 is near its 5-year high.
Conclusion
The new administration will bring significant changes to corporate America. Business leaders are banking on the increased infrastructure spending, tax overhaul, and regulatory overhaul. In addition, with technology changing rapidly and the need for agile organizations, I believe Accenture will benefit. It serves more than three-quarter of the Fortune 500 companies. In addition, with the recovery in US manufacturing, and with manufacturers looking for cost cutting strategies such as automation, I believe Accenture's services will be needed. There are, however, some risks which could be brought by the new administration - such as trade wars - which could have significant implications, especially in the outsourcing segment.
Disclosure: I am/we are long ACN.
I wrote this article myself, and it expresses my own opinions. I am not receiving compensation for it (other than from Seeking Alpha). I have no business relationship with any company whose stock is mentioned in this article.
Additional disclosure: Crispus Nyaga is a Wall Street writer focusing on companies in different sectors. While most of my recommendations have turned out well, some have not been quite successful. Therefore, before you buy or short a company, I recommend that you do your own independent research. Also, I am not a native English Speaker so kindly excuse any grammar and spelling mistakes. I do my best to publish on a regular basis. So, kindly follow me to receive instant updates when I publish.