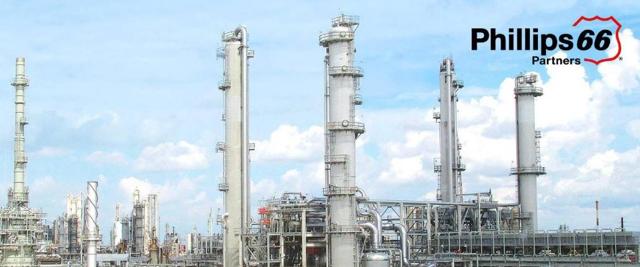 Kinder Morgan (NYSE:KMI) has spent the last year working tirelessly to get a handle on its massive debt problem and get back to a point where it can once more start growing its dividend.
However, while I applaud management for its work thus far, the fact is that Kinder's long-term growth thesis remains extremely weak, especially compared to far better MLPs, such as Phillips 66 Partners (NYSE:PSXP).
Let's take a look at just why Kinder, despite its steady improvements, simply can't hold a candle to the far better quality, yield and growth prospects of one of America's best dividend growth stocks.
Kinder's Progress Remains Steady, But Too Little Too Late
| | | | |
| --- | --- | --- | --- |
| Metric | 2015 | 2016 | YoY Change |
| Revenue | $14.403 billion | $13.058 billion | -9.3% |
| DCF | $4.699 billion | $4.511 billion | -4.0% |
| DCF/Share | $2.14 | $2.02 | -5.6% |
| Dividend | $1.93 | $0.50 | -74.1% |
| Distribution Coverage Ratio | 1.11 | 4.04 | 264.4% |
Source: Earnings Release, Gurufocus
Kinder Morgan remains in turnaround mode, being forced by its massive debt load to focus on deleveraging over growth. That's why management was so eager to focus on the net $3 billion debt reduction in 2016, which was largely funded by sales of major assets such as the $4.15 billion sale of 50% of its Southern Natural Gas or SNG pipeline system to Southern Company (NYSE:SO).
Of course, while such asset sales help to set the company on a path to achieving a long-term net debt to adjusted EBITDA ratio of 5.0, it also comes at the cost of a permanent loss of future cash flow. That explains why, despite completing major projects like the SNG, Elba Express and Cortez pipeline expansions, Kinder reported a decline in both revenue and distributable cash flow or DCF, which is what funds the dividend.
Worse yet, the completion of those projects reduces the company's growth backlog to just $12 billion, a far cry from its mid-2015 high of $22 billion. Just how much will the existing growth backlog (those projects scheduled to be completed within five years) improve Kinder's results?
Well, management says it expects the EBITDA yield on these projects to be 14.9%, which would mean that assuming management completes them on time and on budget, Kinder's EBITDA in 2021 will be $1.79 billion or 38.6% higher. That represents a growth rate of 6.8% CAGR.
Of course, that's assuming that the company doesn't end up selling additional assets, such as a 50% stake in its just approved Trans Mountain Pipeline expansion. That $6.8 billion project represents over half of the company's growth potential and so selling off half the future cash flow would prove devastating to the long-term growth rate of both its DCF and the dividend.
Phillips 66 Partners Has The Makings Of A True Income Growth Legend
| | | | |
| --- | --- | --- | --- |
| Metric | 2015 | 2016 | YoY Change |
| Revenue | $348.1 million | $633.9 million | 82.1% |
| DCF | $228.2 million | $380.0 million | 66.5% |
| Units Outstanding | 68.2 million | 107.2 million | 57.2% |
| DCF/Unit | $3.35 | $3.54 | 5.9% |
| Distribution | $1.50 | $2.08 | 38.7% |
| DCR | 2.23 | 1.70 | -23.6% |
Source: Earnings Releases
As you can see Phillips 66 Partners is putting up some amazing growth figures. That's courtesy of the $2.761 billion in capital the MLP put to work on behalf of unit holders, including: $2.3 billion in drop-downs from sponsor and general partner Phillips 66 (NYSE:PSX), as well as $461 million in third party acquisitions and organic growth projects put into service.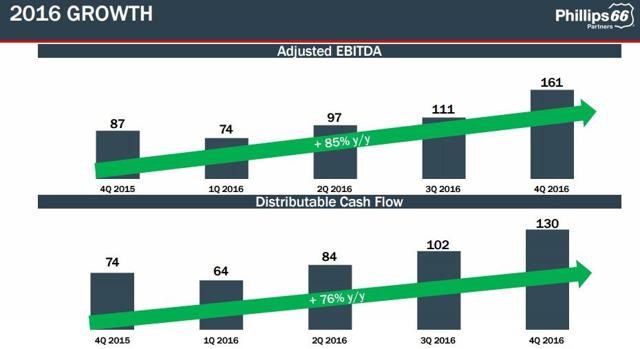 Source: Phillips 66 Partners earnings presentation.
To put that in context, it's actually more than the $2.7 billion Kinder spent on growth projects in 2016.
Given its much smaller asset size, the pace of new growth allowed Phillips 66 Partners to put up some truly incredible growth, including some of the most impressive payout growth of any MLP in America.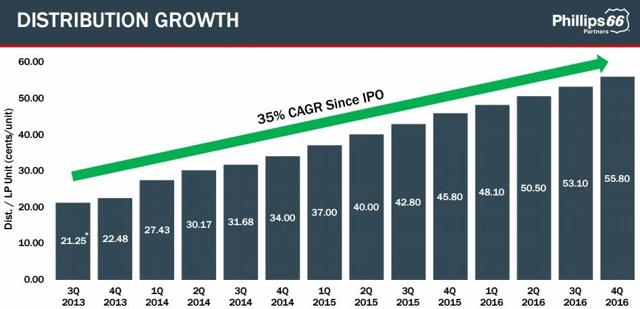 Better yet? Thanks to the massive midstream assets owned by Phillips 66, as well as the billions in additional midstream projects America's largest independent refiner is working on that will eventually be dropped down to the MLP, Phillips 66 Partners expects to be able to grow its EBITDA from $558 million in 2016 to $2.3 billion by 2018.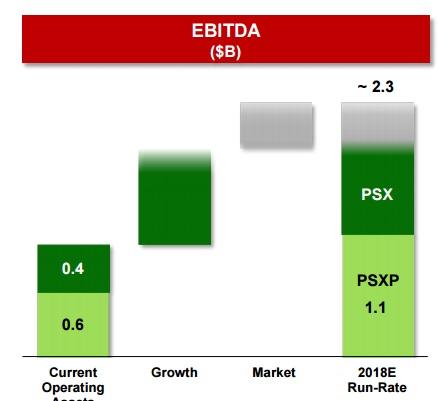 Source: Phillips 66 investor presentation.
That's 312% growth in just the next two years, or 103% CAGR.
Best of all, the MLP doesn't have to reach for growth at any price, instead maintaining strict discipline that allows it to acquire its assets on highly lucrative terms.
Profitability: Phillips Is A Far Better Pipeline Operator
| | | | | | |
| --- | --- | --- | --- | --- | --- |
| Pipeline Operator | Operating Margin | Net Margin | Return On Assets | Return On Equity | Return On Invested Capital |
| Kinder Morgan | 18.0% | -2.6% | -0.4% | -1.0% | -0.4% |
| Phillips 66 Partners | 58.7% | 38.1% | 8.8% | 19.1% | 10.8% |
| Industry Average | 8.5% | 0.3% | 0.1% | 0.2% | NA |
Source: Morningstar
As you can see, Kinder Morgan has a major problem with its profitability, courtesy of its higher costs of capital since the oil crash began. These have resulted in new projects failing to generate sufficient profitability or returns on shareholder capital to break even, much less keep up with even the poor profitability that is dragging on the industry at large.
On the other hand, Phillips 66 Partners has been able to get great terms for its assets from Phillips 66, ensuring some of the best profitability in the industry. That helps to ensure each acquisition is accretive to DCF/unit and allows for continued stellar payout growth.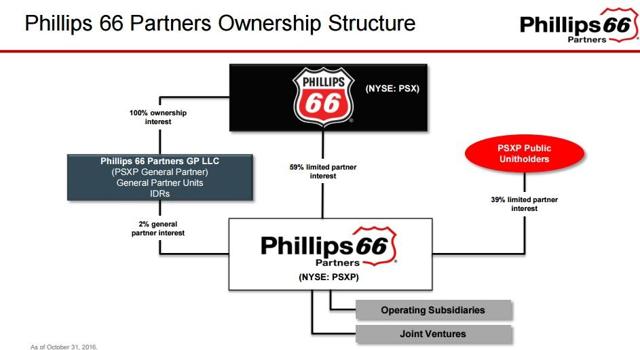 The reason that Phillips 66 is willing to sell its midstream assets at such generous terms is because it owns 61% of the MLP, as well as the highly lucrative incentive distribution rights.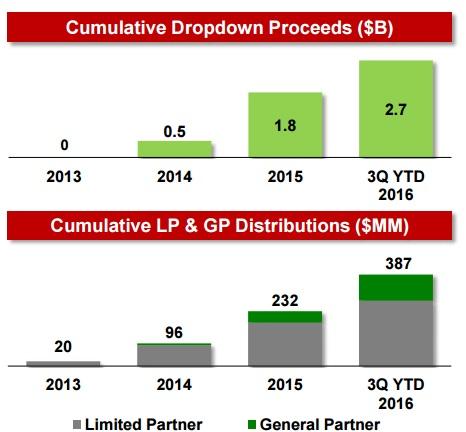 That means that it has an incentive to make sure its MLP grows quickly, and profitably, so that it can monetize its assets while still benefiting from an exponentially growing stream of cash flow that helps to fuel its own impressive dividend growth.
Balance Sheet: Kinder Doing Better But Phillips 66 Partners Is The Clear Winner
| | | | | | |
| --- | --- | --- | --- | --- | --- |
| Pipeline Operator | Debt/EBITDA | EBITDA/Interest | Debt/Capital | Current Ratio | S&P Credit Rating |
| Kinder Morgan | 5.40 | 2.56 | 49% | 0.56 | BBB- |
| Phillip 66 Partners | 3.80 | 9.40 | 38% | 0.67 | BBB |
| Industry Average | 8.77 | NA | 62% | 0.76 | NA |
Sources: Morningstar, Simply Safe Dividends, Earnings Releases
Kinder's dividend cut was the result of its overleveraged balance sheet, which just goes to show the danger of trying to grow too fast. Today the company's leverage ratio, debt to capital ratio and interest coverage ratio are much improved.
In fact, Kinder's balance sheet is actually better than average in many important metrics. However, compared to Phillips 66 Partners its debt levels remain inferior.
That's courtesy of Phillips 66 Partners' more conservative management team, which is targeting a long-term Debt/EBITDA ratio of 3.5.
That would not just be an improvement over its current debt levels but would give it one of the strongest balance sheets in the midstream MLP industry. That's important because it will continue to allow the MLP to borrow very cheaply, (average debt cost 3.97%).
That, in turn, will keep its cost of capital low and its profitability high, thus allowing faster growth opportunities that should keep the payout growth humming along.
Payout Profile: Which Would You Rather Own?
| | | | | |
| --- | --- | --- | --- | --- |
| Pipeline Operator | Yield | TTM Distribution Coverage Ratio | 10 Year Projected Dividend Growth | 10 Year Projected Total Return |
| Kinder Morgan | 2.2% | 4.04 | 6.0% | 8.2% |
| Phillips 66 Partners | 4.0% | 1.70 | 15.2% | 19.2% |
| S&P 500 | 2.0% | 2.53 | 5.9% | 9.1% |
Sources: Gurufocus, Earnings Releases, Yahoo Finance, FactSet Research, Fast Graphs, Multpl.com, Moneychimp.com
At the end of the day owning any midstream company is about one thing: the dividend.
What we want to see is: a generous, highly secure and fast-growing payout, which provides the necessary growth catalysts for long-term market outperformance.
While Kinder's much smaller dividend is certainly safe, keep in mind that it is cut off from debt and equity capital markets. This means that its excess DCF is earmarked to paying for the completion of its growth backlog as well as ongoing de-leveraging efforts.
On the other hand, Phillips 66 Partners remains a darling on Wall Street, able to easily access cheap debt and equity, allowing it to continue growing at a torrid pace.
And while its distribution coverage ratio or DCR is lower than it was a year ago, in this industry anything above 1.1 is considered sustainable. Which means that Phillips 66 Partners has plenty of room left to continue growing its payout at some of the best rates of any dividend stock in America.
Valuation: Kinder May Still Be Cheap, But Phillips 66 Partners Is A Far Better Value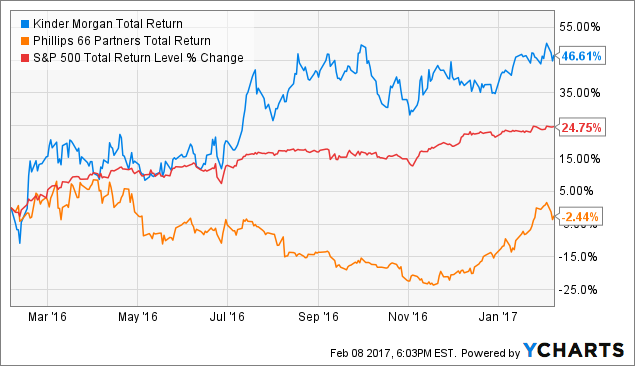 KMI Total Return Price data by YCharts
Despite its fundamentals not improving all that much, Kinder Morgan has had a fantastic year, easily beating both Phillips 66 Partners and the market as a whole. Of course that means that the easy profits have been made on this turnaround story.
| | | | | |
| --- | --- | --- | --- | --- |
| Pipeline Operator | P/OCF | Historical P/OCF | Yield | Historical Median Yield |
| Kinder Morgan | 12.4 | 9.8 | 2.2% | 4.1% |
| Phillips 66 Partners | 12.6 | 28.2 | 4.0% | 1.9% |
| Industry Average | NA | NA | 5.2% | NA |
Sources: Earnings Releases, Gurufocus, Fast Graphs
In fact, on a price to operating cash flow basis, Kinder is now trading above its historical norm and about the same as the much faster, much more profitable and financially more sound MLP.
And when it comes to the thing that dividend investors care about most, the yield, Kinder's payout remains far below its historical median value.
On the other hand, because Wall Street has failed to reward Phillips 66 Partners for its exceptional growth, it is trading at a huge discount to both its historical P/OCF as well as its historical median yield.
| | | | | | |
| --- | --- | --- | --- | --- | --- |
| Pipeline Operator | TTM DCF/Share | 10 Year Projected Growth | Fair Value Estimate | Growth Baked Into Current Share Price | Margin Of Saftey |
| Kinder Morgan | $2.02 | 6.0% | $34.54 | -2.3% | 36% |
| Phillips 66 Partners | $3.54 | 15.0% | $120.28 | 0.8% | 55% |
Sources: Earnings Releases, Fast Graphs, Gurufocus
And when we look at the long-term growth prospects of both pipeline operators we also find that Phillips 66 Partners offers a far better investment opportunity at this time.
Sure, on long-term discounted cash flow or DCF basis, Kinder still appears undervalued, with shares pricing in ongoing negative growth. Assuming you believe that management can eventually execute well on its growth plan, it should be able to easily beat those low expectations.
However, Phillips 66 Partners, which has a far superior management team and a proven ability to grow quickly, offers a far larger margin of safety.
That means that, whether you're looking to open a position, or add to an existing one, Phillips 66 Partners is the far better choice at today's price.
Risks To Consider:
As with most midstream companies and MLPs there are three main risks to consider before investing in either of these stocks.
First, the ultimate long-term growth prospects of either are predicated on a recovery in energy prices. And as we've seen during this oil crash, no one can predict when, or even if that might happen.
After all, out of sheer necessity, shale oil and gas producers have had to massively improve their efficiency, resulting in far lower break-even costs than anyone though possible.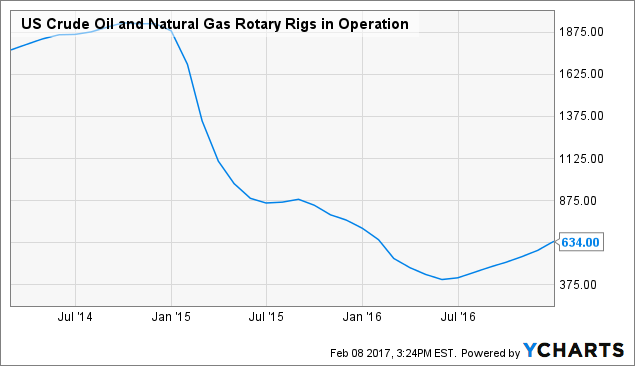 US Crude Oil and Natural Gas Rotary Rigs in Operation data by YCharts
That's why, even with oil prices at just half of their pre-crash high, the number of drilling rigs has now climbed to almost double its June 2016 low.
Combined with a massive amount of drilled but uncompleted wells, this means that US shale producers could easily offset the OPEC production cuts that are currently underway.
Then of course there is the long-term issue of demand growth, which has been slower than expected thanks to slower growth in developing economies like China. That slowing growth and record amounts of oil in storage means that it may take years for the supply/demand imbalance to work itself out.

In the meantime, the world's shift towards electric cars means that peak oil demand may happen faster than previously thought. Today EVs currently make up less than 1% of the market share of global vehicle sales. However, the impressive growth rate (55% CAGR over the last four years) in this far superior technology (cheaper to fuel, less costly to maintain, more efficient, more reliable, cleaner) means that sales are likely to continue growing rapidly in the coming years and decades.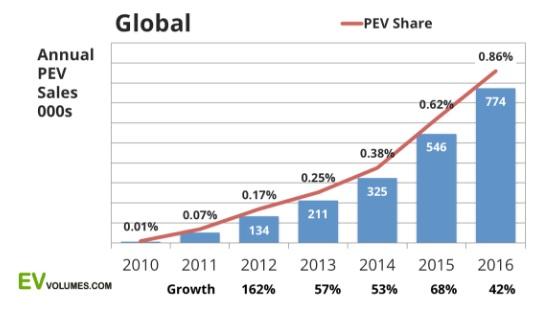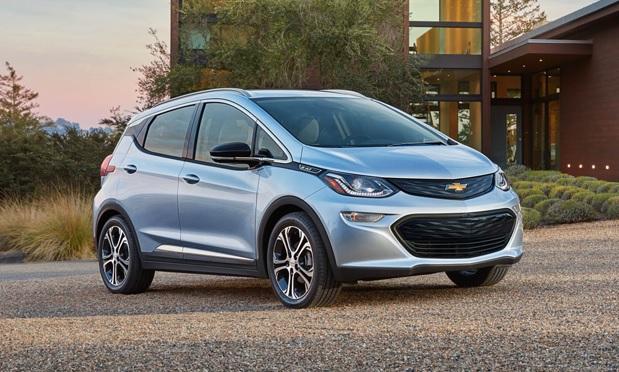 2017 Chevy Bolt
That's especially true with major auto makers now launching, or planning to soon launch, truly game-changing models such as the Chevy Bolt (2017 North American Car Of The Year), and Tesla's (NASDAQ:TSLA) Model 3 (around 400,000 pre-orders). These excellent EV options, which are far more affordable, mean that the inevitable shift away from gas and diesel vehicles and towards an all EV future should only continue to accelerate.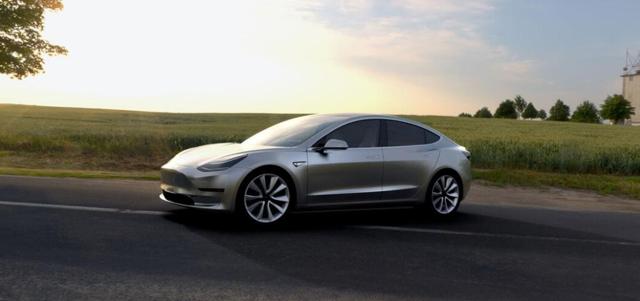 2018 Tesla Model 3
And then of course there's the threat of rising interest rates. Higher US interest rates mean higher debt costs and generally higher costs of capital. This can limit the amount of potentially accretive investment opportunities and shorten long-term growth runways.
But, as importantly, we can't forget that the midstream industry has greatly benefited from nearly a decade of record low interest rates. That forced income investors to hunt for yield and sent a lot of capital flowing into higher-yielding, steady dividend payers.
If US rates rise and suddenly 10- and 30-year US Treasuries end up offering 4%, 5%, or even 6% yields, then a lot of demand for shares and units in Kinder and other midstream operators might vanish.
And since the business model is predicated on growth capital coming from periodic equity issuances, that could starve both Kinder and Phillips 66 Partners of the large amount of growth capital they would need in order to live up to their long-term investment thesis.
Bottom Line: Kinder Most Likely Can't Outperform the Market, Much Less Phillips 66 Partners
Kinder Morgan has the POTENTIAL to make a decent investment IF energy prices recover and management is able to execute flawlessly on its turnaround plan. However, given that this alignment of factors is outside of the company's control, I can't recommend investors buy the stock at this time.
Not when a far superior alternative such as Phillips 66 Partners is offering: a stronger balance sheet, much better dividend profile, an extremely long growth runway and a valuation that is just too good to pass up.
Disclosure: I am/we are long PSXP.
I wrote this article myself, and it expresses my own opinions. I am not receiving compensation for it (other than from Seeking Alpha). I have no business relationship with any company whose stock is mentioned in this article.