A Q1 revenue miss has shares of Whole Foods Market (WFM) down marginally after-hours. Goldman Sachs (NYSE:GS) warned investors about this forthcoming miss and sell-off. GS also thinks shares will trend down to about $24 over the next several months. We agree with Goldman's bearish thesis, and maintain that WFM's limited TAM and rich valuation make the stock a sell at these levels.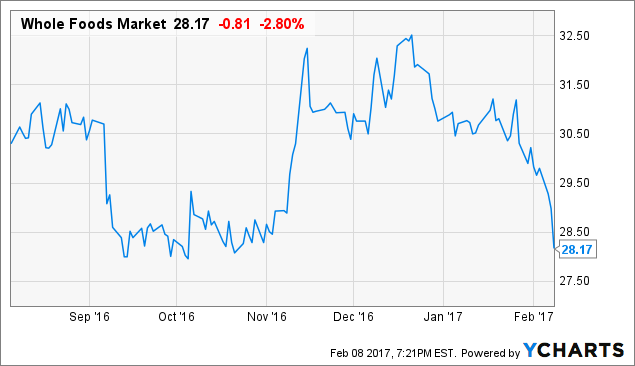 The quarter wasn't very good. Comps were negative, revenues grew at an unusually low rate, gross and operating margins compressed, and the guidance was particularly unimpressive. Going forward, competition is only going to intensify, and WFM's high price tags will only become less and less attractive to a majority of consumers. As such, we do not have a terribly favorable outlook for comps (nor does management with a -2.5% or better comps guide lapping FY16 comps of -2.5%). Therefore, we believe that sales growth going forward will be driven mostly by unit growth.
At first glance, the company's 469 store base makes it seem like there is plenty of room for expansion, but we aren't so sure about that. WFM's high price tag restricts the company's TAM and puts a lid on real estate expansion. The company is aiming for 5% square footage growth this year net of closures, and management also walked back on its goal of 1,200-plus stores. In part thanks to 365, we think square footage can grow somewhere in the low-to-mid single digit range per year. That unit growth coupled with flattish to marginally positive comps means revenue growth will be slow into the foreseeable future.
The problem with WFM is that the valuation does not fully reflect this slow-growth era. A $1.33 EPS target this year on a $29 quote means the stock is trading at 21.8x FY17 earnings. That 21.8x multiple is on earnings that are down YoY and don't have much visibility as it relates to long-term growth. Indeed, since 2013, EPS is up only about 5% in 3 years and that includes aggressive share buybacks ($1.55 in 2016 versus $1.47 in 2013). Taking out the effect of share buybacks, net income is actually down in that time frame ($507m in 2016 versus $551m in 2013).
So, in actuality, the operating business really isn't improving at all. The only real growth aspect of WFM has been the topline, and with unit growth slowing and comps turning negative, even revenue growth is stalling (only up 1.9% in Q1). While we do expect food deflation issues to ease and for at-home food prices to rise this year, a multi-year forward revenue CAGR in the low-to-mid single digit range doesn't get us excited. Even under the assumption that slower unit growth should allow the company get some leverage on the SG&A line going forward, we still only expect earnings to grow at a mid-to-high single digit CAGR over the next 5 years.
At the end of the day, we do not see any reason to buy WFM at 21.8x FY17 earnings for mid-to-high single digit earnings growth when the market is trading at 17.4x FY17 earnings for low double digit earnings growth. We agree with Goldman Sachs that shares will "grind steadily lower" over the next several months.
Disclosure: I/we have no positions in any stocks mentioned, and no plans to initiate any positions within the next 72 hours.
I wrote this article myself, and it expresses my own opinions. I am not receiving compensation for it (other than from Seeking Alpha). I have no business relationship with any company whose stock is mentioned in this article.