I think investors would do well to avoid shares of FMC Corp. (NYSE:FMC). The underlying business is volatile, and the capital structure is troublesome in my view. Beyond that, and most damning of all, the stock is trading at a significant premium to the market in a way that doesn't make sense. In my view this represents the chief reason to avoid this name: the stock price is misaligned to the value of the underlying business.
Can't Protect Net Income in Bad Times
I like companies that can grow net income in good times and bad. The business cycle is alive and well, and as a result we should expect occasional drops in sales. The hallmark of an excellent company is one that can, in spite of slowing sales, continue to grow net income, which is the foundation of investor returns. FMC Corp. seems incapable of doing this. For instance, between 2015 and 2016, revenue increased by about 18 basis points, but net income dropped by a full 57%. This is the exact opposite of what I want to see in a company. I want to see net income rising in spite of what happens to revenue. I want a company to be able to dynamically adjust the business to ensure the bottom line is protected.
I also like predictability and consistency in companies, and it turns out that FMC Corp. is too volatile for my tastes. How can you model a company that has had falling net income three times in the past eight years. This is too much volatility for me and I feel the shares should trade at a discount to the overall market as a result. The reverse is true in this case.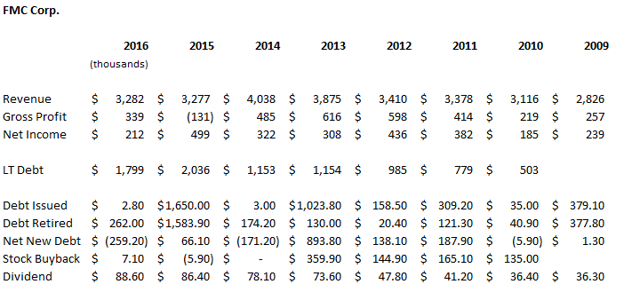 The Capital Structure
Although the level of debt dropped in 2016, it should be pointed out that over the past seven years, debt has grown by approximately $850 million. In addition, about 40% of this debt is due before 2020, which raises the risk somewhat about a liquidity crisis. There's certainly enough cash to cover operations in the short term, but liquidity can dry up surprisingly quickly in cyclical companies like this one, and if debt comes due at the wrong time, risk goes off the charts. Thus, the level of debt here is troublesome in my view and one reason why investors should demand buying this stock at a discount to the market.
The Stock
I would like to very briefly discuss how I calculated the PE of 36.6, as it's at variance with some of the public websites that have PE ranging between 31.7 and 313. I've simply divided the current price of $57.03 by the trailing twelve month diluted earnings per share (which includes the impact of discontinued operations) of $1.56. Reasonable arguments can be made about what is a reasonable measure of earnings here, but all of them lead to the same conclusion: FMC Corporation is overpriced.
The business (chemical manufacturing) is fine as far as it goes, but the stock is overpriced. As I've said before, mediocre businesses like this one are potentially excellent investments if they can be acquired at the right price. At the wrong price, the opposite is true, and at the moment, FMC is trading at the "wrong" price. Given the level of debt present, and given the volatility (and hence unpredictability) of the underlying business, the shares should trade at a discount in my view. Instead, they are trading at a 38% premium to the market. Looking at EV/EBIT makes for an even more compelling argument for overvaluation. With an EV/EBIT of 22.5, the shares are trading with an earnings yield of about 4%. This isn't sufficiently greater than the risk free rate in my view.
Technical Snapshot
On February 7 the stock dropped 6% to $57.03 after the company reported earnings - we believe there is further downside to come. We see the shares drifting down to the $52.00 level over the next three months.
Today we bought the FMC 21APR17 57.50 Put Options which will provide us with approximately 11x leverage on our SHORT trade. Our initial stop-loss exit signal will be a daily close above $59.00.
For investors in the shares we recommend that you SELL to avoid any further share price decline.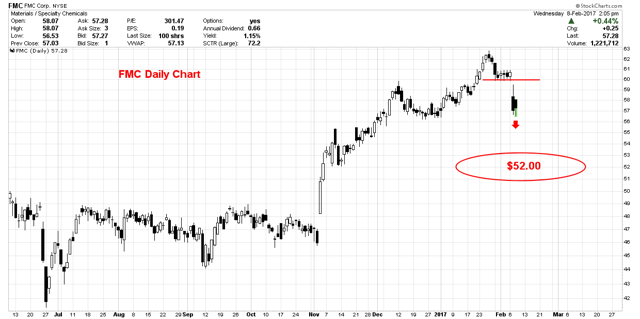 Conclusion
There are certainly problems here. The company seems incapable of translating higher revenue into higher earnings. The debt level is troublesome, and, most damning of all, the stock is overpriced for what investors will likely experience in terms of net income growth. There are much better places to put our limited capital and for that reason, I recommend avoiding FMC Corp.
Disclosure: I am/we are short FMC.
I wrote this article myself, and it expresses my own opinions. I am not receiving compensation for it (other than from Seeking Alpha). I have no business relationship with any company whose stock is mentioned in this article.