Sherwin-Williams (NYSE:SHW) finished fiscal 2016 strong, and shares have reflected this reality. I last wrote about the company in September, and between then and now there was brief stretch there were I was able to become a shareholder in the low $250's range. Unfortunately it's a small position, however, as shares snapped back rather quickly. Now that it's through fiscal 2016, I'd like to do a brief check up on my favorite paint company.
Return on invested capital - still strong
I created the below model in Excel (and all others in the article) utilizing data from Sherwin's financial statements.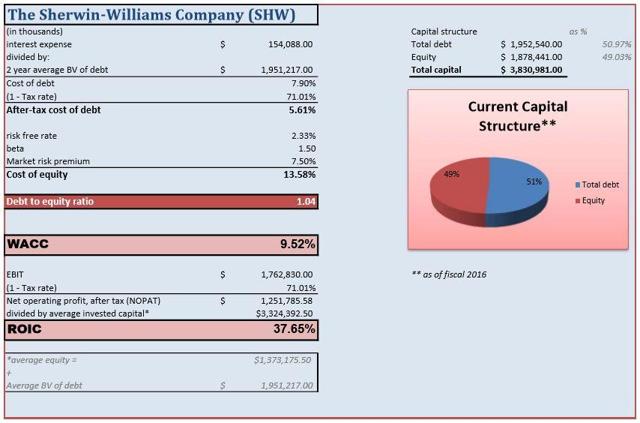 ROIC seems to have increased slightly year-over-year - always an encouraging trend. The company earns wide economic profits, even if we were to adjust its weighted average cost of capital, or WACC, even higher to the 12% to 15% range. SHW is simply a superior operation in my book.
These might be the last annual figures that SHW produces in its current form, as it's acquiring Valspar (NYSE:VAL). Given management's proven track record of capital allocation, I won't currently doubt their abilities to integrate it into their operation and generate further shareholder value.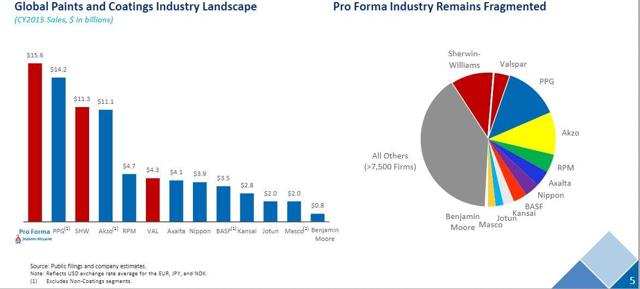 Source: Sherwin-Williams presentation
After the acquisition, the combined SHW-VAL will maintain an enviable market share position in a very fragmented market as well. After the integration is complete, however, I will still be interested to see if the acquisition does truly add shareholder value that filters into higher ROIC. No Management is so good that it shouldn't be held accountable, in my opinion. Scale alone could give the company a boost, though.
I'd like to adjust for the company's off-balance sheet operating leases, but I'll have to wait until it releases its official 10-K to have access to this information. I plan to revisit this in a future article.
Equity normalizing, what's the effect on ROE?
SHW's return on equity exceeded 100% last year, largely due to the tremendous magnification effects from an abnormal amount of leverage. This trend has reversed, as the company's equity has risen and the balance sheet is on its way to normalizing as well. I created the below DuPont to visualize this concept.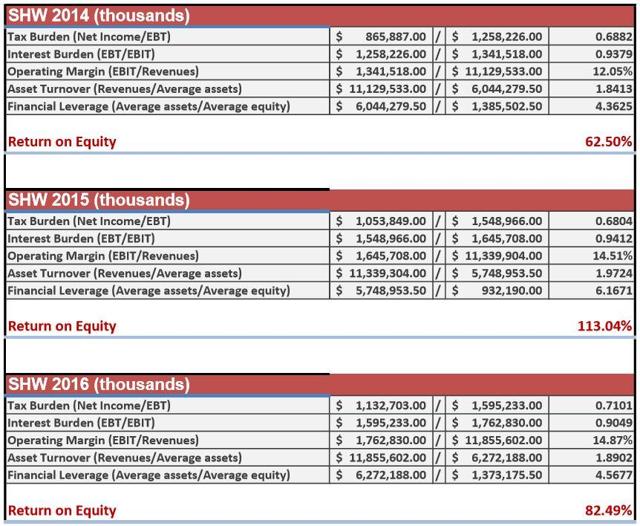 According to the company's (unaudited) financial statements for fiscal 2016, equity currently sits at around $1,878,441 (in thousands). The average equity amount in the above model is lower because total shareholder's equity was only about half that amount at the end of fiscal 2015. Return on equity dropped due to the repaired balance sheet with a higher equity balance (aka less leverage), therefore. Operating margins actually increased year-over-year.
The company didn't provide a full balance sheet breaking out assets and liabilities, which will be provided hopefully sometime later this month in the official 2016 10-K, so I added its assets up as an estimate. By my calculations, asset turnover slipped slightly, but still improved from two years ago. I'll revisit its asset turnover if the numbers are different when the official 10-K is released.
Conclusion
Sherwin-Williams appears to be firing on all cylinders, and this is reflected in the stock price.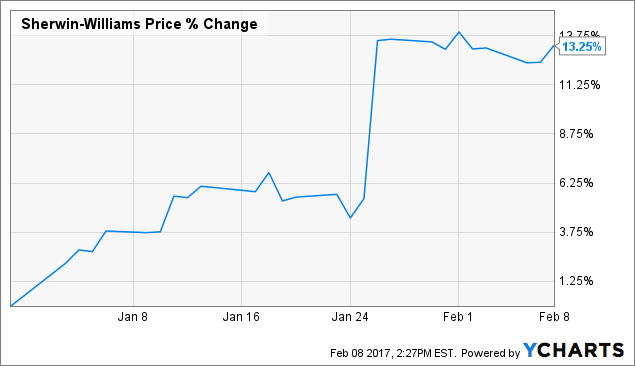 At roughly 22 times this year's expected earnings, I don't think that shares are especially cheap. I like to buy at the 20 times earnings range or less, personally, and even that's a "hold-my-nose-and-buy" price. Assuming the Valspar acquisition closes smoothly, the company will have even greater size-and-scale, with plans to deleverage quickly. I think the combined company will be a good play on infrastructure spending as well, as there's always a need for industrial coatings and architectural paint when new things are being built. As long as it's generating a wide economic spread, I'll remain a happy shareholder.
If you enjoyed this article and would like to receive further updates and articles in the future, please feel free to hit the "Follow" button at the top of the page next to the author's name.
Disclosure: I am/we are long SHW.
I wrote this article myself, and it expresses my own opinions. I am not receiving compensation for it (other than from Seeking Alpha). I have no business relationship with any company whose stock is mentioned in this article.
Additional disclosure: Articles I write for Seeking Alpha represent my own personal opinion and should not be taken as professional investment advice. I am not a registered financial adviser. Due diligence and/or consultation with your investment adviser should be undertaken before making any financial decisions, as these decisions are an individual's personal responsibility.