Originally published on February 3, 2017
The U.S. Economy
U.S. economic growth was markedly slowed during the fourth quarter of 2016, according to the advance estimate released in January. Specifically, real GDP growth came in at a 1.9% annual rate, down from the third quarter's final reading of 3.5%. This is generally in line with the 2.1% average growth rate the U.S. economy has experienced since coming out of recession back in 2009.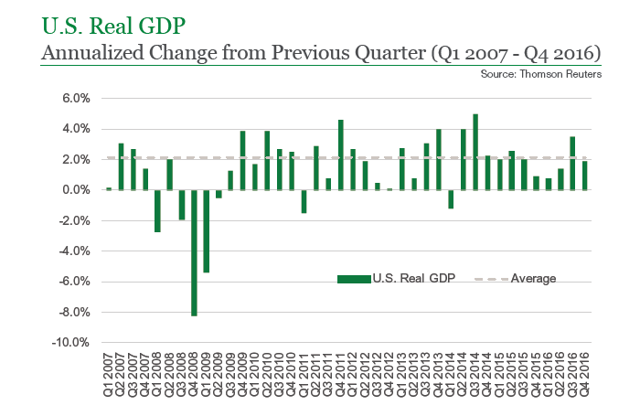 The largest headwind during the fourth quarter was a wider trade deficit, with net exports subtracting 1.7 percentage points. Consumption, however, remained healthy, with personal consumption expenditures rising 2.5% driven by durable goods purchases. The report also showed that inflation, as measured by the personal consumption expenditure (PCE) price index, rose 2.2% year over year, the highest level since 2012. The core index - which excludes food and energy and is the Fed's preferred inflation measure - remains subdued at 1.3%, however.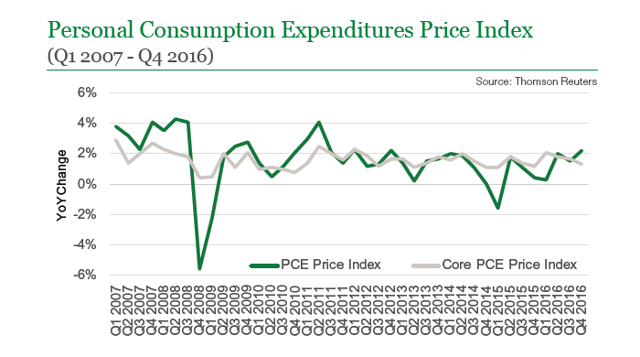 On the political front, President Donald Trump initially classified a border adjustment tax (BAT) proposal set forth by House Republicans as "too complicated." Creation of the proposed tax plan was led by Ways and Means Chairman Kevin Brady and Speaker Paul Ryan, and enjoys broad support among Republican House members. One part of the plan highlights export-related income, which would be tax-exempt, whereas a 20% tax would be imposed on all imports.
This particular system would make it more onerous for U.S. companies to shift production overseas and has been an important feature of the GOP congressional plan for tax reform. In addition to the president's concern regarding the proposed plan's complexities, his criticism was also due in part to concern that the dollar was already too strong, with many economists arguing that in order for a BAT system to work without causing significant disruption, the dollar would need to increase further by a significant amount. More recently, however, President Trump is warming to the proposal, according to a senior administration official.
It is our view that repudiation of a BAT system would indeed affect broader tax reform efforts. Congressional Republicans seem intent on minimizing revenue loss in any plan to cut individual and corporate tax rates, and eliminating the BAT system in the GOP tax plan would result in the loss of approximately $1 trillion in additional revenue. Hence, in order for tax reform to move forward and not significantly increase the deficit, other revenue generating reforms will need to take place (i.e., eliminating itemized deductions, denying interest deductions to businesses, repatriation of overseas profits, etc.).
Though there are policy implementation risks, we maintain our belief that recent economic developments combined with potential pro-growth policies under President Trump are supportive of a view that we could see a cyclical pickup in growth and inflation over the intermediate term, particularly in the United States. This remains largely dependent on how successful the Trump administration is in implementing its pro-growth policies. It is important to note that we expect any potential upside to remain within the post-global financial crisis range of GDP growth and not a step change.
Over the long term, however, our secular slow growth overview remains intact, due to headwinds from structural drags to growth from demographics and elevated debt levels. A change to our longer-term secular outlook would require governments globally following through on structural reforms that lead to increased productivity, allowing the world to grow into its current debt position.
Global Economy
Investors have closely followed comments by British Prime Minister (PM) Theresa May, in an effort to find clues for the next steps on Brexit amid the political policy confusion. In early January, PM May suggested that people who thought the country could keep "bits of EU membership" following Brexit were missing the point. Investors interpreted this as meaning that the U.K. could leave the EU single market, but will have to negotiate a separate deal with the bloc. The pound currency subsequently sold off and remains near an over-30 year low relative to the U.S. dollar.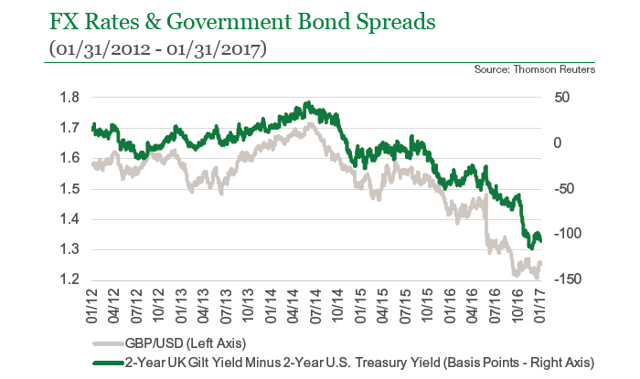 PM May has since communicated the U.K.'s negotiation objectives in more detail than previously. She has made it very clear that the U.K. would not be remaining in the single market, nor would it pursue partial or associate EU membership or remain a full part of the customs union. Instead, she wants a customs agreement that allows tariff-free trade with the EU, but also releases the U.K. from the rules limiting its ability to conduct trade outside of Europe.
Not surprisingly, PM May outlined a strong commitment to controlling immigration and ending the jurisdiction of foreign courts (i.e., the European Court of Justice), and also suggested that the U.K. government will pursue a transition phase for the agreement. A phased process implementation after an agreement is reached would avoid the need for sharp adjustments for business. While PM May's comments clearly outline conditions for a free-trade and customs agreement, we find it interesting that she also demonstrated a willingness to entertain a no-deal outcome, which increases the probability of an outcome consisting of a return to tariffs, a customs border, and restrictions on the ability to sell services cross-border.
We continue to believe that the EU will take a tough negotiating stance with the U.K. in order to set a precedent. We also believe the challenges to achieve any agreement with the EU within the two-year time frame anticipated by the U.K. government remain formidable, due to the complexity of the negotiation process.
In regard to the pound, we continue to expect the currency to remain under pressure through 2017 amid further uncertainty. However, we also believe the currency is unlikely to see significant downside risk from here, due to valuation, the potential for the current account deficit to shrink via better terms of trade, and the possibility that the Bank of England turns more hawkish in response to rising inflation.
Our Perspective
U.S. equity markets produced positive returns during January, and international equity markets were up as well. Valuations in the broad U.S. stock market remain somewhat elevated and became incrementally less attractive in January. However, we continue to see few unsustainable excesses in the U.S. economy that would suggest the economy is at risk of collapsing under its own weight. In this environment, discernment and flexibility are critical.
Given the slow global growth environment, in portfolios geared toward investors that need capital growth, we are targeting investments in fundamentally strong businesses that are not heavily reliant upon macroeconomic growth to drive sales and earnings. More specifically, we see value in businesses that we believe have control of their destiny and are taking share in large established markets or creating new markets on their own. The goal is to identify companies trading at attractive valuations relative to their growth potential.
For fixed-income investors and investors with a shorter time horizon or current income needs, we still see value in the corporate bond sector, and portfolios maintain a sizeable allocation to corporate securities. We continue to view the economic outlook as being supportive of credit, but remain mindful that we are in the later stages of an economic expansion, and valuations are becoming less compelling. As such, we may reduce credit exposure over time as credit spreads tighten or if our outlook for the economy and/or macro risks change. Regarding government debt, portfolios have a notable allocation to U.S. Agency and nominal U.S. Treasury securities.
Portfolios also maintain a modest duration. Despite the spike in interest rates toward the end of 2016, they remain historically low. Given that, we maintain our view that investors are not being adequately compensated to hold significant amounts of long-term debt. Should interest rates continue to increase to more attractive levels, we would look to increase duration through the purchase of longer-maturity Treasuries or Agencies to take advantage of higher levels of income. Conversely, if rates consolidate and prices rise, we may look to reduce duration.
In our view, short-term and income-oriented investors should also explore equities that display stable fundamentals and are trading at attractive valuations. We believe companies that generate strong, stable cash flows and pay an attractive dividend could be compelling options for these types of investors in the current environment.
Source: Thomson Reuters. Analysis: Manning & Napier Advisors, LLC (Manning & Napier). Manning & Napier is governed under the Securities and Exchange Commission as an Investment Advisor under the Investment Advisers Act of 1940.