As the US begins a great national debate over healthcare policy, investors in affected industries will need to understand some basic principles of healthcare economics. This post focuses on one such principle-that of insurability. I hope to deal with others in future posts.
A risk must meet certain well-known conditions in order to be economically insurable. Healthcare risks meet some of these conditions. For example, large numbers of people are similarly exposed, and the magnitude and probability of risk are usually calculable. However, healthcare risks, at least for many people, fail to meet two other key conditions of insurability: They are not always fortuitous , and actuarially fair premiums are not always affordable.
The problems of fortuity and affordability arise from an inconvenient but inescapable fact of healthcare economics-the highly skewed distribution of medical expenses. Consider the following chart, based on data from a study by the National Institute for Health Care Management Foundation.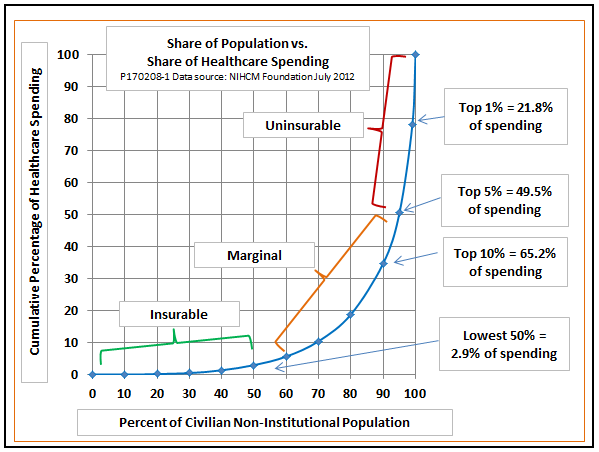 According to the 2009 data on which this chart is based, the lowest half of the population, including the 15 percent who have no medical expenses at all in any given year, account for less than 3 percent of all personal healthcare spending. At the other end of the scale, the top 1 percent accounted for more than a fifth of all spending, and the top 5 percent for nearly half.
This skewed distribution divides the population roughly into three groups, according to their insurability.
The healthcare risks of the top 5 percent are largely uninsurable by conventional standards. The main reason is that their risks are not fortuitous. The majority of people in this category suffer from chronic conditions, such as heart disease, obesity, and diabetes, or in many cases, a combination of two or more such conditions. As a result, people facing losses in one year are highly likely to face losses in subsequent years. The NICHM data show that 45 percent of those in the top decile of spending in any one year remain there in the next. Only a quarter of those in the top half of the distribution move to the lower half from one year to the next. Rapid advances in genetic testing are further undermining the fortuity of healthcare risks.
Furthermore, even if insurance were available, premiums for the top risk groups would be unaffordable for most households. Mean per capita spending for the top 1 percent was $90,000 per year as of 2009, according to the NICHM data, and $40,000 per year for the top 5 percent. In short, it is economically unrealistic to expect conventional insurance to meet the needs of the sickest 5 percent of the population.
At the other end of the scale, the risks faced by people in the healthiest half of the population are potentially insurable in the traditional sense. Average spending in this group was just $236 per capita in 2009, suggesting that premiums would be affordable even after inclusion of administrative costs. A combination of moderate co-payments and deductibles could control moral hazard for this group.
The main caveat is that even people who have low risks in one year can develop conditions that move them up the scale in the future. As a result, if premiums are to remain affordable, insurance companies must have some way to avoid liability for the multi-year expenses of those who develop chronic conditions. To do that, they must have some way of moving their sickest customers off their books before their expenses get out of control. Mechanisms like lifetime caps or nonrenewal of policies for people with pre-existing conditions are politically unpopular, so reformers are looking at ways to maintain insurability for low-expense groups by transitioning the chronically ill into high-risk pools at either the federal or state level, into and expanded Medicare, or into some other taxpayer-subsidized system of catastrophic coverage.
In the middle of the spectrum, roughly spanning the fiftieth through the ninetieth percentiles, lie the marginally insurable. People in this range would be likely to face premiums in the individual market that would be unaffordable for households with median incomes or lower. Employer-provided insurance with group rating could remain economically viable for them, but that solution has other disadvantages, including problems of portability and unworkability for small firms. I will return to the problems of employer-provided health insurance in a future post.
What role does all this leave for insurance companies in healthcare reform?
One model would be a single-payer system like that of Germany, Switzerland, and other countries where conventional insurance disappears, but where private companies administer payments to doctors and hospitals and earn fees for doing so. In such systems, the operation of "sickness funds" or whatever they end up being called would be highly regulated and not entirely supported by premiums, but it could still remain a profitable line of business.
Another model would be a two-tier system in which the medical needs of the low-risk half of the population are covered by individual insurance, with premiums kept affordable by an orderly mechanism that allowed insurers to shift the chronically ill to some form of taxpayer-subsidized high risk pool. Employer-based insurance might survive as a middle tier. Crudely put, such a system would be one of private medicine for the healthy and the wealthy, with socialized medicine for the sick. Whatever the particulars, the taxpayer-subsidized sector would almost certainly end up covering well over half of all medical expenses even if it covered far less than half of all individuals.
The third option would be to abandon the goal of providing healthcare coverage for everyone. The insurable would have insurance and the uninsurable would do the best they can, drawing on the resources of friends, family, and charities, or simply doing without.
Investors should be aware that all three of these options have one feature in common. Each in its own way is likely to lead to a reduced role for private insurance companies in the field of health care.
Disclosure: I/we have no positions in any stocks mentioned, and no plans to initiate any positions within the next 72 hours. I wrote this article myself, and it expresses my own opinions. I am not receiving compensation for it (other than from Seeking Alpha). I have no business relationship with any company whose stock is mentioned in this article.