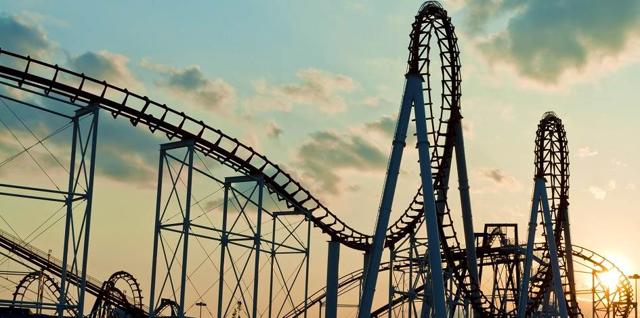 In a recent piece on annual predictions for 2017, I wrote: "The bond market sell-off will pause during the equity correction in 1Q/2017, but then yields will soar as the later inflation shock hits; however, the onset of a recession late in 2017 or early in 2018 will reverse much of the bond sell-off temporarily. High yield bonds will finally sell off dramatically as the credit cycle ends later in the year." This presumed convoluted roller coaster ride for bonds in 2017 is predicated on three awkward facts: 1) the mispricing of risk is rampant due to the market's fervent but probably wrong-headed belief that long-term deflationary economic trends and their impact on bonds can be ignored just because a new pro-business administration has taken office; 2) relentlessly bullish equity markets still pretend they will essentially never have to pay the piper in spite of strong signs that we are late, or even very late, in the cycle; and 3) equity and bond valuations are at extremes, but there is almost no limit on how far each can still go under scenarios in which their respective bubble-blowing tail winds are sustained.
In other words, stocks can go even higher, as they did in 1999-2000, but will then ultimately fall even farther and stay down longer. Likewise, bond yields (especially now that they've corrected) can go much lower now, even to new all-time lows, without violating any particular economic or market barriers, as Japanese and European markets have already shown. Here I present some reasons why the bond market is likely to do very well as a contrarian play in 2017, and how investors might position their portfolios to take advantage of this likely market twist.
Some pretty well-known and seasoned investors now expect the reflation trade to dominate going forward. For example, famed bond guru Jeffrey Gundlach has said the dollar will fall under President Trump's policies, adding to inflationary pressures (David A. Grogan, 2017). This would tend to put a bid under TIPS and cause US Treasuries to sell off. Gundlach believes a yield surge above 3.00% for the 10-Year Treasury would signal the end of the great bond bull market.
Well-known hedge fund manager William Fleckenstein believes there is now a huge duration risk bubble courtesy of the Federal Reserve (Sid Verma & Andrea Wong, 2017), and that its collapse will lay waste to market players who "are prisoners of the past." Mike Harkins, CEO of an asset management firm, believes investors have no protection these days to hedge their portfolios against disasters. He believes inflation is coming soon, and markets "couldn't possibly be more wrongly positioned" for a major shift in US bond yields. Indeed, Chart 1 shows that the 10-Year Expected Inflation (based on the TIPS spread) has confirmed a strong inflation signal from ECRI's Future Inflation Gauge (FIG) since mid-2015. However, it should also be noted that the very long-term downtrend in 10-Year Treasury yields has not yet been violated in spite of the recent strong surge in yields (Chart 2).
Chart 1: Recent TIPS Spread Surge Confirms ECRI Inflation Forecast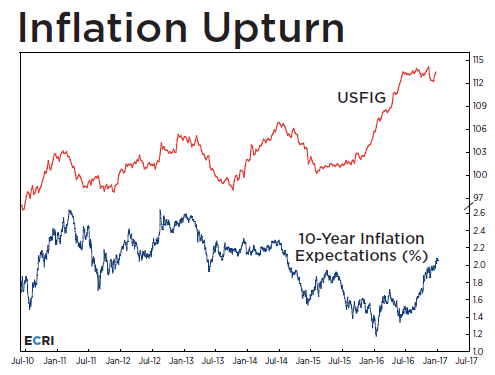 Chart 2: The Recent Bond Yield Surge Hasn't Broken Very LT Trend
In contrast to the bearish views just discussed, some equally renowned and very experienced investors disagree strongly with the interpretation that the bull market in bonds is over. Economist and macro investor Gary Shilling has been long Treasuries for decades, and he does not think the trend is over yet (Sid Verma & Andrea Wong, 2017; Op. Cit.). His yield target for the 10-Year Treasury is still a new low of 1.00%, and his yield target for the 30-Year Treasury is also a new low of 2.00%. In part, this is based on the idea that recessions tend to put in new lows for yields, and we are likely to have a recession at some point in the relatively near future. Lacy Hunt of Hoisington Investment Management has also favored the long end of the Treasury curve for many years, and he thinks the post-election Treasury bond rout has set up conditions that will result in a new bond rally. Hunt believes the US debt overhang and its associated disinflationary trend will continue to put downward pressure on yields (Zero Hedge blog, 2017). He also says history demonstrates that when debt levels are high and increasingly counterproductive, monetary velocity falls, and yields follow (Chart 3).
Chart 3: LT Correlation of M2 Velocity and 30-Year Treasury Yield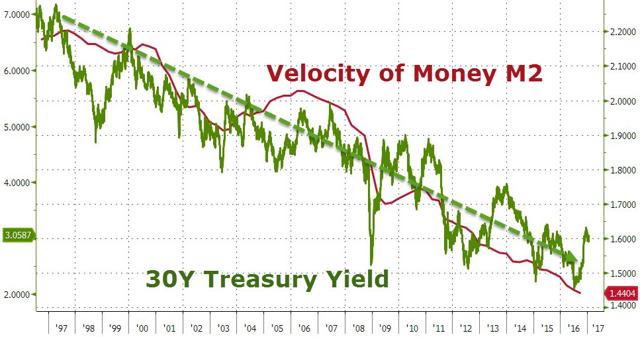 Famous economist and market strategist David Rosenberg also believes the 35-year bull market in bonds is not yet over (MacroVoices blog, 2017). Rosenberg thinks the recent bond sell-off is no different than the one observed in 2010 during the first round of QE. People claimed the 2010 QE event marked the end of the bond bull market, but they missed the call by around six years (and counting). Rosenberg says yields will have to break the downtrend shown on Chart 2 above (i.e., yields will have to breach 4.00% rather than the 3.00% level mentioned by Gundlach) before a call can be made on the end of the bond bull market. From a technical market point of view, it is also interesting to note that "fast money" from hedge funds and speculators is massively short Treasuries, while "real money" from mutual funds and insurers has gone the opposite way and has now diverged from speculative money the most in ten years (cf. Chart 4; Brian Chappatta & Liz McCormick, 2017). This divergence is strongly suggestive of a reversal in bond yields (rally in prices), since there is about a 75% probability on average that "real money" wins in the end, according to some market strategists.
Chart 4: Two-Year Divergence in Fast vs. Slow Money Treasury Bets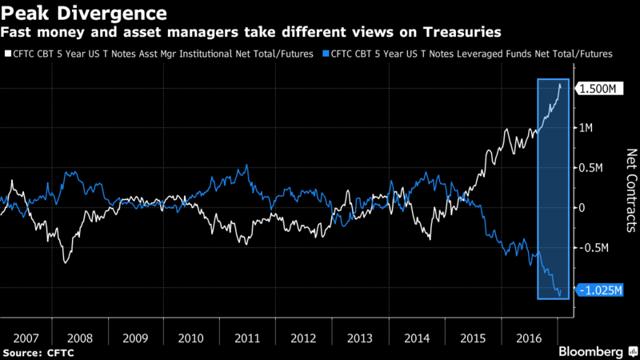 Adding fuel to the argument that bonds can go much lower in yield (higher in price) is the fact that stock market valuations are arguably even more extreme than bonds, since the latter have corrected and the former have not (Charts 5, 6, 7). Multiple measures in Chart 5 indicate extreme valuations relative to 10-year P/E ratio, Q-ratio, and market trend, while the price/GDP ratio for the Wilshire 5000 shown in Chart 6 is also at extreme levels. Chart 7 indicates extreme valuations for even more measures, including price/forward operating earnings and price/revenue. So a major top and subsequent major sell-off are now a question of when, not if, and that means that bonds should drop in yield (rise in price) when the sell-off finally makes an appearance. Famous economist and fund manager John Hussman believes there is about 55% downside now (John Hussman, 2017). A plot of 10-year P/E vs. 10-year Treasury yields (Chart 8) indicates a situation not seen since 1937; i.e., yields are low (2.43% monthly avg.) and P/E ratios (28.2) are high. Under similar conditions in February 1937, markets fell 45% over the following 15 months (Jill Mislinski, 2017).
Chart 5: Stock Market at Second- or Third-Highest Valuations Ever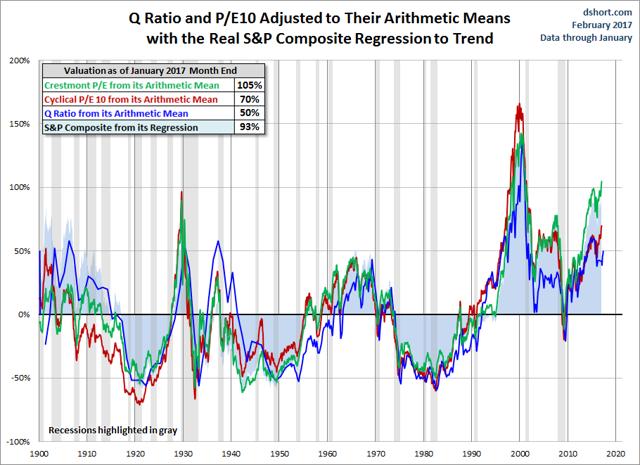 Chart 6: Stock Market at Second-Highest Valuation Since 1970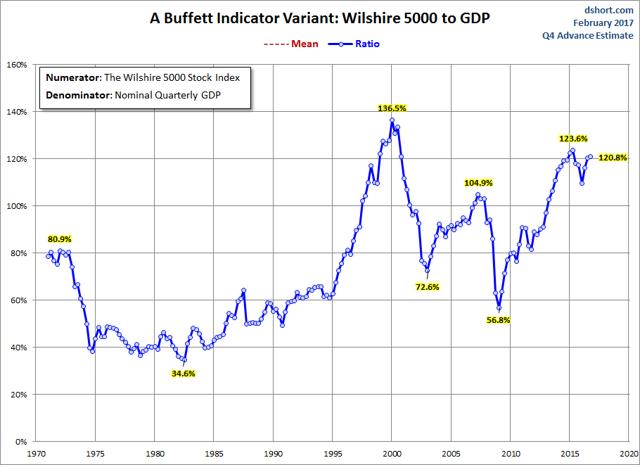 Chart 7: More Measures of Stock Market Extreme Valuations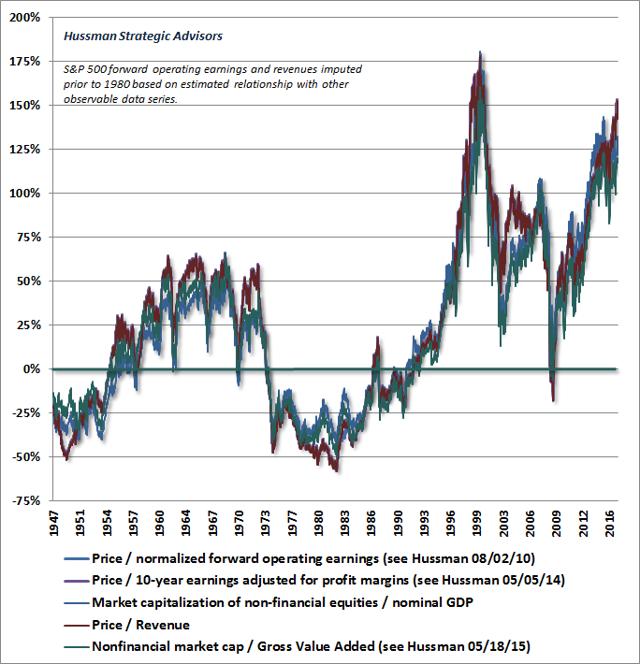 Chart 8: Stock Market P/E 10 and 10-Year Yield Are About the Same as in Early 1937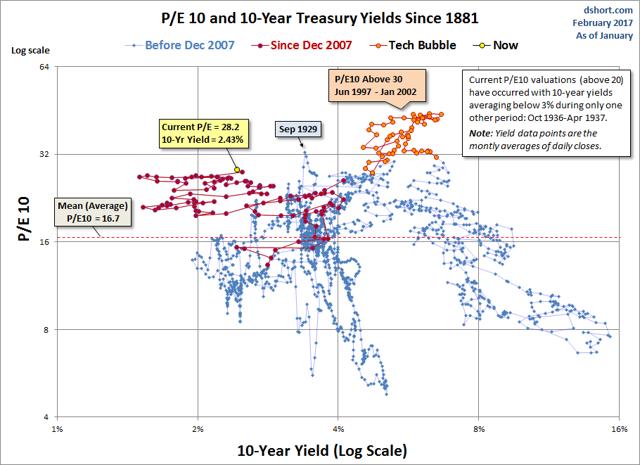 I have previously discussed the reflation trade and different economic projections for the Trump stimulus plan. My conclusions have been that while much that President Trump plans to do could be supportive of the economy, markets have gotten way ahead of the facts on the ground. A "reality plunge" would make sense as markets face up to long delays in many of the anticipated reforms, as well as potentially disappointing results given the starkly different situation Mr. Trump inherits, compared to that inherited by the previous great supply-sider, Ronald Reagan. In fact, Ronald Reagan's election was followed by a major bear market within three months; the great rally we all remember came after the bear market (Chart 9). Finally, the Economic Cycle Research Institute's (ECRI) LEI measure has peaked recently, suggesting that there are only about 12 months at most until the next recession (Chart 10).
Chart 9: Stocks Went Into A Bear Market After Reagan's Election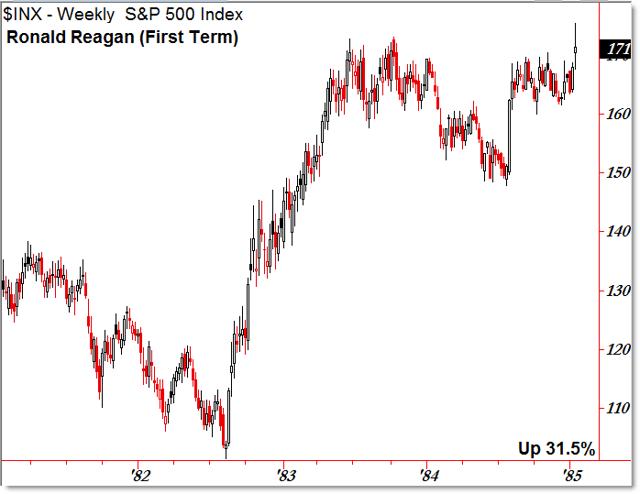 Chart 10: ECRI Weekly LEI Is Peaking; Recession Likely Within 12 Months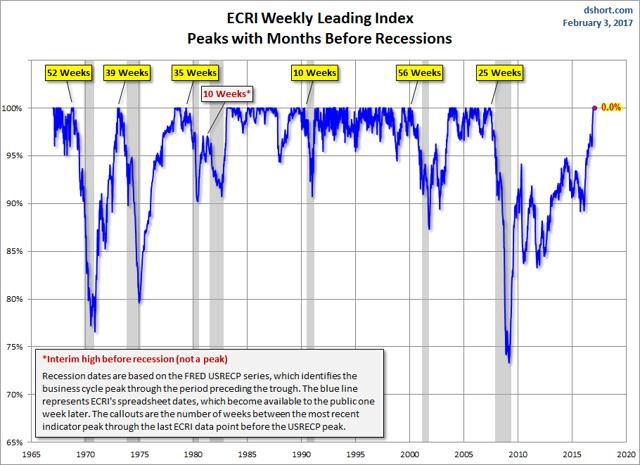 Investing in a gold fund like the iShares Gold Trust ETF (NYSEARCA:IAU) may be in order for all investors, but perhaps one-third or one-half positions should be held for now, pending the results of near-term central bank decisions and prospects for recession in the next twelve months. Also, for those discounting a possible recession, some liquid alternatives like the Otter Creek Long/Short Opportunity Fund Inv. (MUTF:OTCRX), the AQR Long-Short Equity Fund N (MUTF:QLENX), and the AQR Managed Futures Strategy Fund N (MUTF:AQMNX) could be held to protect assets in the event of a market dip associated with deteriorating economic data. I would also consider buying relatively moderate portfolio allocations to long bond ETFs (the iShares 20+ Year Treasury Bond ETF (NYSEARCA:TLT), the Vanguard Long-Term Government Bond Index ETF (NASDAQ:VGLT), the iShares 10-20 Year Treasury Bond ETF (NYSEARCA:TLH), and the iShares 7-10 Year Treasury Bond ETF (NYSEARCA:IEF)) and cash, with minimal equity allocations for all but the boldest investors.
Disclosure: I am/we are long OTCRX, QLENX, AQMNX, TLT, VGLT, IEF.
I wrote this article myself, and it expresses my own opinions. I am not receiving compensation for it (other than from Seeking Alpha). I have no business relationship with any company whose stock is mentioned in this article.
Additional disclosure: Disclaimer: This article is intended to provide information to interested parties. As I have no knowledge of individual investor circumstances, goals, and/or portfolio concentration or diversification, readers are expected to complete their own due diligence before purchasing any stocks or other securities mentioned or recommended. This post is illustrative and educational and is not a specific recommendation or an offer of products or services. Past performance is not an indicator of future performance.