Johnson & Johnson (NYSE:JNJ) recently announced that it would acquire Swiss firm Actelion (OTCPK:ALIOY) (OTCPK:ALIOF) for $30 billion and then split off part of it into a new firm called the NewCo. This new firm will contain Actelion's drug discovery and early-stage clinical development assets. I recently read an excellent analysis on the deal, by fellow Seeking Alpha contributor Martin Keck. In that analysis Martin wrote the following:
"JNJ will fund the transaction with cash held outside the United States. Corporate marginal tax rate for the USA is 40% compared to 17.92% for ATLN's domicile Switzerland. This means not only saves JNJ tax would have to be paid on repatriation of money to the USA, but also on an ongoing basis JNJ's effective tax rate will improve (less tax) as their CEO Alex Gorsky has stated on the call."
Assuming that the deal does go through, I thought I would present some unique free cash flow analysis in this article and explain why I believe this is a win-win for everyone involved.
When analyzing almost any company, concentrate on its free cash flow generation, as that is where the rubber hits the road when it comes to finding out the truth. Since my research firm has the ability to analyze companies from 27 countries, I was able to dig up our analysis of Actelion from September 2016, based on its Swiss listing (ATLN.VX) and using Swiss financial results, which should clearly show why Johnson & Johnson's management became very interested in the company in 2016.
Here are Actelion's Friedrich Datafile and Chart from September 2016.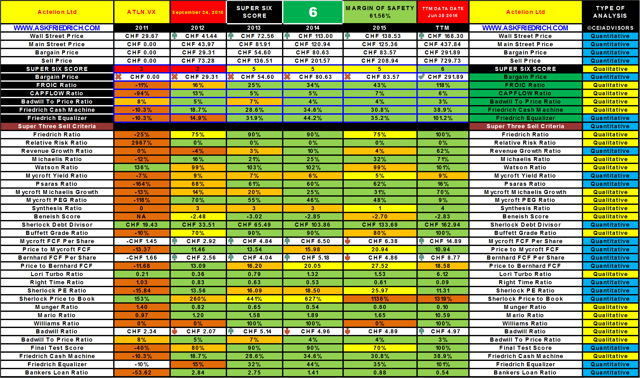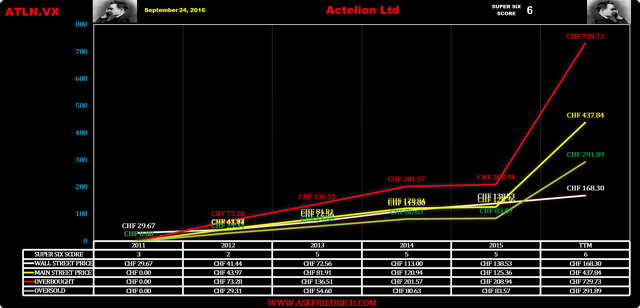 As you can see by looking at the bargain price in our Datafile that Actelion was still a bargain at CHF 291.89. The reason for this is because Actelion's FROIC came in at 118%.
Actelion is one of the most profitable companies on earth as measured by my FROIC ratio, which is defined as Free Cash Flow Return on Invested Capital. This is how I calculate it:
FROIC means "Free Cash Flow Return on Invested Capital"
Forward Free Cash Flow = [((Net Income + Depreciation) (1+ % Revenue Growth rate)) - (Capital Spending)]
FROIC = (Forward Free Cash Flow)/(Long-Term Debt + Shareholders' Equity)
What this ratio does is tell you how much forward free cash flow the company is generating on Main Street relative to how much capital it is employing. So, if a company invests $100 in total capital on Main Street and generates $20 in forward free cash flow, it therefore has a FROIC of 20%, which we consider excellent. This is a key method I use to identify how a company is performing on Main Street, as it is my belief that if a company is making a killing on Main Street, that this news will eventually show up on Wall Street's radar.
So on Main Street TTM Actelion returned $118 in forward free cash flow for every $100 it invested on Main Street.
Here is Johnson and Johnson's Friedrich Datafile and Chart, so we can compare it to Actelion in a side by side comparison: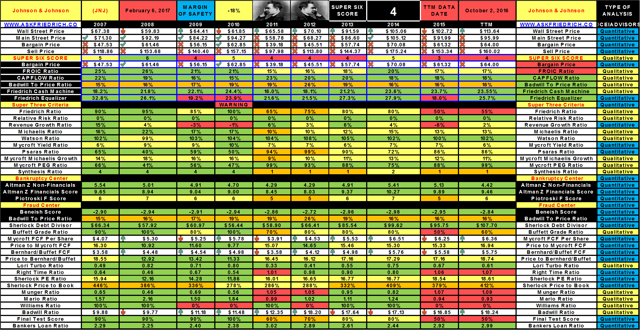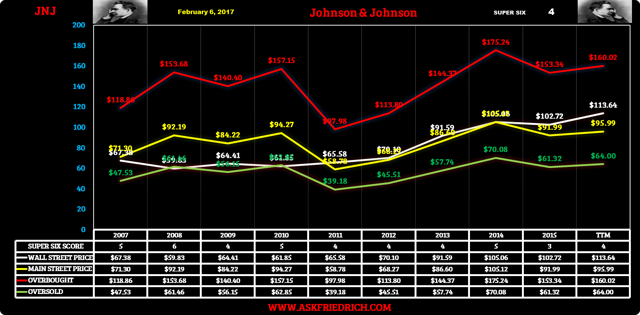 Johnson & Johnson's FROIC came in at 17%, which our Friedrich Legend considers good, but when you add in the future FROIC of Actelion into the picture, it then becomes excellent.
Going forward, Johnson & Johnson's purchase of Actelion makes it the world leader in PH & PAH = Pulmonary Arterial Hypertension treatment as Actelion is the current global leader. The only real competitor in this treatment is United Therapeutics (NASDAQ:UTHR) , which in its own right is very profitable, as the Datafile below shows: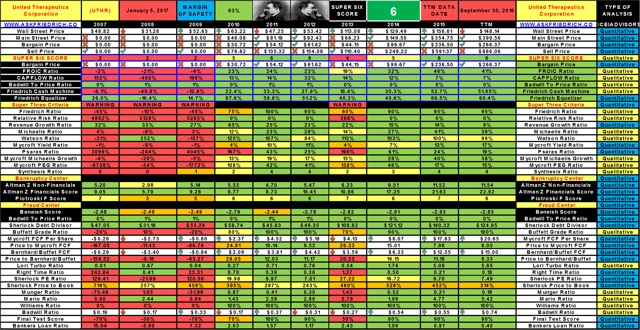 United Therapeutics stock price has erupted some 25% since December 2016 as it has been put in play by the Johnson & Johnson/Actelion deal. United Therapeutics has a market capitalization of $7 billion, so it could easily be picked up by another major drug company that may want to compete against Johnson & Johnson/Actelion. The likely suitor would probably be Sanofi (NYSE:SNY) as it missed out on buying Actelion.
In our opinion Johnson & Johnson got a bargain when it bought Actelion, even though many on Wall Street may disagree. The price paid is attractive when you factor in the recent growth and free cash flow generation that Actelion has had. As a Johnson & Johnson shareholder I am very excited about the Actelion acquisition.
In conclusion, it is my belief that free cash flow analysis is the ultimate tool when analyzing companies, and my hope is that you may add the FROIC ratio presented here to your own investor tool box in order to help you in your own due diligence. If you have any questions, please feel free to ask them in the comment section below and don't forget to hit the "Follow" button after our Friedrich Research username on top as we plan to do many more comparative case studies like this one in the near future.
Disclosure: I am/we are long JNJ, UTHR.
I wrote this article myself, and it expresses my own opinions. I am not receiving compensation for it (other than from Seeking Alpha). I have no business relationship with any company whose stock is mentioned in this article.
Additional disclosure: DISCLAIMER: This analysis is not advice to buy or sell this or any stock; it is just pointing out an objective observation of unique patterns that developed from our research. Factual material is obtained from sources believed to be reliable, but the poster is not responsible for any errors or omissions, or for the results of actions taken based on information contained herein. Nothing herein should be construed as an offer to buy or sell securities or to give individual investment advice.
Editor's Note: This article discusses one or more securities that do not trade on a major U.S. exchange. Please be aware of the risks associated with these stocks.