Thesis
Silver Wheaton Corp. (SLW) showed promising signs in the third quarter of 2016. The company had a higher gross margin, had increased its dividend and had increased its production outlook. After running the numbers, I can't imagine the company missing the Wall Street EPS guidance of $17 cents a share. I'm even calculating a small beat at $18 cents a share. For an earnings speculator like me, it isn't quite clear if this is enough to move the needle, but for long term investors this should definitely allow them to sleep better at night.
Increased production
My work is tedious and often unrewarding. The practice of digging through company after company in the hopes of finding an earnings 'play' is often disappointing. While traditional investors might spot a good or bad investment early on through popular ratio's like debt/equity or PE, my method requires the whole nine yards to be completed, making it a time consuming strategy. That is why I rejoiced when coming across Silver Wheaton corp. As I went through the filings, there was little to be upset about:
1) The company's management had revised its production guidance (mostly) upward in 3Q16
2) Increased gross margin
While SLW does not provide a revenue or income guidance, they do provide guidance on the expected production. Even though I'd rather just see revenue and/or income guidance (because it makes my work easier), I can still deduce their implied guidance from their production guidance. So let's get started.
The company increased its gold production outlook in 2016 to 335,000 ounces from 305,000 ounces and the production outlook for silver declined to 30 million ounces from 32 million ounces. This means that the company expects to produce 94,000 gold ounces and 7.2 million silver ounces. The company is not always able to sell everything that it produces. For the nine months ended September, they sold roughly 92% of their gold production and roughly 91% of their silver production. This is an important caveat, because it makes the production X ASP (average selling price) calculation inaccurate. With this in mind, we can calculate the expected full year income and revenue and thus the 4Q16 revenue and income.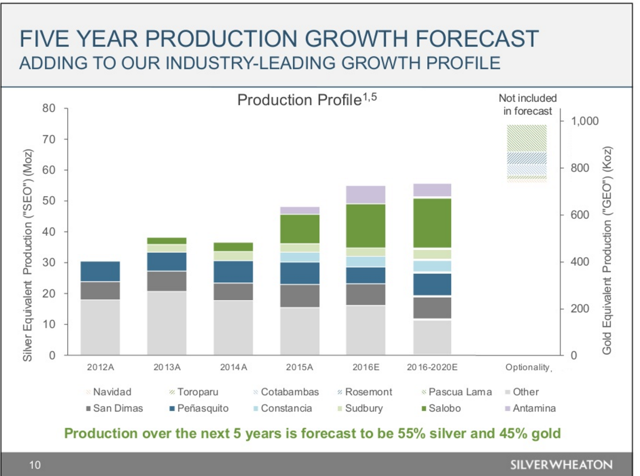 Translating production to revenue
First, we adjust for actual ounces sold and times that with the three month average selling prices of October throughout December, which gives us the expected revenue. After that, we work our way down to net income and divide that by the amount of outstanding shares. We'll be using the LBMA (London Bullion Market Association) gold and silver prices, because that is what the company uses in their financial statements. The three month average of gold and silver come in at $1,218 and $17.15 per ounce, respectively. After adjusting for ounces sold versus ounces produced, this translates to a total quarterly revenue of $217.7 million.
Translating revenue to net income
To get to net income we need to apply the gross margin to the revenue and the operating cost, which consists mostly of interest expenses and G&A expenses. The company has a gross margin of 42.5%, which results in a gross profit of $92 million. From that we subtract the interest expense of $6 million and G&A costs estimated at around $9 million to arrive at a net income of $77 million.
However, there's a puzzling quote by Gary Brown, the CFO, to be read from the transcript regarding the G&A costs:
"The company currently estimates that non-stock based G&A expenses, which exclude expenses relating to the value of the stock options granted in PSUs, will be approximately $31 million to $32 million for 2016."
The reason that this is a puzzling quote, is because the nine months G&A expenses already amount to $30 million, which implies that they do not have any G&A expenses the upcoming quarter. This strikes me as odd for multiple reasons:
1) It implies that they're not paying salaries
2) The company already states that it is having higher G&A costs due to an ongoing dispute:

"For the three and nine months ended September 30, 2016, general and administrative expenses increased by $2 million and $7 million, respectively, relative to the comparable periods in the previous year, with the increase being primarily due to higher professional fees relating to the Company's ongoing dispute with the Canada Revenue Agency and higher costs associated with performance share units (PSU's)."
Source: company 3Q16 report page 21
We'll chalk it up to a typo or accident and just assume $9 million in G&A. This number is simply an extrapolation of the 3Q16 G&A costs. After doing all this, which means I'm standing by the $77 million net income number instead of increasing it by $7 to $8 million.
Conclusion
The Wall Street consensus of $75 million isn't really too much of a difference from my own estimation. On an earnings per share basis, this translates to a one cent different. My estimation being 18 cents and Wall Street estimating 17 cents a share. As an earnings speculator, I have a very risky strategy and to mitigate that risk, I only invest when I think that there is a very high chance of me not only being right. My second condition is that being right must translate to making money. While I'm highly confident that SLW will at least meet the guidance consensus, I'm not quite sure if this will create enough volatility for me to profit from. So while the long term and even medium term investor should not feel any anxiety holding through earnings, I must find my gold elsewhere (pun intended).
Disclosure: I/we have no positions in any stocks mentioned, and no plans to initiate any positions within the next 72 hours.
I wrote this article myself, and it expresses my own opinions. I am not receiving compensation for it (other than from Seeking Alpha). I have no business relationship with any company whose stock is mentioned in this article.