Metals and Mining shares were some of the big winners in 2016. Various factors conspired to push their prices higher, which wrong-footed a lot of investors. But one of the interesting things about this surprising bull run was that it came just as a number of miners were actually cutting their dividends. Those two factors don't normally go hand in hand.
But with the worst of those cuts perhaps over, there are signs that dividend growth is back on the agenda. In fact, we've seen a spate of companies easily beating their dividend forecasts.
Mining booms and busts
Mining stocks have been on a roller coaster run since the turn of the century. Initially, it was strong demand from emerging markets like China that was the catalyst for strong gains. Even a sharp pullback in the financial crisis proved short-lived. But the momentum ran out by around 2011 and didn't return until 2016.
This chart shows how the FTSE 350 Mining Index has swung wildly against the FTSE 350 over the past 10 years.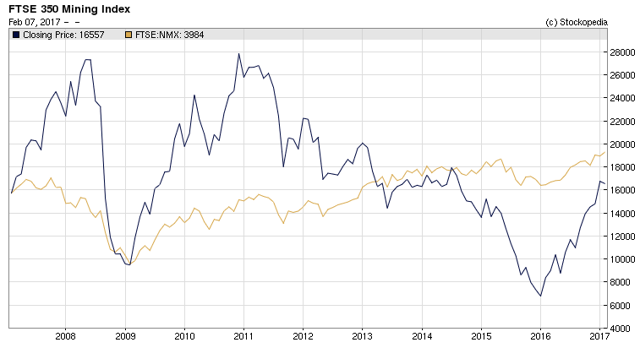 From the get-go last year, rising commodity prices signalled a change in fortune. It came at a time when miners were in much better shape after several years of cost-cutting, asset sales and sweating production more efficiently. For UK-quoted stocks, the devaluation of sterling last year also made their dollar-denominated earnings and dividends more appealing.
Opinions are divided on how far this rally will go. Neil Woodford, whose Woodford Equity Income Fund lagged the FTSE All Share last year, is sceptical. His annual review suggested that the recovery in mining and oil & gas sectors has gone "way beyond what the fundamentals would justify." But others disagree, with analysts at Goldman Sachs (NYSE:GS) and Citi (NYSE:C), for instance, predicting a strong run from some commodities in 2017 as oversupply issues fade away.
Mining the market for dividends
One interesting feature of the mining gains in 2016 was that dividends from the Basic Materials sector halved year-on-year to £3.3bn. Figures that low haven't been seen since around 2010. According to Capita Asset Services, which tracks UK dividends, payouts from the Mining industry group fell by 64% to £2.4bn.
But for the time being, those sharp reductions seem to be the last wave of cost-cutting. In fact, some mining companies are now expected to start hiking their payouts and some already have. It appears to be catching analysts off guard.
This week Randgold Resources (NASDAQ:GOLD), the gold producer, raised its dividend by 52%. The yield of around 1% is modest, but Randgold does have a decent record of dividend growth. Like others, it keeps costs strictly under control and production levels are hitting new highs. Randgold's payout of 100 cents per share beat consensus expectations of 73 cents. That suggests the 2017 forecast of 81 cents is possibly a little light.
Likewise, Centamin (OTCPK:CELTF) recently unveiled a massive hike in full year dividend. At 16 cents, it was well ahead of the 4.7 cents forecast as gold production hit new records. Again, the dividend growth forecasts have yet to keep pace, which is maybe understandable given the uncertainty about where commodity and precious metals prices will go.
For income hunters the biggest names in mining are BHP Billiton (NYSE:BHP) and Rio Tinto (NYSE:RIO). BHP cut its dividend by 75.8% to 30 cents in 2016, but that's currently forecast to recover considerably to 0.79 cents in 2017 (see below). As a result, the forward yield stands at 4.5%.

Rio Tinto released its 2016 figures Wednesday. The dividend had been expected to fall by around 36% to 137 cents. In the event, stronger trading has helped the group resist such a deep cut, with the dividend beating forecasts at 170 cents per share, down from 210 in 2015. (Note, the numbers in the table below don't reflect the new data yet).
The table below picks out a handful of FTSE 350 mining stocks, some of which have already reported 2016 figures, while others (like Glencore (OTCPK:GLCNF)) haven't yet. But generally, there is a trend towards dividend hikes in the near future, albeit from low bases in some cases.
| | | | | | |
| --- | --- | --- | --- | --- | --- |
| Name | Mkt Cap £m | DPS Growth % Last Yr | DPS Growth % Forecast 1y | Yield % Rolling 1y | Stock Rank™ |
| Rio Tinto | 60,900 | - | -36.4 | 4.65 | 92 |
| BHP Billiton | 73,742 | -75.8 | 162.6 | 4.52 | 57 |
| Polymetal International | 4,081 | - | 66.9 | 3.50 | 46 |
| Vedanta Resources | 2,898 | -52.4 | 34.2 | 3.03 | 80 |
| Ferrexpo | 901.2 | -50.0 | 45.8 | 2.98 | 85 |
| Glencore | 44,739 | -66.7 | -64.5 | 2.77 | 88 |
| Centamin | 1,968 | 427.2 | -69.4 | 2.21 | 94 |
| Fresnillo | 10,965 | 81.7 | 313.8 | 1.35 | 36 |
| Randgold Resources | 6,702 | 51.5 | -19.2 | 0.91 | 39 |
The rise of the miners in 2016 was triggered by an increase in commodity prices and weaker sterling at a time when companies had improved their operational efficiency. In hindsight, it was a sector that looked cheap, although few predicted the rally that followed. Of course, the strong run means that some aren't as cheap as they once were. But it's arguably still a sector that analysts and investors are cautious about. But with the dividend outlook showing some strong signs of improvement, it could be worth watching.
Editor's Note: This article discusses one or more securities that do not trade on a major U.S. exchange. Please be aware of the risks associated with these stocks.