In my previous article, I had stated that rising crude oil and gasoline inventories along with rising U.S oil production will put downward pressure on oil prices in near future. So, when the American Petroleum Institute (API) released its weekly oil data on Tuesday, oil prices went down immediately. API reported a massive crude oil inventory build-up of 14.227 million barrels and a gasoline inventory buildup of 2.903 million barrels. As per API, this was the second highest inventory build-up in the U.S history. However, on Thursday, oil prices (NYSEARCA:USO) were up by almost 0.8% with the WTI and Brent trading at $52.72 and $55.54 respectively at the time of writing this article. So, what was it that caused oil to move up?
Both EIA and API report massive crude oil inventory build-ups
After API came out with its weekly oil report, the WTI fell below $52 per barrels. On Wednesday, the U.S based Energy Information Administration (EIA) came out with its oil market report. As per the EIA, the U.S commercial crude oil inventories surged by 13.8 million barrels to stand at a total of 508.6 million barrels. However, EIA reported a 0.9 million drawdown in gasoline inventories. It is interesting to note that even EIA reported a massive buildup in crude oil inventories, but market's response to this report was totally different! Oil prices went up by almost 0.8% on Wednesday, after EIA published its oil report. This means that the markets were driven by a bullish gasoline inventory drawdown. "The crude oil inventory build was really terrible for the market , but the market does not seem to care because the products inventories were better than expected and are dragging crude oil prices up with it," said Andrew Lipow in Houston. In my opinion, a marginal drawdown in gasoline stocks eased some pressure that was growing in last few weeks. However, this may be a temporary relief as there are many factors that will put downward pressure on prices in near future. According to EIA, the U.S crude oil production surged by 63,000 barrels to stand at a total of 8.5 million barrels per day (during last week). This is one of the biggest factors that will affect oil prices in near future. Even Oil field services provider Baker Hughes published its latest rig data which showed an increase of 17 active oil and gas rigs in the United States (as on 5th February 2017). At 583, investors must note that the total number of active oil rigs in the U.S is highest since October 2015.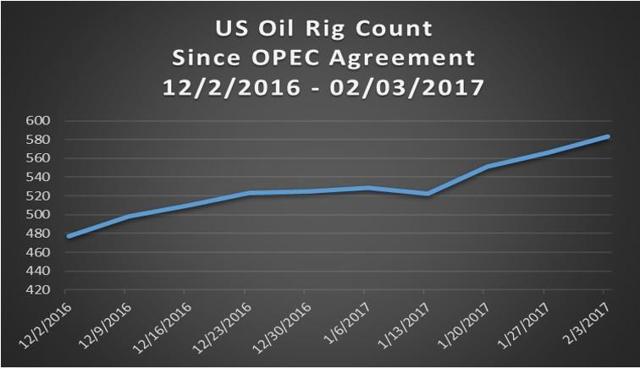 Image Source : Oilprice.com
Takeaway for investors
Oil prices increased on Thursday because of a robust gasoline demand in the U.S. However, the gasoline market is still oversupplied. Besides this, OPEC's high compliance levels and possibility of an Iran- U.S standoff is also supporting oil prices. And, the latest EIA (and API) oil data is more bearish than market's initial reaction. In my opinion, OPEC's compliance levels and U.S oil production will continue to have a major impact on oil (NYSEARCA:OIL) (NYSEARCA:BNO) (NYSEARCA:UWTI) (OTC:DWTI) (NYSEARCA:SCO) (NYSEARCA:UCO) (NYSEARCA:DBO) and prices may remain volatile in short term. Investors must take note of this.
Disclosure: I/we have no positions in any stocks mentioned, and no plans to initiate any positions within the next 72 hours.
I wrote this article myself, and it expresses my own opinions. I am not receiving compensation for it (other than from Seeking Alpha). I have no business relationship with any company whose stock is mentioned in this article.