Since the middle of last year, Treasury yields are 1% higher, inflation has accelerated, economic activity has increased and the Fed has shifted to a tighter monetary policy. It is not surprising, therefore, that funds allocated to Loans and floating-rate securities, more generally, have benefited from inflows and a spike in valuations.
In this note, we review whether this is warranted. Our conclusion is that loan investment vehicles, and closed-end funds in particular, have gotten ahead of themselves and investors should take a hard look at current allocations to this sector.
Closed-End Fund Portfolios
It is important to keep in mind that just because a fund is listed in the loan category, it does not mean that all of the allocation is in floating-rate products. For example, the two largest CEFs in the CEFConnect Senior Loan sector: Nuveen Credit Strategies Income Fund (NYSE:JQC) and Invesco VK Dynamic Credit Opportunities (NYSE:VTA) have a mandate to invest at least 70% and 80% respectively in loans, rather than 100% as often assumed. This means that these funds can have a sizable duration by allocating a small part of their portfolio to high-yielding long-duration fixed-coupon securities, which can have a drag on the portfolio when yields move higher.
Structural Issues
Loan investors often miss an important detail about how loans are structured. While most are structured as floating-rate products, they are also call-constrained. What this means is that borrowers have an ability to renegotiate and refinance borrowings when rates move higher. For example, according to S&P Global Market Intelligence, $41.6bn loans have been refinanced in January, the highest figure in four years. This dynamic means that as interest rates rise, investors do not benefit correspondingly.
Macro Picture
Since the inauguration many of the so-called "Trump trades" have stalled. The dollar has given up gains, Treasury yields have reversed and equities have traded sideways. An uptick in unemployment has also put the Fed March hike in question. The consensus trade of further Fed hikes and higher interest rates is no longer the consensus.
Valuation
The average 3-year Z-Score of Loan CEFs is 2.0 vs 0.6 across the entire CEF population as a whole, making the entire sector very expensive. As an example, we show the behavior of the discount of the Western Asset Corporate Loan Fund (NYSE:TLI), one of the higher Z-Score funds in the chart below. A nearly 15% rise in the discount means a give-up of about 1.3% in yield on the fund all the while fund investors have not yet benefited from higher loan carry because 3-Month Libor has not risen significantly above the level of the average floor around 1%.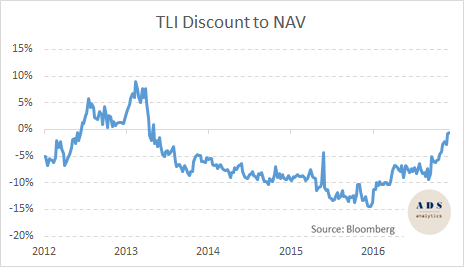 Flows
The high valuation of Loan CEFs is confirmed by the action in the ETF space. Over the last six months, the benchmark ETF for loans BKLN has seen the largest increase in assets of all the sectors we track.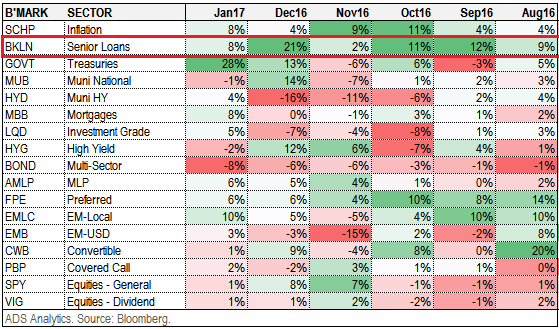 What Looks Attractive
Investors who would like to pursue opportunities in the loan sector and who have a bearish view on bonds, can use the following screen as a guide. It plots funds according to their correlation to the Treasury ETF benchmark TLT on the y-axis and their Z-Score on the x-axis. The attractive portion of the chart (negative correlation to TLT and low Z-Score) is circled in green. The funds are: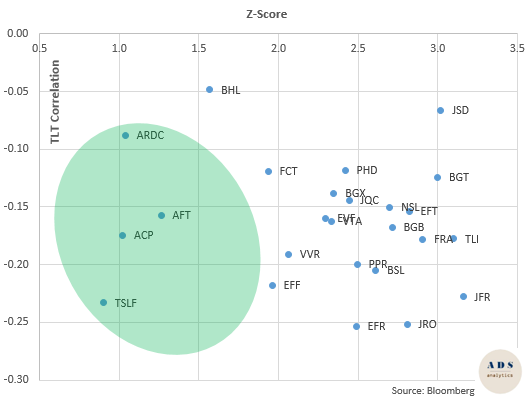 Good Luck!
If you would like to receive this and other analysis, please follow us above by clicking on the Follow label next to our name.
Disclosure: I/we have no positions in any stocks mentioned, and no plans to initiate any positions within the next 72 hours.
I wrote this article myself, and it expresses my own opinions. I am not receiving compensation for it (other than from Seeking Alpha). I have no business relationship with any company whose stock is mentioned in this article.