Keane Group Incorporated (NYSE: FRAC) - Strong Buy Recommendation
The 25-day IPO quiet period on Keane Group Incorporated will come to an end on February 14, allowing the firm's IPO underwriters to publish reports and recommendations on the 15th.
Our firm's research shows a significant potential for above-market returns in the five days prior to and two days after the conclusion of a company's quiet period-particularly for a high profile recent IPO, such as Keane.
We previewed this event on our IPO Insights platform.
Business Overview & Competition
Keane Group offers integrated well completions services in the United States-with a specific focus on complex, technically difficult projects. These include horizontal and vertical fracturing, logging and engineered solutions, and wireline perforation. The company notes in its SEC Filings that it has approximately 944,250 hydraulic horsepower in 23 hydraulic fracturing fleets and 23 wireline trucks. These are located primarily in the Bakken Formation, the SCOOP/STACK Formation, the Marcellus Shale/Utica Shale, and the Permian Basin. As of November 30, 2016, 87 percent of their equipment was in service.
Onshore well development, as well as stimulation operations on existing wells - are offered in tandem with Keane's safety standards. Keane believes it has "proven capabilities … to deliver cost-effective solutions for increasingly complex and technically demanding well completion requirements." In addition, the company believes there are long-term fundamental demand and supply pressures that will benefit them.
We agreed that tailwinds for the fracking industry could propel the company to greater success in 2017.
Overall we liked the company at its IPO and suggested investors consider an allocation.
Keane Group faces competition in hydraulic fracturing and wireline services from companies like Halliburton Co. (NYSE:HAL), Schlumberger Limited (NYSE:SLB), RPC Inc. (NYSE:RES), Superior Energy Services (NYSE:SPN), C&J Energy Services, Basic Energy Services, FTS International, Weatherford International, and Baker Hughes (BHI). Their hydraulic fracturing segment faces competition from companies such as Calfrac Well Services (NYSEMKT:CFW), W.S. Well Services, Patterson-UTI Energy (NASDAQ:PDCO), ProPetro Services, Liberty Oilfield Services, and Seventy Seven Energy.
Keane's price-to-book of 11.1 is above the industry avg. of 2.3 at present.
Management Team Highlights
As we described in our IPO Preview, Chairman and CEO James C. Stewart has served in his positions since March 2011. Mr. Stewart was previously President and CEO of a privately held international drilling company and held various positions at Weatherford International and Schlumberger.
Mr. M. Paul DeBonis, Jr. has been Chief Operating Officer of Keane Group, Inc. since May 2011. He has held senior positions at Big Country Energy Services, Pure Energy Services, and Schlumberger Technology Corporation. He graduated from Western State College in Gunnison, Colorado in 1982 with a Bachelor of Arts degree in Management and Business Administration.
Impressive Early Market Performance
FRAC was priced at $19, at the high end of its expected range of $17 to $19. The deal was also upsized. The stock closed at $21.87 on its first day of trading. It reached a high of $22.31 on January 27, and the stock currently trades at $20.63 (close on 2/8/17).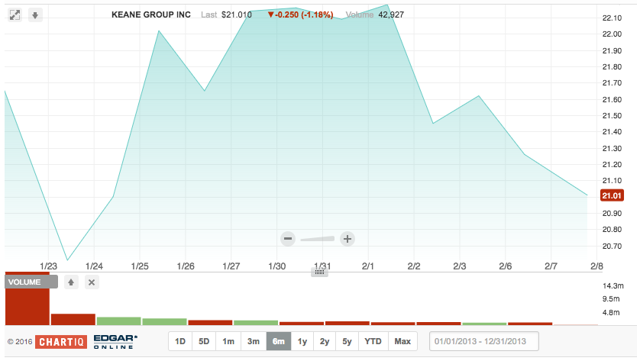 (Source: Nasdaq.com)
Conclusion: Excellent Short-Term Buying Opportunity
Following a strong IPO and potentially with macro tailwinds, Keane Group's IPO underwriters will likely release a flood of positive reports when the quiet period expires after 2.14. The influential set includes: BofA Merrill Lynch, Citigroup Global Markets, J.P. Morgan Securities, Morgan Stanley, Guggenheim Securities, Houlihan Lokey Capital, Piper Jaffray, Scotia Capital Markets, Stephens Inc., and Wells Fargo Securities.
Our firm has found above-market returns of in a set period of time (-5,+2) days surrounding many firms' IPO quiet period expirations (Day 0).
This is particularly true for firms like FRAC with a large and diverse team of underwriters, and strong returns beginning from initial pricing.
Don Dion's IPO Insights provides up-to-date information and analysis on the major IPOs each week, along with additional opportunities to invest and short these stocks at their quiet period and lockup period expirations, respectively. Consider following us at the link above. We will continue our PRO offerings on Seeking Alpha alongside our more exclusive research.
Disclosure: I am/we are long FRAC.
I wrote this article myself, and it expresses my own opinions. I am not receiving compensation for it. I have no business relationship with any company whose stock is mentioned in this article.