Despite GNC Holdings Inc.'s (NYSE:GNC), abysmal one year and YTD stock performance, I am writing to poignantly express how deeply out of favor its shares are relative to another retail name that is equally, if not more unpopular, and a favorite short of the hedge fund community, Sears (NASDAQ:SHLD). I am not suggested that GNC isn't without risks, but I would argue it is vastly superior to Sears Holdings and has far greater turnaround and upside optionality.
Over the past year, shares of Sears Holdings, a company with nearly 70% of its float short and that is hemorrhaging cash flow, has outperformed shares of GNC (excluding GNC's dividends). As of yesterday's close and over the past year, shares of Sears are down 67%, while GNC shares are down 70%.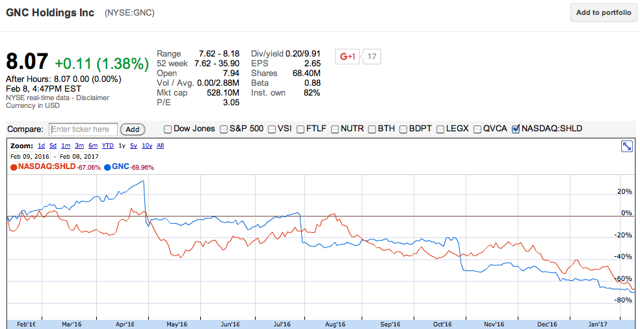 Source: Google Finance
Also, before I provide a high level comparison of the financial performance of GNC vs. SHLD over the past five quarters, I did some work on GNC's trading volumes over the past three years. Perhaps, this is a gauge of capitulation. I stratified the data for readers' perspective. Given yesterday's sharp reversal on trading volume of nearly 6.7 million shares (approximately 10% of GNC's share count), as you can see below, that type of volume is statistically significant.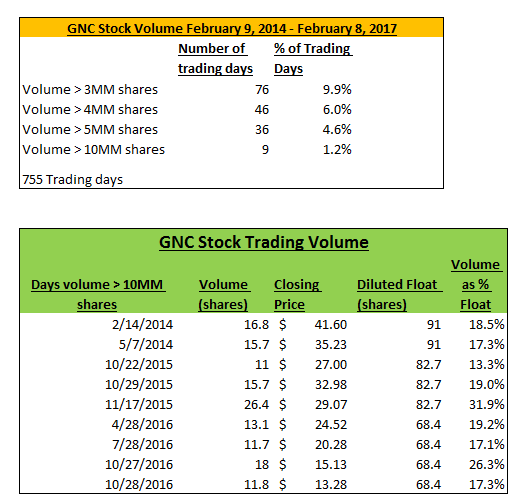 As I argued in my January 31, 2017 piece: I Have Seen This Goldman Sachs Movie Before, my view is that Goldman Sachs yelled proverbial "fire" in a dark and crowded theater, knowing full well that sentiment and fear were rising. Given this state of fear coupled with the unknowns of a new GNC strategy, Goldman opportunistically pushed shares from the low $11s (before their report was published) to yesterday's new 52 week low of $7.62. Bravo to Goldman Sachs and they are Great White Sharks when it comes to exploiting behavioral finance and fear. However, your humble author has a keen spidey sense for these types of unique situations. I strive to engage in second level thinking, the term coined by investing great, Howard Marks.
Anyway, back to the high level financial comparison between Sears vs. GNC. As we can see below, Sears' financials are a train wreck. Operating margins are a disaster and its top line is shrinking. Sears has also had to resort to selling its seed corn and shuttering stores to keep the lights on.
GNC on the other hand has faltered a bit when it comes to its top line and margins (both gross margins and operating margins) have receded a bit, but not nearly to the extent of Sears. Unlike Sears, GNC's debt has been stable despite lots of share buybacks and they still make money. Of course, I implicitly understand GNC's operating leverage and how a few hundred basis points change in sales will greatly magnify earnings. However, if you look at both sets of financials, in a vacuum, would anyone in their right mind think Sears' stock price has outperformed GNC?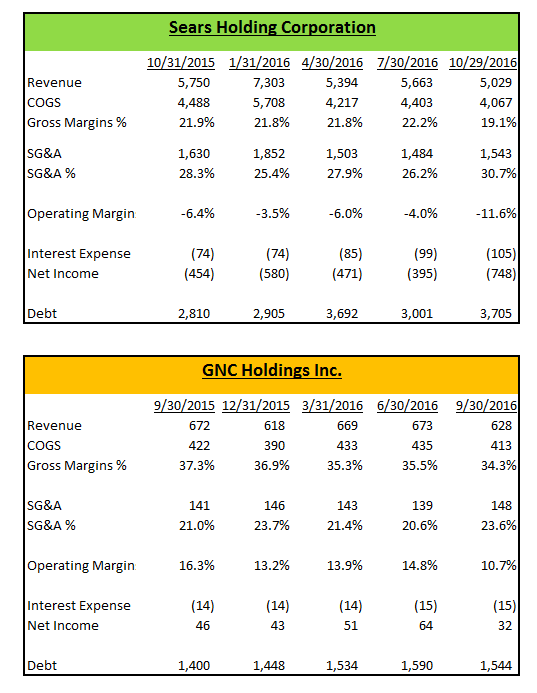 Here is the short interest data for both companies.
Sears at 68.6% as of January 13th, 2017.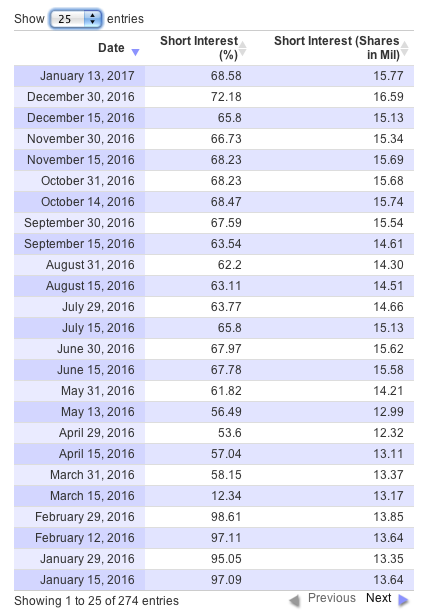 Source: Guru Focus
Here is GNC's 19.5% short interest of January 13, 2017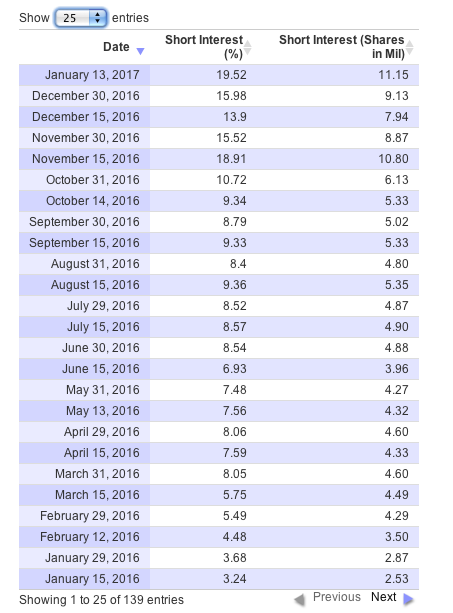 Source: Guru Focus
Also, tonight, after the bell, the short interest data will be released for the period ending January 31, 2017. I was tempted to wait for this data to be release before publishing this piece, but I was swayed and encouraged by yesterday's smart reversal on 6.7 million shares, that I didn't want to risk withholding this information solely for short interest data. I promise I will keep readers apprised to the January 31st numbers at some point this evening. My sense is that hedge funds have been piling on and short interest increased, but let's wait for the data before I start making sweeping statements.
Finally, one last piece of information to share. Institutional share holders must file their SEC holdings documents by February 15, 2017 for the period ending December 31, 2016. Although this information is stale by the time of publication, it can be interesting to see how the professionals, that allocate hundreds of millions of dollar, if not billions, adjust their poker chips, as they interpret new financial results and company developments. I was pleasantly surprised to note that Millennium Management LLC, with $34 billion in AUM, dipped their toe in the water when GNC's stock was in the high teens. They could be long gone by this point, given GNC's weak price action, but I am not alone on some crazy island as other smart people have GNC on their radar screen, on the long side.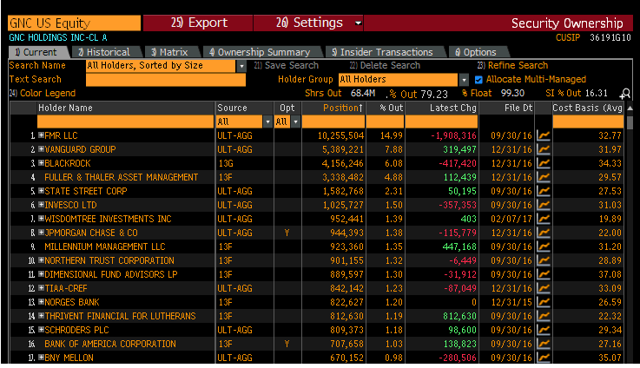 Source: Bloomberg snapshot February 8th 2017
Here is Millennium Management's brief biography.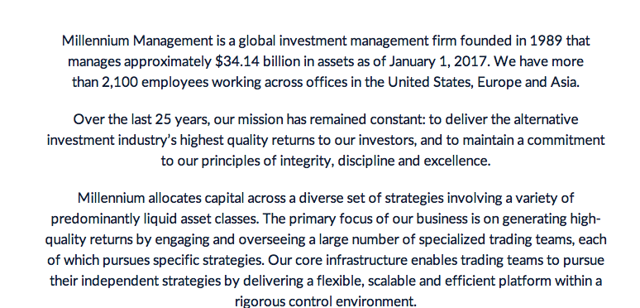 Takeaway
Despite GNC's vastly superior financial results, operating metrics, and competitive position compared to Sears Holdings, shares of Sears have narrowly outperformed GNC over the past year. I initially wanted to wait for tonight's short interest data to be released before publishing, but given yesterday's statistically high volume and smart reversal off a fresh 52 week low, I am erring on the side it is better to publish this article this morning instead of late tonight. To reiterate, we have a 13.5% allocation to GNC in our portfolio with a cost basis of about $10. We have no intentions of even considering letting our foot off the gas pedal until at least $13 or higher.
Remember, if someone bought out GNC at $15 ($2.6 billion enterprise value), this would at a valuation of roughly 1X FY16 sales, for a company that not too long ago had 37% gross margins and mid teens operating margins. This is a good business that appears deeply oversold and out of favor, and as such its stock prices appears to be trading well below its trailing financials statements. In other words, future earnings expectations and uncertainty may be way too negative, and this often leads to compelling opportunities, assuming management executes.
Disclosure: I am/we are long GNC.
I wrote this article myself, and it expresses my own opinions. I am not receiving compensation for it (other than from Seeking Alpha). I have no business relationship with any company whose stock is mentioned in this article.