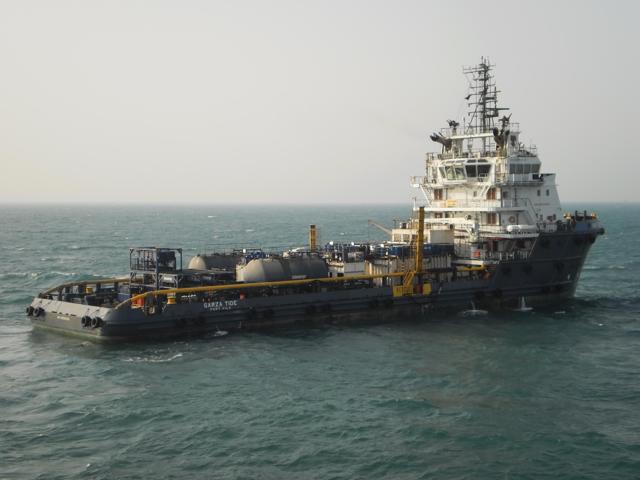 Image: TDW ship. Garza_Tide107
Tidewater, Inc. (NYSE:TDW)
This article follows my preceding article on Tidewater published on November 10, 2016, about the 2Q'17.
Sector: Basic Materials
Industry: Oil & Gas Equipment & Services
Full Time Employees: 6,550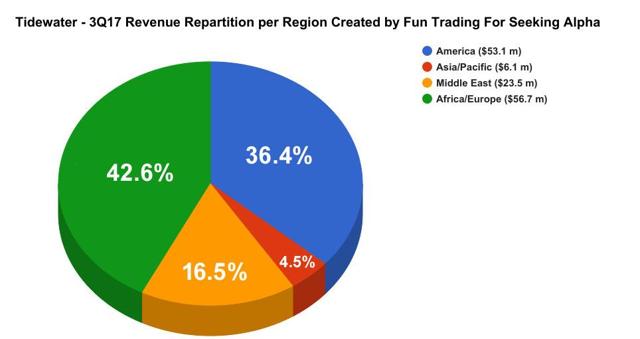 Balance Presentation:
| | | | | |
| --- | --- | --- | --- | --- |
| Revenues per Region | 3Q'17 | 2Q'17 | 1Q'17 | 4Q'16 |
| America | 45.58 | 53.13 | 60,608 | 63,650 |
| Asia/Pacific | 5.59 | 6.11 | 7,921 | 9,791 |
| Middle East | 20.65 | 23.47 | 24,202 | 24,163 |
| Africa/Europe | 53.31 | 56.65 | 69,699 | 82,444 |
| Total | 125.12 | 139.36 | 162,43 | 180,048 |

Q3 2017 Financial Snapshot (Seven consecutive quarters).
12/16

9/16

6/16

3/16

12/15

9/15

6/15

Total Revenues

in $ million

129.22
143.72

167.93

184.17
218.19
271.92
304.77

Operating Income

in $ million

(287.03)
(155.34)
(66.14)
(56.57)
(9.40)
(17.64)
14.09

Costs and expenses

in $ million

416.25
299.07
234.06
240.74
227.59
289.57
290.69

Net income

in $ million

(297.68)
(178.49)
(88.64)
(81.61)
(19.60)
(43.84)
(15.16)

Earnings per share

in $/share

(6.32)
(3.79)
(1.89)
(1.74)
(0.42)
(0.93)
(0.32)

Net Cash provided by operating activities

In $ million

(40.33)
10.30
(10.90)
61.97
27.50
70.92
92.97

Cash and cash equivalent

in $ million

649.80
674.92
668.66
678.49
47.98
88.22
102.98

G&A

in $ million

34.15
32.95
37.05
36.97
35.60
37.29
43.95
Debt

$ million

2,036
2,041

2,046

2,052
1,452
1,498
2,046

Shares outstanding

in million

47.068
47.068
47.068
46.983
46.944
46.943
46.982

EBITDA

in million

29.8
17.0
13.5
-
-
-
-

Dividend

in $/share

0
0
0
0

0.25

0.25
0.25
Commentary:
To access the 3Q'17 conference call, please click here.
Tidewater Inc., released its 3Q'17 on February 7, 2017. Revenues were light at $129.22 million, down again 10.1% quarter over quarter.


I do not think these numbers above are really a surprise for anyone who has followed closely with the company and the industry, through this terrible market. It is plain, simple and difficult to ignore.
Despite some encouraging signs for the oil prices after the December move from OPEC and non OPEC, TDW has not really profited from that yet.
The offshore service industry is the most vulnerable part of the offshore industry, being totally dependent on most of the other segments involved in the offshore industry to survive, and thereby, will be the last to recover.
One simple metric is the negative value of Net Cash provided by operating activities, which is a loss of $40.3 million. This is the basic element, TDW should not lose money by doing business and it is what it is doing.
M. Quinn Fanning, CFO.
Total net debt at December 31 was approximately $2.04 billion and approximately $1.39 billion respectively. Net debt to net book capital at 12/31/16, was approximately 44%.

Cash at 12/31 was approximate $650 million, which is down approximately $25 million quarter over quarter.
The major effect of this situation is that TDW must restructure its debt load, period. I could explain it with rigorous attention to the details, but I know for a fact that investors are not really interested in the deep mechanism of this financial debacle, but only curious to know its effect and how to trade a company in that situation. This is really what counts after all is said and done. This quarter was a warning for what is coming fast and now unavoidable. Another wake-up call of some sort for actual shareholders that should be prepared for some difficult times ahead.
Reading the press release from TDW:
Moreover, under all three of the most likely scenarios - a restructuring of the company's indebtedness outside of bankruptcy; a negotiated restructuring of the company's indebtedness under the protection of Chapter 11 of the United States Bankruptcy Code; or a Chapter 11 reorganization in the absence of a negotiated restructuring - it is likely that the shareholders' ownership interests will, at a minimum, be significantly diluted.
It cannot be clearer and we know just what it means for shareholders, don't we?
I warned last quarter for an imminent bankruptcy in February, but I believe now, it will take a few extra weeks or months, just be prepared.
Now, I will not play the prophet here and everything is still on the table, of course. Many analysts are screaming a total wipe out of the common shareholders, but I will not do that. Is it possible, yes, of course. What I will say is that it is likely that the stock will go down quite significantly from here. The problem that I have with the company is that it is really operating in a depressed business and do not see any way out for now?
How to trade (not invest) in TDW in this situation?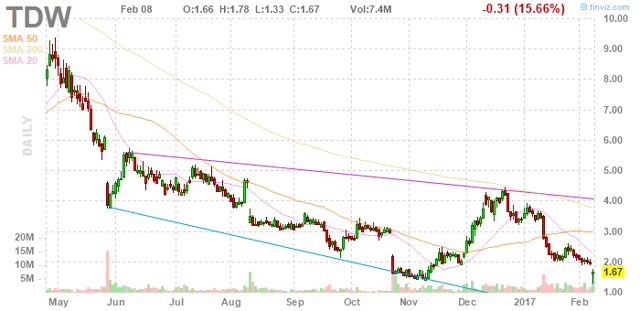 The query is to recognize the TA pattern, which is in this case very simple and typical of a bear market. The pattern defined by the two lines is called Descending Broadening Wedge which widens as the two trend lines that have formed diverge from one another.
The descending broadening wedge is considered to be a reversal pattern, and is bullish in nature. Though the pattern is typically a signal of reversal, continuation of the downtrend is still possible. The odds of a breakout to the upside are at 79%, leaving only 21% odds of a break to the downside.
However, in case of a bear market and, above all, with an imminent bankruptcy announcement, the pattern must be understood differently and it is likely that the trading pattern will continue without any break out with a potential test of the lower support at around ~0.80, which makes TDW a good short candidate on any upside. I recommend TDW shareholders to protect their holdings by hedging a possible breakout to the downside depending on the term of the restructuring.
Important note: Do not forget to follow me on TDW. Thank you for your support.
Disclosure: I/we have no positions in any stocks mentioned, and no plans to initiate any positions within the next 72 hours.
I wrote this article myself, and it expresses my own opinions. I am not receiving compensation for it (other than from Seeking Alpha). I have no business relationship with any company whose stock is mentioned in this article.
Additional disclosure: I trade TDW
Editor's Note: This article covers one or more stocks trading at less than $1 per share and/or with less than a $100 million market cap. Please be aware of the risks associated with these stocks.