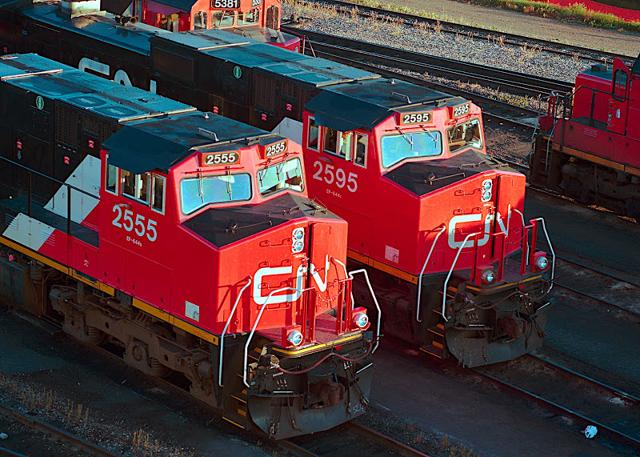 Source: Google Images
Canadian National (NYSE:CNI) is the largest Class I railroad in Canada when considering rail freight revenues, as expressed in Canadian dollars (CADs). During 2016, Canadian National generated nearly twice the amount of Canadian Pacific (NYSE:CP) at just over $12 billion CADs.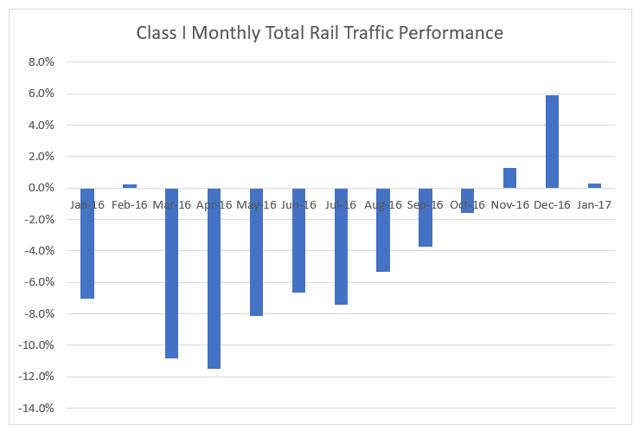 Source: Class I weekly rail traffic, carloads and intermodal units carried
For the first month of 2017, Class I railroads squeezed out a positive gain for total rail traffic. Despite such marginal improvement, it was a significant result when compared to the seven percent year-over-year (YOY) decline in January 2016. Last year, Canadian National was the first Class I to witness a return to positive rail traffic growth, as total traffic carried improved by three percent in September of 2016.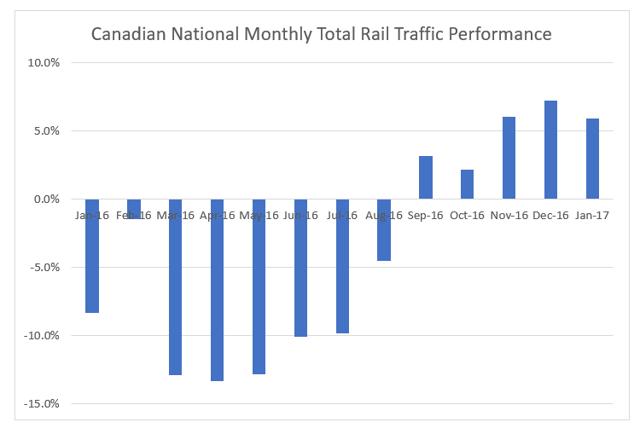 Source: Canadian National weekly rail traffic, carloads and intermodal units carried
Since September 2016, Canadian National has now witnessed five consecutive quarters of positive improvement when compared to the previous year. Canadian Pacific has only had two positive months out of the last five. Norfolk Southern (NYSE:NSC) has technically had four consecutive months of growth; although October's performance was at 0.2 percent. BNSF (NYSE:BRK.B) (NYSE:BRK.A) has had three consecutive months of positive performance.
This early performance is not surprising as management stated on the year-end 2016 earnings call that they did expect to witness rail traffic performance above the Class I railroad average. The six percent performance for January 2017 is an indication of the potential for 2017; but other Class Is should witness further improvement collectively bringing the 0.3 percent growth in January closer to Canadian National.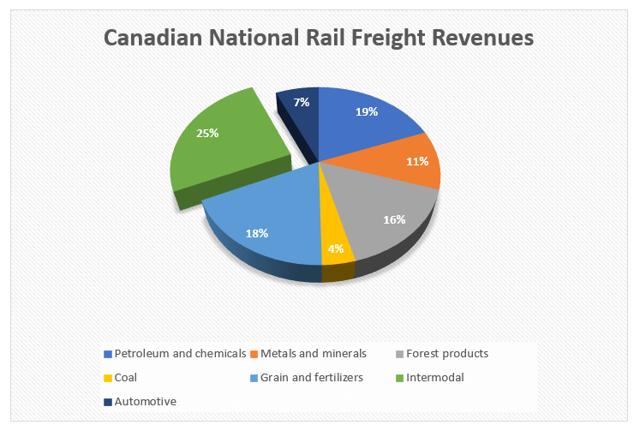 Source: Canadian National, SEC filings
When it comes to rail freight traffic and corresponding revenues, intermodal units carried are clearly a highly important part of Canadian National's business market mix. Through all of 2016, intermodal units carried, mostly including international and domestic containers, reflected 25 percent of the company's total rail freight revenues at $2.9 billion CADs.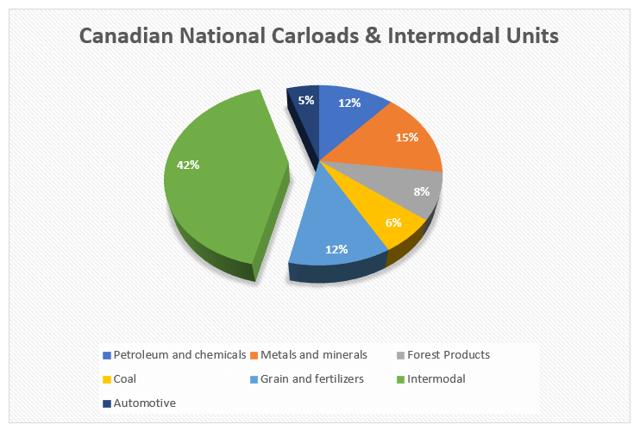 Source: Canadian National, SEC filings
To no surprise, intermodal units carried in 2016 reflected over 40 percent of Canadian National's carloads and intermodal units carried. When including petroleum and chemicals, metals and minerals and grain and fertilizers, these commodities reflected over 80 percent of the company's rail traffic.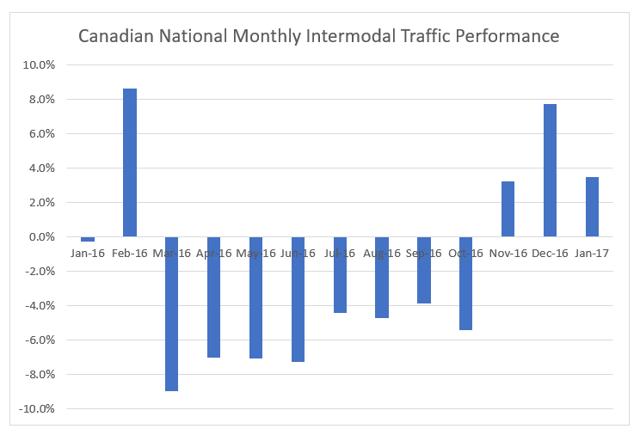 Source: Canadian National weekly rail traffic, intermodal units carried
As evidenced by Canadian National's intermodal traffic performance, September and October 2016 benefited from carloads carried much more as intermodal performance was negative. As management stated and the company reported on a calendar year basis, intermodal units carried were weak, down three percent for 2016.
For 2017, expectations are for a return to growth driven by improvements at all the company's major seaports including Prince Rupert, Vancouver, Halifax and Montreal. This includes increases in carrying capacity, contract renewals and new business wins, and container shipping line changes from vessel-sharing alliances going into effect later this spring. Rail traffic for the company's New Orleans and Mobile seaports is building slowly.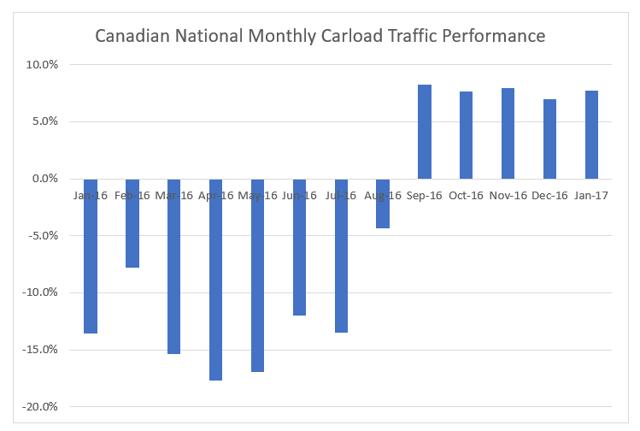 Source: Canadian National weekly rail traffic, carloads carried
The improvement in carloads carried across Canadian National's rail network has been better sustained and more consistent versus intermodal units carried. The strongest commodity performer during the fourth quarter and through January 2017, has been metallic ores. Metallic ores reflected the largest volume as a percentage of carload units carried at 18 percent during January 2017; performance was up 30 percent YOY.
Grain products were collectively up 10 percent, reflecting 12.5 percent of carloads carried. Petroleum products reflected nine percent of total carloads carried and were up 10 percent in January 2017. Motor vehicles and equipment reflected just under eight percent of carloads carried and were up four percent. Crushed stone reflected four percent of carloads carried and were up 36 percent. Chemicals were the second highest commodity at 15 percent of carloads carried, but were flat in January.
Lumber and wood products and pulp and paper products have started the year down over one percent; combined, the two commodity groups reflected greater than 10 percent of carloads carried. Coal continued to be weak, down 22.5 percent reflecting over seven percent of carloads carried.
According to the Bank of Canada Monetary Policy Report, January 2017, both the U.S. and Canadian economies are forecasted to witness increased growth for 2017 and 2018. Employment rates have been low in the U.S., and consumer spending has remained stable. Since President Trump's election, business and consumer confidence has risen. Globally, growth is expected to improve, albeit marginally.
For 2017 and 2018, U.S. gross domestic product (GDP) is forecast to grow 2.2 and 2.3 percent respectively. China is expected to marginally decline from 2016's 6.6 growth. Oil-importing emerging-market economies (EMEs) and the rest of the world nations are forecast to witness some of the most robust growth over the next two years.
Oil-importing EMEs include large emerging markets from Asia, Latin America, the Middle East and Africa (such as India, Brazil and South Africa) and newly industrialized economies (such as South Korea). Rest of the world nations are composed of oil-exporting EMEs (such as Russia, Nigeria and Saudi Arabia) and other advanced economies (such as Canada, the United Kingdom and Australia).
Class I rail traffic performance has clearly turned the corner. Weekly rail traffic will continue to be a direct leading indicator of the health of the U.S. economy, as well as an indirect barometer for North American and global growth. Sustained to moderate growth for consumer spending, combined with a return to growth for industrial production in both the U.S. and Canada, bodes well for Canadian National to continue to lead the rail industry back to a growth cycle.
Disclosure: I am/we are long CNI.
I wrote this article myself, and it expresses my own opinions. I am not receiving compensation for it (other than from Seeking Alpha). I have no business relationship with any company whose stock is mentioned in this article.