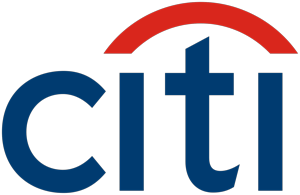 Citigroup (NYSE:C) is undervalued. Though interest in financial companies has spiked since the election of president Donald Trump in November, U.S. banks remain mostly undervalued, and that's especially the case when it comes to Citigroup. Interest rate upside, and robust economic growth in the U.S. are two catalysts that should drive Citigroup's shares higher in 2017.
The Federal Reserve is the biggest ally shareholders of financial corporations have today. The central bank is expected to lift interest rates three times in 2017, which, first and foremost, will help banks' interest rate-related earnings. As a result, the reward-to-risk combination for financial firms is still quite compelling today even though valuations have surged since November. Since Citigroup sells for well below accounting book value, an investment in the bank remains attractive from a capital upside point of view.
Citigroup's shares have risen ~15 percent since the U.S. election, charging higher largely because of expectations of a more favorable regulatory framework for U.S. banks under a Trump administration, and lower corporate taxes that would immediately benefit banks and their shareholders (think higher dividends and share buybacks).
The latest drop in valuation on the back of profit taking is a good opportunity, in my opinion, to gobble up some shares at a really good price.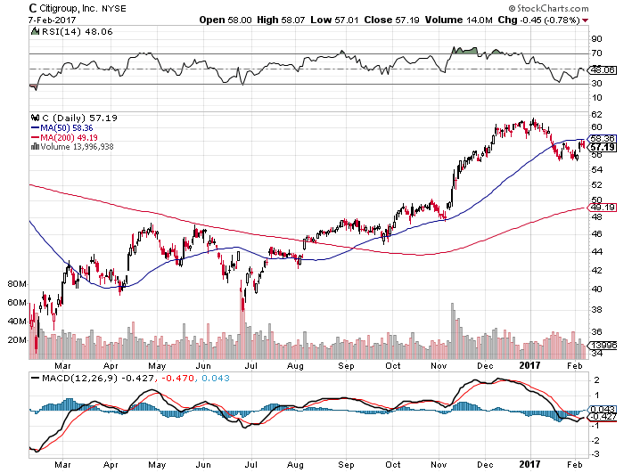 Source: StockCharts.com
Citigroup Is Still A Steal...And The Bank's Book Value Keeps Growing
Imagine you can buy one of the biggest companies in a given sector, and you can do so for just 77 cents on the dollar while net interest earnings are expected to rise significantly in an environment of rising short term interest rates. Citigroup offers such a deal.
The important part to realize is that Citigroup is by no means a poorly managed bank. Citigroup's book value has risen ~7 percent from $69.46/share in the 4th quarter of 2015 to $74.26/share in the 4th quarter of 2016. The bank's tangible book value - a more conventional valuation stat used for banks - also increased ~7 percent, from $60.61/share in the 4th quarter of last year to $64.57/share in Q4/16. Based on Citigroup's 4th quarter financial statement figures, the bank's shares today are priced at a ~23 percent discount to (total) book value.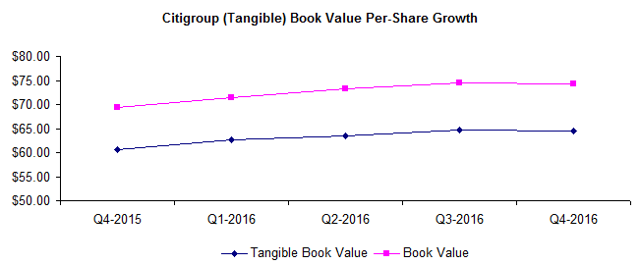 Source: Achilles Research
Interest Rate Upside
The biggest catalyst for Citigroup (and other banks) is higher net interest income on the back of higher short term interest rates, reflecting stronger labor market conditions, above average wage growth, and, as a result, higher inflation expectations.
Citigroup's net interest revenues have risen slowly but gradually in the last several quarters, but since rates have just started to really move, higher income based on higher rates will most likely be booked in 2017.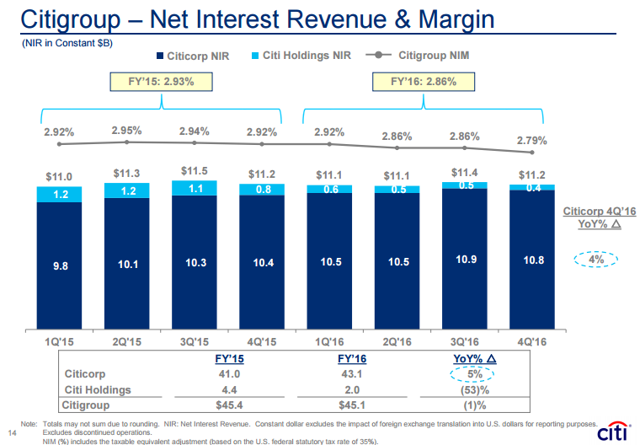 Source: Citigroup
Your Takeaway
Investing is really not that difficult. You buy assets when they are cheap, and you sell them when the valuation becomes stretched. Citigroup is still a steal, especially in light of the upcoming interest rate hikes, and low valuation on a book basis. What's more, Citigroup's (tangible) book value continues to grow, so the bank's business is not in decline at all. Citigroup's reward-to-risk ratio looks compelling due to its low valuation and significant net interest income upside, and I am looking to add Citigroup to my investment portfolio this week. Buy for capital appreciation.
If you like to read more of my articles, and like to be kept up to date with the companies I cover, I kindly ask you that you scroll to the top of this page and click 'follow'. I am largely investing in dividend paying stocks, but also venture out occasionally and cover special situations that offer appealing reward-to-risk ratios and have potential for significant capital appreciation. Above all, my immediate investment goal is to achieve financial independence.
Disclosure: I/we have no positions in any stocks mentioned, but may initiate a long position in C over the next 72 hours.
I wrote this article myself, and it expresses my own opinions. I am not receiving compensation for it (other than from Seeking Alpha). I have no business relationship with any company whose stock is mentioned in this article.