The current low-to-zero interest rate environment has been painful for HSBC (NYSE:HSBC), given that the bank has a very low loans-to-deposits ratio. HSBC's LtD ratio has been on a declining trend since 2008 due to the so-called deleveraging, which created huge excess liquidity on the bank's balance sheet. As a result, HSBC's net interest margin has significantly decreased amid a double whammy of the deleveraging and low interest rates.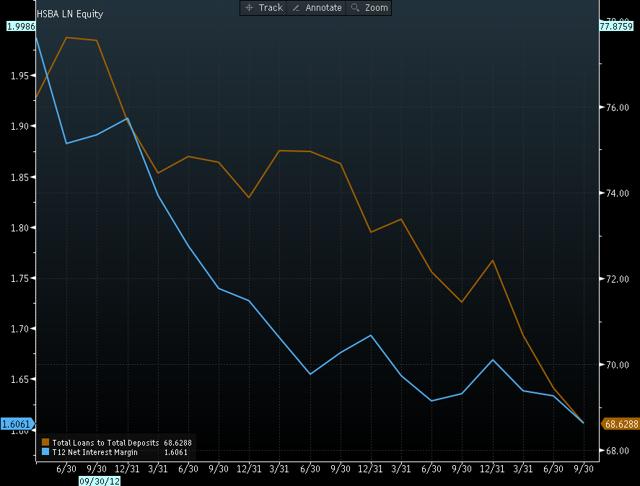 Source: Bloomberg
The recent increase in global interest rates should have a positive impact on HSBC. Similar to other global banks, HSBC's margins are highly sensitive to interest rates and bond yields. Given that Asia accounts for more than 40% of the bank's revenues, HIBOR's dynamics is extremely important for HSBC's net interest income.
Source: Bloomberg
As a reminder, HIBOR is the rate charged for interbank lending on Hong Kong Dollar (HKD) denominated instruments. The chart below shows that HIBOR has increased over the past few months. This effectively means that HSBC's loan spreads will be re-priced upwards (though not immediately), while excess liquidity on the balance sheet should allow the bank to keep its cost of funding stable. As a result, the bank's net interest margin will rise eventually.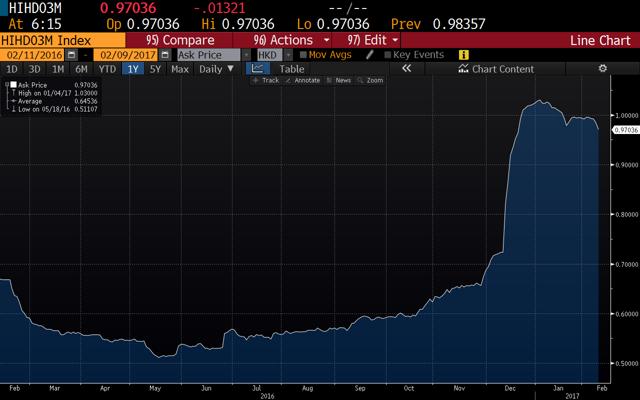 Source: Bloomberg
However, consensus still expects HSBC's net interest margin to decline in 2017.

Source: Bloomberg
We believe that the positive effects from rising HIBOR are not reflected in the estimates yet. As such, we expect consensus forecasts to be revised upwards. Given that HSBC is still unloved by the Street, the revision should prompt sell-side to upgrade their recommendations on the stock.
On a separate note, China's foreign exchange reserves declined below $3trn in January. The data has renewed concerns over the Chinese yuan. As a reminder, given capital controls and FX conversion limits, mainland Chinese investors have significantly increased their ownership of HSBC over the past 6-12 months as the stock is a good hedge against the CNY devaluation.
European Banks: P/B vs. RoE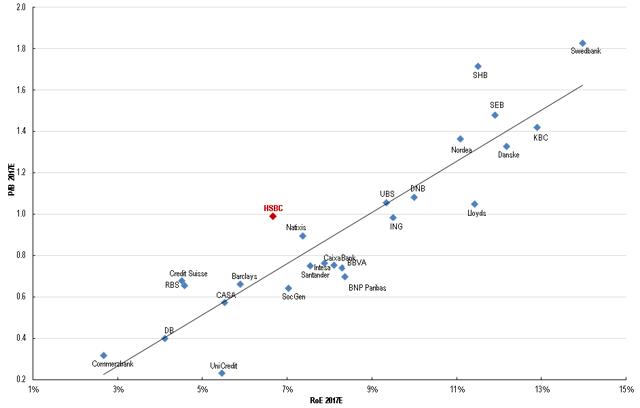 Source: Bloomberg, Renaissance Research
European Banks: P/TB vs. RoTE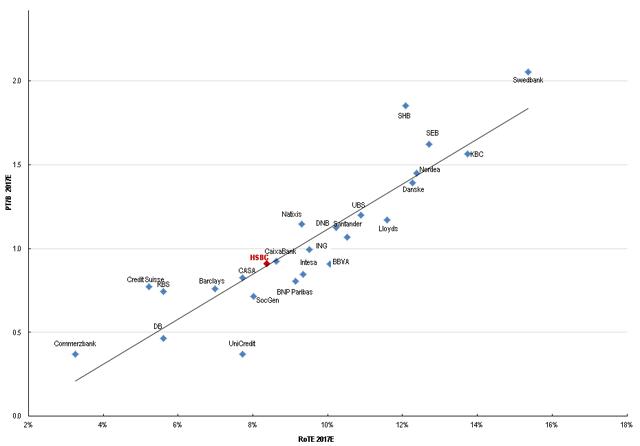 Source: Bloomberg, Renaissance Research
HK banks: P/B vs. RoE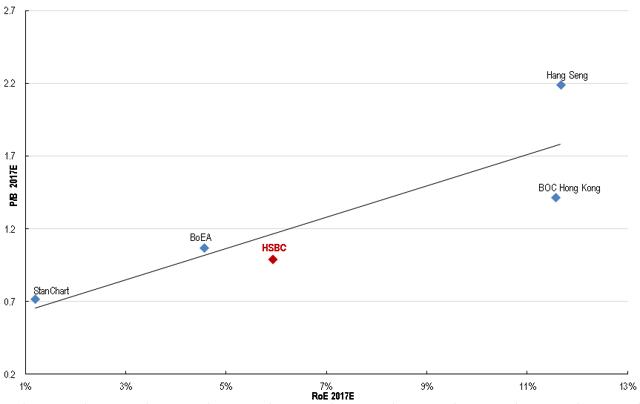 Source: Bloomberg, Renaissance Research
As a buy-side analyst and a deputy portfolio manager, I oversee a financials-focused fund and will be continuously providing research coverage on developments with HSBC and other global banks. If you are interested in the topic, consider following us by clicking the "Follow" button beside our name at the top of the page. Thank you for reading.
We also invite readers to check out our recently launched subscription service. Get in-depth fundamental research, stock recommendations, trading ideas, exclusive access to professional databases, sophisticated valuation models and expert commentary on Wall Street recommendation from a hedge-fund analyst with a proven track record. Go here to learn more or to sign up, we look forward to having you on board.
Disclosure: I am/we are long HSBC.
I wrote this article myself, and it expresses my own opinions. I am not receiving compensation for it (other than from Seeking Alpha). I have no business relationship with any company whose stock is mentioned in this article.