In September 2016, Steinhoff International Holdings (OTC:SNHFF) acquired Mattress Firm Holding Corp. and the market traders punished Steinhoff share price for this acquisition. Steinhoff paid a 115% premium on the ruling market price and a lot of astonishment was expressed about the price. The real questions to be addressed are what strategic value did Steinhoff achieve in this transaction and did it represent value beyond just looking at the premium paid based on one single price reading.
The fact is Steinhoff acquired Mattress Firm at a distressed price, even including the premium on the ruling price. Here is the share price of Mattress Firm from March 2014.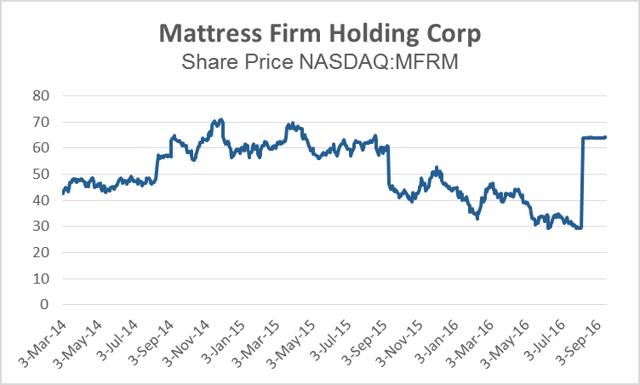 The purchase price paid by Steinhoff for Mattress Firm given its market share price over the prior two years is certainly not at a steep premium. In fact, the purchase price is less than the highs achieved in the prior two years. I am looking at the prior two years as that is also the period in which Mattress Firm has been facing a strategic supplier squeeze while having to compete with increasing competition in the mass market. About 40% of Mattress Firm's turnover was supplied by Tempur Sealy International Inc. (NYSE:TPX) and an acrimonious relationship developed between Mattress Firm and its largest supplier based fundamentally on the economic division of the profit margin. Mattress Firm's other big supplier is Setra Simmons, and together, they supplied 79% of turnover, a two-supplier vulnerability. I will return to this later when I further discuss the Tempur Sealy International Inc. relationship. Mattress Firm has also been incorporating acquisitions during this period but the supply squeeze stymied its attempts to unlock value.
Steinhoff cleverly identified the strategic opportunity to acquire Mattress Firm at a distress purchase price as well as having an in-house secure supply of product to solve the biggest drag on the ability of Mattress Firm to fully exploit its distribution dominance in the USA, which is an economically profitable, competitive, reliable in-house and external diversified supply. Distribution is a core strength of Mattress Firm. It was truly a magnificent strategic acquisition for Steinhoff, which states that mattresses and bedding is its group's key strategic product category, while previously having had no presence in the USA. Steinhoff owns 12 mattress manufacturing facilities (two in the UK, four in Australia and six in South Africa) according to its 2016 Annual Report, and actively drives supply chain economies of scale. Speaking to ability, Steinhoff has a proven track record in holding a dominant position in the geographical regions that it trades, it has proven ability in driving economic benefits in the supply chain, and it stands on a strategy of vertical integration. Steinhoff also entered into a 50:50 joint venture with France's leading mattress manufacturer, Groupe Cofel in July 2016, which gives it additional access to significant supply. Steinhoff has the ability to solve the supply squeeze of Mattress Firm first by tapping into its existing supply chain and perhaps in time, establishing supply in the USA if viable, as well as the proven track record of unlocking economic benefits (profits and solid margins) in the markets where it operates.
Steinhoff's strategic positioning is stated on its website as follows:
"The integrated business model of sourcing and manufacturing products in low‑ cost locations and retailing them in developed markets has underpinned the group's growth since its listing on the JSE Limited in 1998. The retail operations are positioned towards price‑ conscious (value) consumer segments, providing customers with affordable products through the group's vertically integrated supply chain."
How did the market reward Steinhoff for the above sound strategic decisions? The market turned skeptical fixating on flimsy negatives such as the premium to the very weak ruling price or comments that South African companies struggle in the USA (Steinhoff is a German company by origin and listing, with an SA head office but trading as a multi-national so the tag "South African company" is a misnomer). The share price on the Frankfurt Stock Exchange dropped from a high of around €6 in August 2016 to a low of €4.21 by 2 December 2016 for a 30% drop.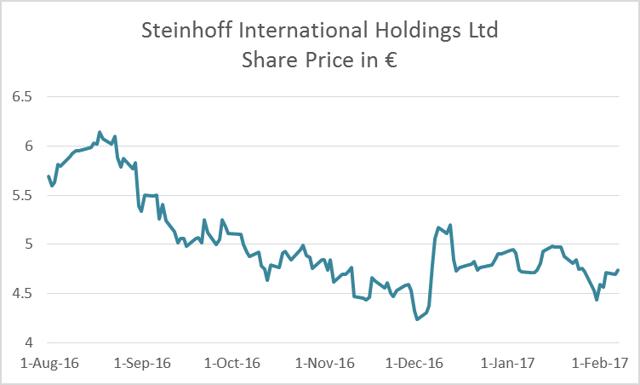 The share price then started rising rapidly to a high of €5.32 on 14 December 2016 when Steinhoff and Shoprite Holdings Limited (OTCPK:SRGHY), a major South African retailer, issued a joint statement announcing that they have entered into talks to merge their business interests through a potential deal involving ultimately a shares swap, see the announcement here. The announcement states the rationale for the transaction as follows:
"Rationale

The Proposed Transaction will result in Steinhoff´s African exposure being held through a strategic interest, within a separately listed entity with sufficient liquidity, which can be independently valued as an African retail champion. Additionally, through Retail Africa, Steinhoff´s African assets will be exposed to additional growth opportunities. The Proposed Transaction would allow Steinhoff, as a group, to strengthen its exposure and relevance to the African consumer, through the diversified global retail platform that would include Africa´s leading fast moving consumer goods, household goods and furniture retailer.

It is expected that Retail Africa´s value proposition will provide its shareholders with a sustainable business where the growth and margin improvement opportunities are greater than the current individual businesses. The collective product ranges, expertise, infrastructure and size of Retail Africa will provide a unique and differentiated customer value proposition, operating in South Africa and in 14 African countries in which established infrastructure sharing will take place.

These benefits would be likely to include: infrastructure and services sharing; product specialization; product diversification; supply chain optimization; customer loyalty, choice and convenience; and people management and benefits, such as, access to additional skills, and attracting retail talent.

On a pro forma combined basis, Retail Africa would have had revenue and EBITDA of approximately ZAR200 billion and ZAR15 billion respectively, for the twelve month period ended 30 June 2016, with a strengthened balance sheet structure to support further organic and acquisitive growth in its diverse, but complementary constituent businesses."
Steinhoff and Shoprite are already "sister" companies with Dr. Christo Wiese as a dominant shareholder in both companies. There is also the history of Steinhoff acquiring 92.3% of Pepkor Holdings Proprietary Limited from Dr. Christo Wiese's asset holdings in November 2014 with a rationale stated as follows in the Notice to Shareholders:
"Rationale for the Acquisition

Pepkor is an attractive acquisition opportunity for Steinhoff given its strong market position, robust operating model, well executed multi-brand strategy, positioning for future growth opportunities and highly experienced management team. Additional key business attributes include:

- Highly recognisable brands, including Pep, Africa´s largest retailer;

- Pepco, the number 1 non-food retailer in Poland and one of the fastest growing in Eastern Europe;

- Strong multinational footprint, operating in 16 countries across 3 continents;

- Excellent track-record of double digit sales growth;

- Pepkor operates in the high-growth, value-orientated market segment (LSM 1-6), providing goods to lower-end consumers;

- Pepkor´s high cash generative sales model with limited credit sales allows the business to rapidly grow from internally generated resources with average cash conversion over

the past 3 financial years:

i. pre-capex: 99% of EBITDA, and

ii. post-capex: 69% of EBITDA.

- Successful growth track-record in Eastern Europe and Southern Africa with substantial future growth potential, and its ideal positioning to embark on expansion into Europe.

The Acquisition is also particularly compelling given that it will strengthen Steinhoff´s position within the discount retail market segment. Discount retailers have benefited from the recent "flight to value" trend which has been most noticeable among less affluent customers.

Customers across the spectrum are "trading down" as discount retailers have become more socially acceptable, offering improved variety and quality. In addition, discount retailers have expanded operations through rapid new store openings, thereby gaining market share from traditional retailers. This underlying consumer trend is expected to continue even after the anticipated economic recovery due to the:

- increased market presence of discount retailers providing greater access to consumers;

- increasing transparency (especially online) across retailers´ prices allowing consumers to bargain hunt more effectively; and

- increased transaction volumes and basket spend as the discount channel is increasingly accepted as a complementary shopping channel.

Steinhoff believes that the Acquisition will further enhance its position as a leading listed global vertically integrated retail group in terms of size, geographic spread, operating scale and product diversity. The Acquisition will provide, inter alia, the following additional benefits to Steinhoff, thereby further enhancing the Company´s growth prospects:

- diversification into faster moving clothing, apparel and cellular retail product ranges

allowing Steinhoff to enhance its earnings and revenue mix;

- bolstering of the complementary retail activities of Steinhoff and Pepkor, through existing product, customer and footprint overlap, adding to the scale and growth profile of the combined business. Steinhoff´s product offerings include a large portion of goods and products that are similar to Pepkor´s retail proposition;

- the ability of the combined business to accelerate its expansion throughout Europe,

including, inter alia, the roll-out of Pepkor´s formats in terms of a `one-stop shop´ offering to common discount sector customer bases, by utilising Steinhoff´s existing large format store footprint;

- significant cost synergies through combining purchasing, sourcing and logistics infrastructure, greater volume discounts from suppliers and more favourable shipping and other logistic rates from key sourcing destinations; and

- potential for meaningful omni-channel, cross pollination and footprint optimisation opportunities within existing trading formats of the Steinhoff and Pepkor networks.

Upon implementation of the Acquisition, Steinhoff´s pro forma revenues and EBITDA will have amount to R156 billion and R18.7 billion, respectively, in respect of its financial year ended 30 June 2014."

The announcement had the following information on Pepkor:

"Background to Pepkor

Founded in 1965, Pepkor manages a portfolio of retail chains operating in 16 countries across 3 continents. Pepkor reported revenue of R38.2 billion for the financial year ended 30 June 2014, which was generated in the following geographies:

- South Africa and surrounding countries (63%);

- Rest of Africa (5%);

- Australia (23%); and

- Eastern Europe (9%).

Pepkor trades from approximately 1.7 million square metres of retail space and provides employment to more than 32 000 people. Its 12 main retail brands are mainly focused on the discount and value market segments and also include some specialty and service brands.

The combined product range comprises:

- clothing, footwear and apparel; and

- homewares, household goods and cellular products and services.

Pepkor operates on a decentralised business model supported by central group services, and focuses on supply chain optimisation to protect and enhance its discount positioning."
The website of Pepkor states that sales are currently ZAR56bn up 47% from the ZAR38.2bn reported at acquisition, retail space is 2.1million square meters (from 1.7) and it employs 44,000 people (from 32,000). Clearly, the Pepkor acquisition between Steinhoff and Dr. Christo Wiese was a great success. One would deduce that a repeat performance can be expected for the Steinhoff/Shoprite proposed transaction. So how did the market react? Share prices of both Steinhoff and Shoprite dropped significantly. Steinhoff's share price dropped from the stated high of €5.32 on 14 December 2016 to a low of €4.65 on 16 December 2016 for a 13% drop in two days. Why the negativity given the history of Steinhoff? The share price then traded sideways to mildly up to reach once again the €5 level by 16 January 2017.
In the middle of January 2017, Steinhoff entered into negotiations with Tempur Sealy International Inc. on the terms of its supply contracts with Mattress Firm. The market should really have been expecting Steinhoff to address this issue but once again, the market reacts with apprehension and the share price starts trading down. On 27 January came the announcement that Tempur Sealy International Inc. has found the proposed supply terms of Steinhoff unpalatable and has given notice to terminate all supply to Mattress Firm by the end of the first quarter 2017. Once again, the Steinhoff share price was punished for this decision. Why? Tempur Sealy International Inc. clearly was an unfavourable supplier to Mattress Firm. The major sticking point was the request by Steinhoff for "a significant change in economic terms", simply put, Steinhoff wanted a competitively priced supply with a fair share of the profit margin. Steinhoff clearly took a hard line (totally valid, strategically) and its negotiating strategy indicated that it did not really care overly to retain the relationship with Tempur Sealy International Inc. Why would Steinhoff want to hold on to an expensive supply consisting of around 40% of Mattress Firm's turnover where most of the economic benefit accrues to Tempur Sealy International Inc.? Why, particularly when it has access to economic in-house and more economically favourable alternative supply in group relationships? Steinhoff actually behaved gentlemanly to enter into negotiations with Tempur Sealy International Inc. given the already unfavourable terms and damaged relationship. My personal opinion is that the first prize for Steinhoff in the negotiation was the "walk away choice" made by Tempur Sealy International Inc. and that Steinhoff would have already started planning for that eventuality in September 2016 when it acquired Mattress Firm.
The significant strategic gain for Steinhoff is that it can now absorb that 40% turnover with economically favourable group product in a very short time to unlock the very promise of economic benefits anticipated in the acquisition. A side strategic benefit is the fact that a potential competitor has been placed in a distressed strategic position having to compete from a position of vulnerability.
How did the market react to this strategically sound performance by Steinhoff? Once again, the reaction was to trade the Steinhoff share down from the €5 levels of mid-January 2017 to a low of €4.44 by 31 January 2017. The Steinhoff share price has since been trending mildly upwards in fairly volatile trading. Today, 7 February 2017, the share can be purchased around the €4.7 levels, which gives it a potential 31% rise to regain the August 2016 high of €6.16 before the market started reacting with a negative share price bias towards significantly positive strategic decisions by Steinhoff. Given the clear blue sky growth strategic positioning of Steinhoff, one would have expected the share to gain rather than to fall from August 2016 to the present. The Steinhoff of today is a significantly improved Steinhoff on the August 2016 Steinhoff. I expect that the strategic gains will already be flowing and will as early as the first quarter 2017 becomes apparent, perhaps then the skepticism will give way to optimism about the share price.
Disclosure: I hold Steinhoff shares and plan to acquire more on weakness.
Disclosure: I am/we are long SNHFF.
I wrote this article myself, and it expresses my own opinions. I am not receiving compensation for it (other than from Seeking Alpha). I have no business relationship with any company whose stock is mentioned in this article.
Editor's Note: This article discusses one or more securities that do not trade on a major U.S. exchange. Please be aware of the risks associated with these stocks.