Respiratory portfolio sales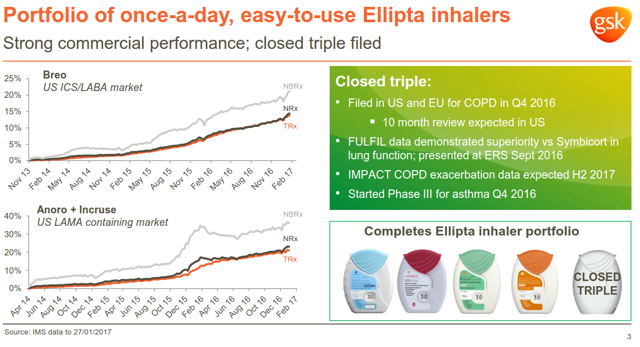 (Source)
GSK (NYSE:GSK) reported good progress for its portfolio of new respiratory drugs.
Breo sold $843m in 2016 (up 115% YoY) and $269m in Q4 (up 29% QoQ).
Anoro sold $273m in 2016 (up 126% YoY) and $90m in Q4 (up 29% QoQ).
Incruse, the recently launched LAMA competing with Spiriva, sold $155m in 2016.
Arnuity, a minor product that contains only the ICS that is also included in Breo, sold $20m in 2016.
In comparison, the good old Advair still raked in $4,740m in 2016. It is interesting to analyze this in greater detail.
Advair currently sells $717m/quarter in the U.S. and GSK expects to lose 15-20% of this without a substitutable generic competitor in 2017 or ~60% if such a competitor gets approved and launched in summer.
Over the past year, Advair lost $366m of sales in the U.S., while Breo added $303m. So GSK managed to switch 82% of its "own" patients to the newer drug. However, if generic Advair arrives, GSK foresees to lose immediately ~60% of these patients to generic competition.
- So how much would remain for Breo?
The most recent quarterly growth rate for Breo was 29%. Yet this was achievable thanks to only branded and only twice-daily competition (Breo is the only once-daily ICS/LABA combo). So it is probably better to consider last year's EU growth rate for a projection. In Europe there are already several generic Advairs (or Seretides), which in fact has taken its toll on Breo's growth rate: just 56% YoY instead of 184% in the U.S.
If Breo manages to grow 56% with multiple generic Seretides around, it has a good chance to do the same in the U.S. This would lead to projected 2017 U.S. sales of $730m. In addition, if Europe and International continued to grow at the usual pace, we would have another $585m. Total projected Breo sales for 2017: $1,315m - if generic Advair arrives.
Looking at this figure from a different perspective, it would imply that Breo captured another $94m of Advair sales (2017 U.S. sales projection - current quarterly U.S. run-rate x 4 = 730 - ( 159 x 4 ) = 94). Given that in 2016 Breo captured $303m, this seems to be very achievable.
Shedding some light on Anoro
As widely known, the Anoro sales ramp disappointed right after the drug's launch. However, as I had anticipated, the introduction of several competitors would have provided a meaningful marketing push for the new category of LABA/LAMA combinations many doctors had not been familiar with. Today, all these new drugs together sell north of $1B/year:
Novartis (NYSE:NVS) / Ultibro made $90m of sales in Q4/16 (almost all of which in the EU), Astrazeneca's (NYSE:AZN) Duaklir sold $19m (almost all in the EU), while Anoro sold the same amount as Ultibro, but only a small part in the EU and $64m in the U.S. Recent sales figures for Boehringer's Stiolto/Spiolto are not available. So far, Anoro and the Boehringer product are the only inhalers that are available in all major markets. All in all, in the most recent quarter, these drugs together probably raked in ~$250m of sales, ~$160m of which in the EU, which is hence much larger than the U.S. market.
This will likely change soon. Not only should Boehringer see stronger uptake, but Novartis will also introduce its respiratory drugs in the U.S. through a recent license agreement with Sunovion.
Actually, this deal was the result of Novartis' failure to prove Ultibro's superiority to Anoro. With a different outcome of the head-to-head trial the Swiss drugmaker would probably have launched the drug on its own in the important U.S. market. In fact, in the U.S. Ultibro is a twice-daily drug, whereas in Europe it is once-daily and can compete much more effectively with Anoro. So Ultibro will come, but it will be a minor competitor for Anoro.
The importance of LAMA/LABA
Novartis' FLAME study seems to indicate that LAMA/LABA drugs are at least as good in reducing exacerbations as LABA/ICS drugs (like Breo, Advair or Symbicort). While the study used the European version of Ultibro, meaning that Novartis won't be able to promote its product with this claim in the U.S., the findings from the study have already had a strong impact on the most recent GOLD treatment guidelines for COPD patients. As I had anticipated, the new guidelines now favor LABA/LAMA over LABA/ICS in at least two patient categories.
In category C, LABA/ICS used to be first choice and is now the last option and the guidelines highlight the pneumonia risk related to ICS use. First choice is LAMA (no change) or LAMA/LABA (new entry). Similarly, in category D, LABA/ICS is not one of the first options anymore, as the guidelines already salute the likely availability of the closed triple. In addition, there is a new preferred option in category D: LAMA/LABA. Overall, what has happened here is truly sensational: The former mainstay of COPD therapy, with blockbusters like Advair and Symbicort, has almost disappeared from all categories! And this is only GOLD 2017. We can imagine what GOLD 2020 will look like.
Now let's consider that LABA/LAMA has been introduced only recently and won't face generic competition for a long time and we understand why all this is so important. Basically, the LABA/LAMA category could take over many of the current LABA/ICS patients while creating a much more favorable competitive environment and taking away some of the pricing pressure.
Such a paradigm shift is obviously hard to project in greater detail, but I personally believe that sooner or later Anoro will sell at least as much as Breo. In 2017, prescribers might still be slow in their reaction to the new treatment guidelines, but over time the effect will be felt. So I certainly project Anoro to grow strongly over the next four quarters, but would rather indicate a range than a precise figure. At the very least, Anoro will double in 2017, so it should sell a minimum of $500m and maybe up to $700m. Finally, Incruse should also do fine and experience further rapid growth.
The future
Breo, Anoro and Incruse together are still far away from Advair's record sales levels, but there is still one important drug missing in the Ellipta range: the closed triple, which will probably be approved in late 2017. This may or may not become the missing piece of the puzzle. Maybe it remains a minor product and Anoro becomes a huge blockbuster, or all three products will contribute about equally to fill the Advair gap.
While it is still not clear how exactly GSK will deliver on its promise to return its respiratory portfolio to growth, it is very likely that it will not fail. In fact, the British drugmaker is uniquely prepared for any paradigm shift there may come thanks to its Ellipta portfolio, which is the only complete series of COPD and asthma treatments that are all once-daily and allow to treat patients through all four GOLD categories. No other competitor has anything like this. So GSK should do fine regardless of which guidelines prescribers will ultimately adopt.
Disclosure: I/we have no positions in any stocks mentioned, and no plans to initiate any positions within the next 72 hours.
I wrote this article myself, and it expresses my own opinions. I am not receiving compensation for it (other than from Seeking Alpha). I have no business relationship with any company whose stock is mentioned in this article.