The U.S. dollar looks to be pulling back to start the year following its run up to decade highs, which is also allowing gold prices to move higher. Dollar weakness is due to the combination of the currency being overbought relative to its peers, as well as geopolitical risks in Europe pushing U.S. rates lower relative to the rest of the world. This looks like a short-term occurrence however, and the trend should resume by year's end, meaning it is a great time to buy the dollar dip, and re-up shorts on gold.
As you can see in the chart below, the U.S. dollar has run up considerably in recent months following rising interest rates, on top of increasing inflation expectations. Inflation expectations have been fueled by the new pro-growth policies in the U.S., which look to spur economic activity in coming years. Improving growth projections are also leading industrial commodity prices to be bid higher. As the economy grows, there is more expected demand for such commodities, which should also benefit rising inflation.
Ultimately, it looks as if the Federal Reserve will be forced to raise its key lending rate at a quicker than expected pace over coming years, which is pushing interest rates higher. The transition from an easing cycle, seeing interest rates dip into negative territory, to a hiking cycle, should continue to benefit the U.S. dollar, pushing it towards 2002 levels near 120.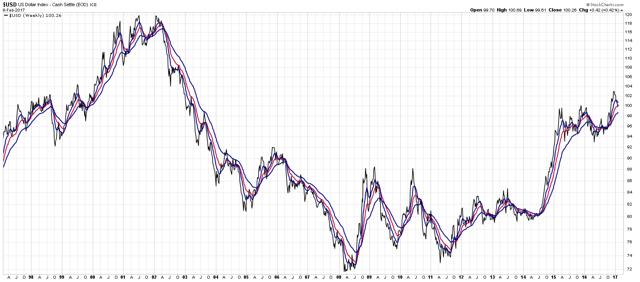 A reason for the recent pullback in the dollar, on top of just being overbought, has been the declining interest rate differential between the U.S. and Germany. U.S. interest rates have seen safe-haven inflows in recent weeks as election uncertainty in France, as well as other European countries spreads the fear of more populist influence on global policy. Marine Le Pen, head of the anti-EU, anti-immigrant National Front has gained a lot of traction among French voters as a viable Presidential candidate. This has spooked markets, pushing both the euro, and broader interest rates lower as the foundation of the European Union looks to be in jeopardy. Pollster however, think Le Pen will be defeated in May due to her Too Far-Right agenda.
Nonetheless, the safe-haven flows into U.S. treasuries have pushed U.S. rates lower relative to German rates, weighing on the price of the U.S. dollar.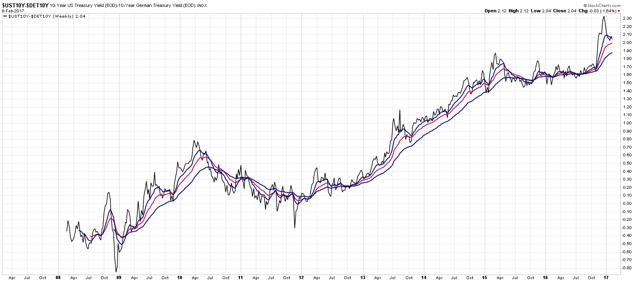 Lastly, the recent pullback in the U.S. dollar creates an interesting environment for re-upping the long-term long dollar, short gold trade. The chart below highlights the tight correlation between gold and the dollar over the last 20-years. It can be said that due to the Fed's historic monetary policy easing, the dollar's value greatly diminished, leading gold to record levels. Going off of the premise that the prior era is over, and both the dollar and U.S. rates are headed higher over the next decade, this current pullback creates a great time to add to the trade.
You can get in on the trade by buying PowerShares DB US Dollar Index Bullish (NYSEARCA:UUP) and shorting SPDR Gold Trust (NYSEARCA:GLD). Regardless of what U.S. equities do, if the dollar reaches 2002 highs again, gold prices should significantly decline due to the still strong correlation. Investors should add to dollar longs and gold shorts this week, and let this trade ride for many more years.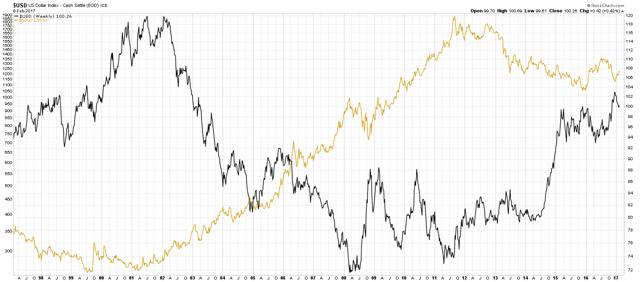 Disclosure: I/we have no positions in any stocks mentioned, and no plans to initiate any positions within the next 72 hours.
I wrote this article myself, and it expresses my own opinions. I am not receiving compensation for it (other than from Seeking Alpha). I have no business relationship with any company whose stock is mentioned in this article.