(Editor's Note: We wish to emphasize that shares of SCOR are currently halted for delisting.)
From my perspective, there's a catch with comScore (NASDAQ:SCOR) at the moment. Shares fell 28% on Monday, when the company said it would miss a deadline to restate its financials, and make required delinquent filings with the SEC. That in turn led to the decision by NASDAQ to delist the stock on Wednesday (SCOR now trades on the pink sheets).
I think that decline was a bit overwrought. There no doubt is some front-running of mutual and index funds who have to sell the stock; SCOR is in the S&P MidCap 400, for instance. But as far as we know (more on that later), comScore's internal investigation is focusing primarily on nonmonetary revenue recognition - and not all that much of it. There still appear to be no impacts on cash flow, and while the investigation has impacted 2016 results, according to management, there was nothing in the disclosure this week to suggest a downward acceleration.
The question then is whether SCOR was reasonably valued on Friday, at $34. The stock was near an eleven-month high, though still at levels below those seen before the investigation was announced last February, and well below 2015 highs near $65. Yet from what we can parse from limited financial data available surrounding 2015 and 2016 performance, $34 - and even the current price near $23 - still implies reasonably high multiples to revenue and EBITDA.
It's there that I'm not quite certain, particularly given limited disclosure regarding comScore's issues over the past few quarters. If the core comScore business remains reasonably intact once the financial issues are resolved, and if the restatements are relatively limited, then $23 is an extremely attractive price. But those remain big 'ifs', to be sure, and there's significant risk in trying to time the bottom here, but in the near-term and in the longer-term.
At the same time, most similar situations over the past few years have proven to be buying opportunities. And in the case of comScore, I still think there's a likely outcome here in which the current issues are resolved, and a sale takes place. But it will take some time to get to that outcome, should it occur - and I'm not sure what comScore can get if its business is struggling as badly as might be the case at this point.
The Timeline
It's worth looking back to frame the discussion here, so here is a basic timeline of SCOR before and during the recent crisis:
2013 through mid-2015
SCOR quadruples from ~$15 at the beginning of 2013 to $60+ in mid-2015. Optimism that comScore can take share from industry leader Nielsen Holdings (NYSE:NLSN), by benefiting from shifts away from traditional television watching habits, seems to be a major driver: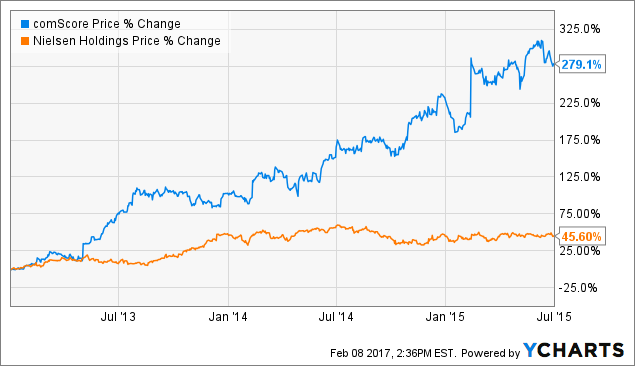 chart from January 1, 2013 to July 1, 2015
August/September 2015
A mixed Q2 report in early August leads SCOR to stall out. At the end of the month, the Wall Street Journal highlights a note in the 10-Q, pointing out that increasing "nonmonetary" revenue recognition - essentially barter - is driving a reasonably, and increasingly, large amount of comScore's revenue growth. Shares fall 15% in two sessions, and continue heading south.
September 29, 2015
comScore announces an all-stock merger with Rentrak. SCOR shares jump 10%+, and RENT stock gains 20%+. The combination provides cross-platform measurement capabilities, and provides a newly legitimate competitor to Nielsen. Wunderlich likens the tie-up to the "next iPhone in media measurement". With TV networks frustrated at the incumbent's ability to properly track audiences, the comScore/Rentrak merger seems to position the company well. Nevertheless, SCOR gives back the post-merger gains in a matter of weeks. By January, amidst broad market weakness, the stock is at a two-year low around $35.
February 17, 2016
comScore releases fourth quarter earnings. Q4 revenue and Q1 guidance look a bit light, but the stock holds relatively flat. As the market recovers through the end of the month, SCOR shares again clear $40.
Stepping away for a moment, and looking at SCOR heading into the disclosure of its accounting investigation, there are two key points to keep in mind. The first is that the impact of the nonmonetary transactions already was widely known. For one, the figures themselves were disclosed in filings - the market should have been aware of the issues. (To be fair, that's not always the case. As Malcolm Gladwell has pointed out, the first step in the unraveling of Enron was a tip to the WSJ based on information in its SEC filings.) The WSJ article had highlighted their impact on revenue growth. Multiple articles on this site - both bullish and bearish, though more of the latter - noted the contribution of barter deals as well. Relative to the retroactive adjustments made during the process (more on those in a moment), there shouldn't have been much in the way of surprise. And that casts a bit of doubt on the logic of the subsequent declines: I'm skeptical that investors should view 2013-2015 financials all that differently in February 2017 as they did in January 2016.
Conversely, it's important to keep in mind that SCOR really wasn't performing that well as a stock heading into February 2016. Shares had declined nearly 40% despite the execution of a merger (which closed in January) that the market liked in the short-term and seemed to make tremendous sense in the long-term. comScore only offered RENT shareholders a 9.9% premium; there was little reason over the next three months to suggest some sort of significant value destruction from the merger. But, clearly, investors were concerned about comScore's business; reasonably light growth figures ex-barter, once they were better understood, were probably a prime reason why. Fears about the media landscape, and potential weakness in comScore's customer base likely added to the pressure: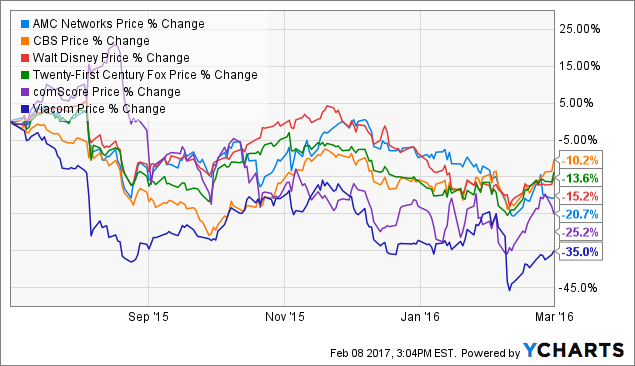 chart from July 1, 2015 to March 1, 2016
March 7, 2016
comScore delays the filing of its 10-K, postpones its Investor Day, and pauses a $125 million share repurchase program, citing an investigation prompted by a "message regarding certain potential account matters." The tip was received February 19; as of February 29, the company said it still believed it could file the K within 15 days. That would turn out not to be the case - by a long shot. SCOR falls 31% on the disclosure.
The next few months are relatively quiet; despite hopes that the restated financials will be completed, little news comes from comScore, and SCOR shares stay rangebound in the high $20s, for the most part.
August 10, 2016
comScore finally releases an update and holds a conference call with no Q&A. SCOR shares bounce about 6%, albeit off their lowest levels since the accounting investigation was announced. CEO Serge Matta and CFO Melvin Wesley III are replaced by co-founder Gian Fulgoni and Chief Revenue Officer David Chemerow, respectively. Bill Livek, CEO of Rentrak before the merger, returns to day-to-day operations as well.
In a Form 12b-25 (late filing notification), comScore writes that "the internal investigation is substantially complete," while "the accounting transactions at issue mainly relate to certain non-monetary transactions." On the call, Fulgoni admits that it "was not business as usual" in the first half, due in large part to the distractions created by the investigation. First half sales are estimated at $214-$218 million, with $10 million in barter revenue, about $20 million under the company's plans. That figure still represents 20% growth year-over-year (with 1H 2015 having nearly $15 million in nonmonetary sales, per the 10-Q). But given that Rentrak was at a $108 million run rate through June 2015 according to comScore's merger presentation, a ~$38 million year-over-year increase ($43 million ex-barter) implies negative organic growth for the period. The company does close the quarter with "about" $150 million in cash on the balance sheet.
And the investigation isn't the only issue. comScore also cites M&A activity among customers, which froze investments, and a slower-than-expected pace of building out the mobile measurement business. Combined with some of the growth slowdown in 2015, the sense has grown that the issues with SCOR aren't confined solely to recognition of a few barter transactions.
September 16, 2016
After disclosing revenue adjustments in an 8-K filed the night before, comScore holds another conference call. In total, about $50 million in revenue recognized between 2013 and 2015 comes off the books: about 5% of the three-year total. But the use of the tactic clearly had accelerated over the years: comScore takes $3 million-plus off 2013 sales, but $16 million off 2014 figures and a whopping $27 million off 2015 revenue. 2013 GAAP EBIT is revised down $1.4 million and 2014 figures are essentially flat; but 2015 EBIT loss expands from $2.65 million to $10.8 million.
The increasing use of nonmonetary revenue appears to support contentions that management was trying to spike growth rates to hit compensation targets. And the adjusted figures show a markedly different growth profile. Previous figures showed 14.7% revenue growth in 2014 and 12.0% in 2015; backing out the questionable transactions, the figures decline to 10.3% and 8.6%, respectively. The $8.1 million profit adjustment, meanwhile, accounts for 42% of comScore's 2015 Adjusted EBITDA growth. Higher stock-based compensation of $5 million drives another 25%+.
Once again, shares jump. Management sounds reasonably confident on the conference call (no transcript is available), though little information is given on financials. There are a "few small transactions" besides the nonmonetary deals that might be of concern, but Fulgoni insists that he's aware of no lost clients due to the investigation, a feat that he calls "very encouraging". Business still isn't back at full speed; the company's vCE campaign management platform was supposed to get to ~$100 million in revenue by 2017, but comScore admits the investigation has "hampered" its growth. Still, the company is accelerating the rollout of its "Mobile Panels" business, aiming for 10K homes by the end of the year in a clear bid to take on Nielsen. Coming out of the call, there's probably some reason to see the end in sight.
November 17, 2016
comScore files another 8-K, which essentially says that all nonmonetary revenue transactions will be reversed - and promises that the company won't book any nonmonetary revenue going forward. The company also mentions potential "misconduct", however, and says that four monetary transactions are under review. In addition, comScore cites "concerns regarding internal control deficiencies, including concerns about tone at the top" and other factors.
The same 8-K discloses that nonexecutive chairwoman Joan Lewis is leaving the board, along with another director. In December, former CEO Matta and co-founder and former executive chairman Magid Abraham resign their board seats, with both already having left their executive posts. SCOR shares actually normalize somewhat, moving higher and touching their highest post-investigation levels in December at $34.
February 6, 2017
As noted, SCOR abandons its hopes of filing the 10-K in time, leading to its delisting on Wednesday.
The Risks
With that backdrop, then, there are a number of clear risks. But I'd argue that the risks come less from the investigation and more from the fact that we know so little about recent performance:
1. What is taking so long?
Again, the company wrote in a filing in August that the "internal investigation is substantially complete. CFO Chemerow said on the ensuing call that "we are all disappointed with the time it's taken to conduct the investigation".
It's now six months later, with no end in sight. There's obviously concern about what else comScore has uncovered, along with "never just one cockroach" fears. It certainly seems like there's a reasonable possibility that revenue and expenses were altered to boost earnings. The question now has to be, if that occurred, whether misconduct was limited to simply barter revenue and four cash-based transactions.
At the same time, however, I'm not entirely sure there's room for comScore management to have magically created millions in profits. Free cash flow figures have been relatively steady, and positive, and as Chemerow put it, that cash is "in the bank". I'm admittedly not a CPA, but I don't see ways for previous management to have executed something along the lines of "channel stuffing" or creating false sales. The most recent release did cite the delays as coming "primarily in the revenue area". But that doesn't necessarily mean that cash revenue will be pulled down materially. (To be fair, it doesn't mean it won't, either.)
2. Where's the cash?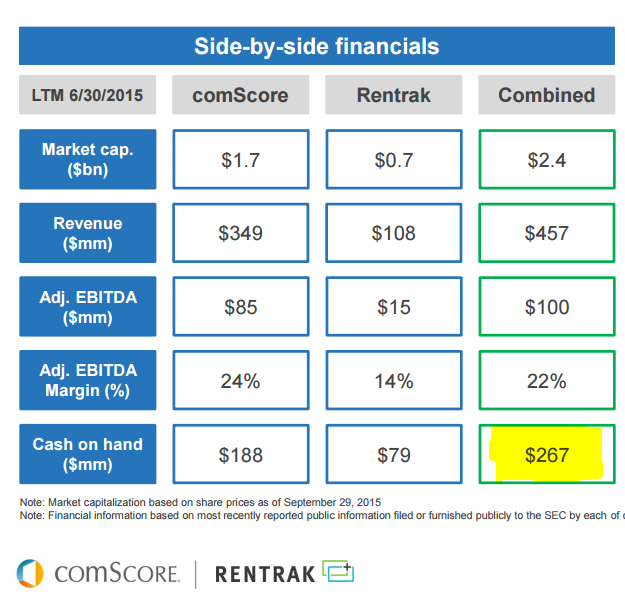 source: comScore merger presentation, highlighting by author
In its release on Monday, comScore said it had $116 million in cash. That's a $151 million drop. The company did repurchase $45.9 million in shares in Q3 2015, according to the 10-Q. But in the same filing, the company said the program was suspended following the Rentrak merger - and it was suspended again roughly three weeks after that deal closed. Pro forma figures from the S-4 (p. 113) imply almost $220 million in cash and investments as of September 30, 2015. Note too that the company had $150 million or so after Q2 - which means cash declined ~$34 million in the back half.
The changes are concerning not relative to the accounting investigation, but relative to the performance of the business. comScore appears to have burned about $100 million in cash over five quarters, given that JAS quarter performance at both companies pre-merger looks to be about flat (ex-buybacks for comScore). That's a major turn given that in recent years comScore generated ~$40 million or so a year in FCF and Rentrak was about breakeven. I don't see working capital figures that imply such a steep move, and the fact that cash appears to have declined by $34 million in the second half implies a more steady drawdown. Whatever the cause, it doesn't seem bullish for SCOR.
3. What's going on with the business?
The other issue is that the business doesn't look to be performing all that well, cash balance aside. This isn't just a case of not knowing what's going on inside the business - though that doesn't help. But, again, first-half revenue figures appear to imply an organic decline.
That's a bigger problem considering that Rentrak was supposed to be a fast grower. Projections from the S-4 (p. 70) show an acceleration in revenue from $143 million in FY16 (ending March) to $201.5 million to $274.7 million by FY18 - nearly 100% growth over two years.
The projections for Rentrak and comScore seem to imply something like $570 million in combined CY16 sales (e. But guidance - which included nonmonetary revenue - was just $508-$532 million. The figure now seems on pace to come in under $500 million, after a first-half performance that was ~8% under budget. Already, then, sales are about $80 million under plan, at least. Per the S-4, pro forma revenue in calendar 2014 was $425 million; it thus seems likely that either Rentrak is barely growing after expecting ~40% sales growth, or comScore is declining - or some combination of the two.
The Rewards And Valuation
With the exception of the updated cash balance of $116 million, none of those numbers are new, and thus don't appear to have directed the 28% decline on Monday. But there's a question as to whether analysts - who largely dismissed the accounting concerns in September 2015 - and investors again have missed a bit of a 'hidden' story relative to SCOR. As of right now, it is very much a guessing game - but it's hard to run the data we do have in any way that suggests anything but a dramatic growth slowdown for either comScore or the Rentrak business, or both.
So, to my eye, even if Monday's decline didn't make sense relative to the simple delisting, it does get SCOR much closer to fair value. Some of the issues in the business, as management argued in August, likely are due to the investigation. Clearly, it has taken a substantial amount of time and resources. But there also appears to be something else at work here: it's not as if SCOR stock was performing all that well before the investigation was disclosed, and Rentrak had pulled back as well.
So my sense is that even once the accounting errors are fixed, SCOR is still going to be a bit of a turnaround play. And that might not imply all that much upside even with the overhang removed. Original 2016 guidance was for $116-$132 million in Adjusted EBITDA. The share count as of August, according to a filing by WPP PLC (NASDAQ:WPPGY), who owns nearly 20% of SCOR, was 57.1 million. At $23, then, the market is $1.31 billion, and the enterprise value $1.2 billion, valuing SCOR at 10x the midpoint of that guidance.
Of course, comScore didn't hit that guidance - and its Adjusted EBITDA figures also excluded some $40 million in share-based compensation. Given the collapse in the stock, that compensation obviously won't be terribly dilutive. But those grants will be reset going forward, so backing out stock-based comp does give an approximation of normalized EBITDA, which drops to $84 million or so. Assuming a 15% decline, based on an 8-10% revenue miss (which may be conservative), and EBITDA suddenly is at $70 million. And SCOR still trades at over 17x that profit.
Truthfully, that's not that ridiculous a multiple, if comScore business can get back somewhere close to normal. There are growth opportunities going forward, to be sure. Longer-term, I still like the company's position within the media space; complaints about Nielsen are real, and comScore can take advantage. The cross-platform measuring capabilities seem to fit well in a multi-screen world, and comScore even has some IoT (Internet of Things) exposure through the Mobile Panels offering. I don't think the baby needs to be thrown out with the bathwater in terms of comScore's market potential over the next few years - particularly if clients aren't abandoning the company amidst its internal investigation.
And there's definitely a possibility of a sale here. WPP owns 19%+, as noted. Fulgoni is 68 and owns $3 million-plus in SCOR stock as of the most recent proxy (as of April 1, 2015). Livek is 62 and likely owns $10 million-plus in SCOR, depending on option exercises. Chemerow is 64. At least from an age standpoint (and with all due respect), this isn't an executive team that seems intent on executing a multi-year turnaround. Indeed, both Fulgoni and Livek had stepped back from their responsibilities before the recent mess.
Meanwhile, as bad as it looks for SCOR at the moment, recent history shows a lot of similar opportunities. Hanger Inc. (OTCPK:HNGR) got booted to the OTC markets early last year; it's quadrupled since then. Tangoe (NASDAQ:TNGO) is a delinquent filer whose stock held on until late. Barrett Business Services (NASDAQ:BBSI) disclosed an accounting issue in November, and fell 30% on the news; it's doubled from January lows. If there's a decent company underneath the accounting mess, there is a chance of a rebound, with forced fund selling, in particular, perhaps providing an opportunity.
And I'm tempted, truthfully. The contrarian in me loves SCOR. Analysts have whiffed on the story for two years now; the fact that they're backing away now seems a classic bullish signal. I still like the business longer-term; I still like the Rentrak merger; and I still think what looks like a duopoly with NLSN offers plenty of room for growth and margin expansion over time.
The problem I keep coming back to, however, is that even though Monday's sell-off made SCOR cheaper, I'm not sure it made the stock cheap. It's difficult to parse out the non-accounting issues that have pressured the stock over the last two years, between the lack of disclosure in 2016 and the merger in 2015; bear in mind that there's no 10-K for 2015 or 2016 for either company. Still, it looks like the business is not running well, and has not run well for some time. And before going long SCOR, I'd like to get a little more understanding of what's going on behind the limited data released so far. Because I have a strong feeling that it's not good - and it's not just an accounting problem.
Disclosure: I/we have no positions in any stocks mentioned, and no plans to initiate any positions within the next 72 hours.
I wrote this article myself, and it expresses my own opinions. I am not receiving compensation for it (other than from Seeking Alpha). I have no business relationship with any company whose stock is mentioned in this article.