Since October 2016, the stock price of Live Oak Bancshares (NASDAQ:LOB) has remained very bullish because of the strong growth momentum of the company. While in the middle of October 2016, the stock was trading at around $14 to $15 per share, it went up to near $23 per share last week after the company released its Q4 2016 financial results, representing around a 53.33% increase within a quarter.
We believe there are sound fundamentals behind this bullish rally. Given the secular growth momentum and further dividend growth possibility in 2017, as two analysts have pointed out, we believe Live Oak Bancshares' stock price would move much higher than the price target of $23 in the next few quarters.
During the Q4 2016 earnings call, the CEO of Live Oak Bancshares, Chip Mahan, sounded delighted when he mentioned that over the last couple of years, the growth of the company has been phenomenal.
"So, in 2014, we did about $850 million worth of originations, we are in the origination business issue. We did a $1.537 billion, so we almost doubled originations last couple of years," he noted.
We were also impressed by the fact that Live Oak Bancshares' net interest income almost tripled from $15 million to $43 million in the last couple of years.
While the stock is trading at a P/E ratio of 57.74, and the current market price of $22.6 is close to the high price target of $23, the growth prospects are too strong to be discounted.
Takeaway from Financial Performance of Q4 2016
On January 26, 2017, Live Oak Bancshares released its Q4 2016 financial results, which showed the company had continued its top line growth as revenue for the quarter came out at 42.06 million, a 13.49% increase compared to $37.06 million in Q3 2016. Compared to $32.84 million revenue in the same quarter last year, Q4 2016 revenue increased by around 28.08%.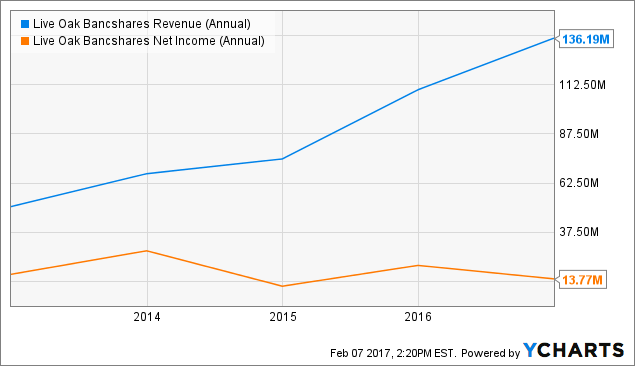 Figure 1: Despite top line growth, Live Oak Bancshares failed to improve net income in the last 5-year period
Although the top line growth of Live Oak Bancshares was consistent for the last 5-year period, the management has repeatedly failed to improve their net income. In Q4 2016, Live Oak Bancshares' net income came out at only $5.48 million, which is 4.2% lower compared to the same quarter last year's $5.72 million.
The flat bottom line is most visible when we compare the annual revenue against their annual net income, as demonstrated in figure 1. While the annual revenue for 2016 went up to $136.19 million, Live Oak Bancshares' annual net income declined to $13.77 million for the year.
However, there was some good news as well. Compared to 25.79% interest income margin in Q4 2015, in Q4 2016, it went up to 29.46%. Without this minor improvement, the bottom line of the company would have come out much worse.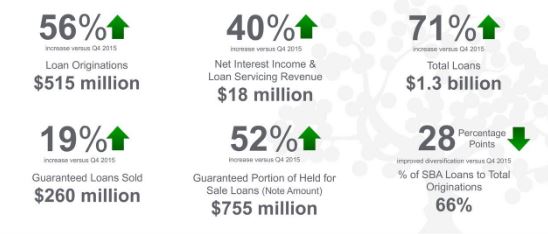 Figure 2: Live Oak Bancshares' Q4 2016 loan originations, net interest income & loan servicing revenue, and total loans
During the earnings call presentation, Live Oak Bancshares management painted an optimistic future for the company by sharing how well their loan originations and total loans for the quarter went up compared to Q4 2015. In fact, if we consider the 71% increase in total loans, which now stands at $1.3 billion, it is pretty clear that management's focus on growth has paid off in the last year.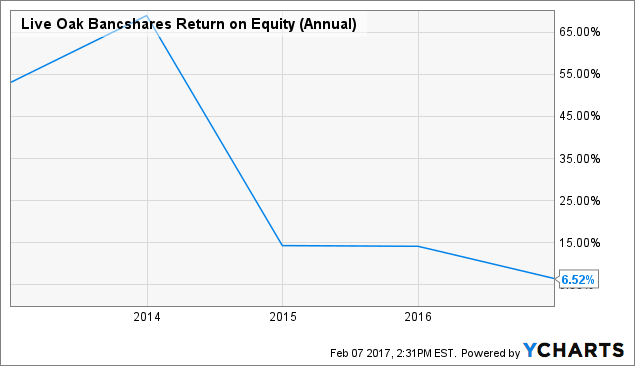 Figure 3: Live Oak Bancshares' annual return on equity has gone down to 6.52% in 2016
While there is a possibility that this growth momentum would continue in 2017, Investors should remain vigilant that their net income has failed to pick up in proportion to their loan generations. The top line growth hardly contributed to return on equity of the company, which has gone down from around 15% in 2015 to only 6.52% at the end of 2016.
Conclusion
While we remain concerned about the ROE, if Live Oak Bancshares manages to maintain a 6.5% ROE in 2017, their growing revenue would be able to deliver much higher net income in the absolute dollar figure.
Also, the Financial Times reported that "the two analysts covering the company expect dividends of 0.08 USD for the upcoming fiscal year," which would represent an increase of 14.29%. Hence, there is room to be optimistic in the short run.
While Live Oak Bancshares has a high price target of $23.00, which is very close to the current market price of $22.60, we believe secondary investors should continue to hold onto their positions, and actively seek to increase their exposure to Live Oak Bancshares if the price comes down a little.
Disclosure: I/we have no positions in any stocks mentioned, and no plans to initiate any positions within the next 72 hours.
I wrote this article myself, and it expresses my own opinions. I am not receiving compensation for it. I have no business relationship with any company whose stock is mentioned in this article.