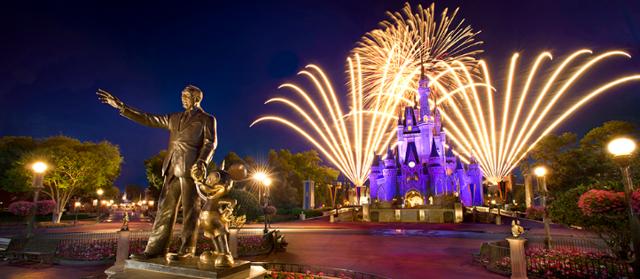 Disney (NYSE:DIS) has been a long term pick of mine - frustratingly so sometimes - for years now. The company's powerful ecosystem of content is unlike anything else in the world and it has worked. I last recommended the stock at $95 back in November and since that time - following a Q1 report with mixed reviews - shares are back at $109. This is a level from which Disney has had some trouble sustaining rallies and at better than 18 times this year's earnings, one could certainly be forgiven for thinking the stock was potentially nearing the end of its current rally. And if I'm honest, I worry about that, too.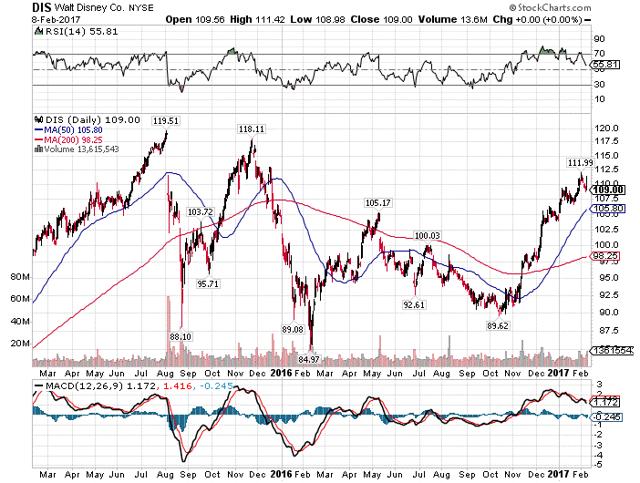 We all know about Disney's well-publicized struggle with ESPN and that certainly didn't get any easier in Q1. ESPN led the way down for the Media business as higher programming costs and lower ad revenue produced a double-whammy on that segment's earnings. ESPN reckons that having three of the six CFP games air in Q2 as opposed to Q1 helped bring results down and that's fine, but this is not a one-quarter story. Higher programming costs for the NBA and NFL are things we've known were coming for a long time and they're here. The impacts are severe on operating earnings and in particular, at a time when ad revenue is weak. In other words, Disney is getting squeezed on both ends and it's painful.
The rest of the Cable Networks business fared much better than ESPN but operating income elsewhere was flat. Lower programming costs helped offset weakness in income from program sales but on the whole, the Media business was down 2% in revenue and 4% in operating income. This segment is hugely important to Disney's profits and its future and things really couldn't be much weaker. I've worried about the Media business in the past but have written it off due to massive strength elsewhere. The problem is that the Media business seems completely stuck in a downward cycle and I'm not sure what would pull it out. ESPN's problem is not the timing of CFP games; it has fairly protracted decline under its belt and it seems more is coming; perpetually higher programming costs certainly come to mind. That's not good for the Media business and what's not good for the Media business isn't good for Disney.
On the other hand, the Parks and Resorts business continues to amaze. Revenue was up 6% and operating income was up 13%. This business is a well-oiled machine that simply keeps on delivering and Q1 was no exception. Higher spending offset lower attendance and occupied room nights to help drive revenue and operating income forward. Costs at the parks were flat and the cruise business is performing very well in addition to the international parks pulling their weight. The Parks and Resorts business is not one I worry about and Q1 was further evidence of its excellence.
The Studio business is lapping some very tough comparables and thus, Q1's results weren't exactly terrific. Revenue was down 7% and operating income was down a whopping 17% as Disney lapped The Force Awakens as well as suffered from lower Star Wars and Frozen sales. We all knew that comparing to last year's amazing run for the Studio business was going to be tough and it showed in Q1. I still think Disney has the best content in the world - bar none - and that hasn't changed. It just isn't reasonable to expect 2016 to happen over and over and over again. I certainly don't think the Studio business is decaying the way ESPN is but impossible comparables are coming at an inconvenient time to be sure.
On the whole, Disney's Q1 was a bit of a stinker. Parks and Resorts was the only business to even get close to flat operating income and that's a problem; there's no question about it. The ecosystem of content is alive and well but I do worry that Disney will never again be able to replicate its Studio success from last year. There are certainly blockbusters in the works and they will make lots of money. I just wonder if Disney is going to become a stock where we see oscillation of earnings, not growth. At 18 times earnings, it isn't particularly expensive but given the struggles it has fundamentally, should it be?
I know streaming and bundling deals for Disney cable content continue to be bandied about but there is still great uncertainty surrounding what those deals may look like or how profitable they will be in relation to what Disney enjoys now. The Parks business is a machine and will continue to do nicely but I worry about the Studio business being able to live up to exceedingly high expectations. As a result, I'm not sure that Disney has a great deal of upside from here. Given all of the challenges it faces, it looks like $109 is probably a fair price and for that reason, I'm stepping to the sidelines. It's been a very long time since I've done that but with the cable business continuing to be weak and extremely difficult comps for the Studio business, I don't know how Disney can possibly grow its way into 18 times earnings.
Disclosure: I/we have no positions in any stocks mentioned, and no plans to initiate any positions within the next 72 hours.
I wrote this article myself, and it expresses my own opinions. I am not receiving compensation for it (other than from Seeking Alpha). I have no business relationship with any company whose stock is mentioned in this article.