Endeavour Mining (OTCQX: OTCQX:EDVMF) is a West African intermediate gold producer with five operating mines. They have recently released their 2016 preliminary operating and financial results and they are impressive. Endeavour Mining achieved record gold production in 2016 coupled with achieving their lowest ever costs and Endeavour is guiding to beat 2016 production and costs in 2017. Their Hounde project, which is to become one of their most important, low cost assets, is set to come online in 2017. Production will also ramp up at their low cost Karma mine in 2017 as this will be Karma's first full year of production. Endeavour Mining managed to reduce their debt substantially in 2016 and has significant cash and finances available to fund their projects internally. While Endeavour Mining has enjoyed a strong 2016, I believe the stock still has room to run and I think it is attractive as a long term investment. Moving beyond 2017, Endeavour is set to increase production even more and lower costs, which I believe will be a winning combination.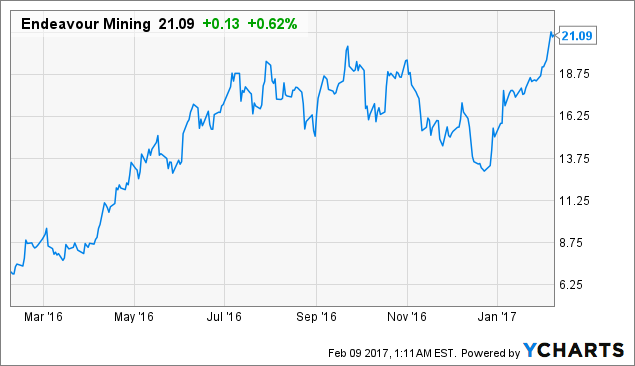 EDVMF data by YCharts
Note: The listing for Endeavour Mining on the Toronto Stock Exchange is much more liquid and I would recommend investing through the TSE where the symbol is EDV.TO
For 2016 Endeavour Mining produced a record 584,000 ounces of gold at record low all-in sustaining costs of $895 an ounce. With an average realized gold price of $1,240 an ounce for 2016, Endeavour managed to achieve margins of $345 an ounce which is pretty good and protects them from gold price downside. For the fourth quarter, production results were nothing short of excellent as Endeavour achieved record Q4 production of 175,000 ounces which was a 20% increase over the fourth quarter last year. Endeavour is guiding for even stronger production of 600,000 to 640,000 ounces in 2017 at AISC of $860-905 an ounce, which if achieved will both be records for Endeavour. A lot of this improved performance should come from the Karma mine as 2017 will be Karma's first full year of production and production at Karma is set to increase from 62,000 ounces in 2016 to over 100,000 ounces in 2017.
Endeavour managed to substantially improve their balance sheet in 2016 by reducing net debt from $144 million to $25 million. As of the end of December, Endeavour had $125 million in cash and has drawn $140 million on their credit facility. They currently have $335 million in available financing and liquidity which puts them in a strong position to finance their projects internally and means that they will be able to bring the Hounde project to production without having to raise further funds.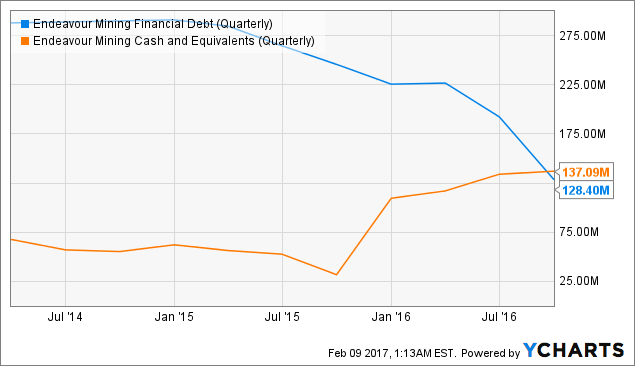 EDVMF Financial Debt (Quarterly) data by YCharts
The Hounde project remains on time and budget and Endeavour is anticipating first pour in Q4, 2017. Construction is over 50% complete at this point and over 65% of the upfront capital has been committed. This leaves $180 million remaining to be spent and with the $335 million of available liquidity, Endeavour Mining will not need to tap the debt or equity markets to raise any further funds to bring Hounde to completion. Hounde will be a real benefit to Endeavour's portfolio as annual production at Hounde will average 190,000 ounces a year at very low AISC of $709 an ounce over a ten year period.
Looking further out, Endeavour Mining is set to increase production over the next several years. With Hounde coming online late this year, Endeavour should get its' first full year of production from Hounde next year in 2018. The life of mine plan for Hounde calls for production of 265,000 ounces in its' first year, so even if production comes in a bit lower due to a slower than expected mine ramp up, Endeavour should produce 800,000 plus ounces in 2018.
By 2019, Endeavour is hoping to have the Ity Carbon-In-Leach project in production at its' 55% owned Ity mine, which would increase Endeavour's total annual production to over 900,000 ounces. In November, Endeavour completed a feasibility study for the CIL project which showed strong project economics. The project has a NPV using a 5% discount rate of $411 million with an internal rate of return of 36% and a payback period of 2 years and 1 month assuming a gold price of $1,250 an ounce. AISC are expected to be just over $600 an ounce and annual production will average 114,000 annually over a 14 year life of mine. While these economics are quite attractive, the feasibility study is expected to get even better as Endeavour will be updating it to include new recent high grade discoveries.
Bringing Hounde and Ity online will really transform Endeavour Mining into a low cost producer. Once Hounde and Ity are in production, their low costs will bring down the group average and will lower the group AISC for Endeavour to sub $800 an ounce which would be very good. For 2016, Endeavour had two mines, Tabakoto and Nzema that had AISC of over $1,000 an ounce and these two mines accounted for over 40% of production. Endeavour's other three mines were all under $800 an ounce. By 2019 or 2020 when Ity is in full production, Endeavour will have five low cost mines and only two higher cost mines. This will mean that Endeavour should be producing over 900,000 ounces with four fifths of that production coming from these five low cost mines.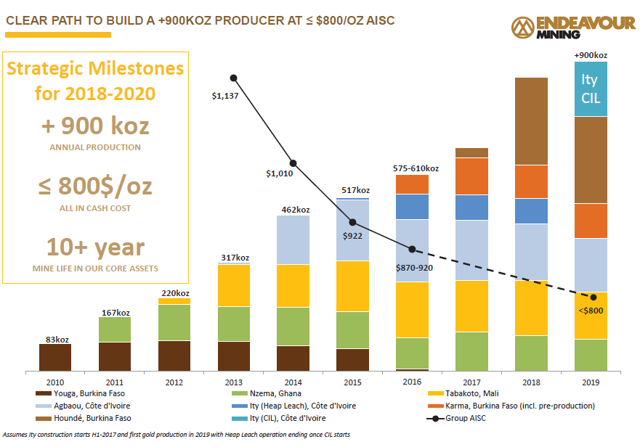 Source: Endeavour Mining Presentation
2016 was a very strong year for Endeavour Mining and it looks like 2017 and beyond will be even better. With Endeavour set to increase production to over 600,000 ounces this year and 800,000 ounces in 2018 all while reducing costs, Endeavour is setting itself up for both short term and longer terms success. In the past year, shareholders were rewarded with a nearly 300% increase in share price. While the stock has already run a long way and may be prone to weakness on any negative news including cost overruns or delays or gold price weakness I think it makes a great long term buy.
Disclaimer: This article is meant for informational purposes only. You should always consult with a financial advisor before making any investment decisions. There are risks involved with investing including loss of principal. This article is not to be considered investment advice or a recommendation to buy or sell any security.
Disclosure: I/we have no positions in any stocks mentioned, and no plans to initiate any positions within the next 72 hours.
I wrote this article myself, and it expresses my own opinions. I am not receiving compensation for it (other than from Seeking Alpha). I have no business relationship with any company whose stock is mentioned in this article.
Editor's Note: This article discusses one or more securities that do not trade on a major U.S. exchange. Please be aware of the risks associated with these stocks.