Seth Klarman has spoken. I picked this article by Andrew Ross Sorkin up yesterday; it's based on a letter from Seth Klarman to investors in Baupost, so I am limited to what Sorkin provides in terms of quotations, but the quotes seem typical for the thinking that Klarman is famous for.
Klarman's view is probably no surprise. He writes of "exuberant investors" and "perilously high valuations" and interfaces this with what I would read as a perceived imbalance in investors' factor analysis with too much emphasis on "stimulative tax cuts" and not enough on the risks around "America-first protectionism".
Were I able to get a job at Baupost I would challenge this view.(yeah yeah, I know....)
First, a qualifying point is that the SPX is not up that much since Trump's victory. 7% isn't anything to sneeze at, of course, but the market has been more cautious since early December and is clearly digesting Trump's early moves. So I would temper the view of "exuberant" as the word for the market right now. To me it seems increasingly cagey.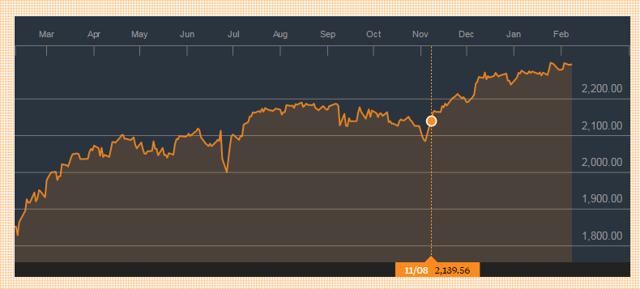 OK, what about the valuations? Klarman's got a point there. But I think the interesting question is whether you know anyone who isn't concerned about valuations in general up here? The large caveat I have to register within my own area of expertise, financial sector equities, is that I see plenty of reasonable valuations in individual stocks. That isn't a "wood from the trees" mistake. I also see areas of concern in financials and of course mine is a sector that is geared to the growthy, higher rate environment Trump promises, so for some stocks to be pushing it in terms of valuation already is a material factor. Still, I've recently written a number of articles that a parse the value and qualitative aspects of a number of banks and insurance stocks, and these provide examples of valuations that are pretty civilized all told.
So let's think about the 7% increase in the S&P since Trump's election victory. Klarmen is quoted as citing "stimulative tax cuts" as the reason for optimism. I'd shorten this to just "tax cuts". While tax cuts are probably good for activity in that they lower the required pre-tax ROIC for businesses to invest, the main benefit to shareholders is likely to be in the form of share buybacks if you accept that much of the Trumpian messaging about 3-4% sustainable real growth rates is just a political reality distortion field. An S&P looking at a potential reduction in the rate of corporate income tax to, say, 20%, is going to go up. Blame a high starting valuation if you like, but I don't really see much excessive bullishness in the move so far. Valuations have been a concern for a long time.
Finally, the risks around "America-first" protectionism and another concern Klarman notes, the potential for an inflation shock in the US off the back of "Trump's stimulus efforts".
The word here is "if". I think most investors would be extremely worried by aggressive protectionism and powerful stimulus given the tightness of the labor market and the growth and inflation position currently. While Trump has been busy with his executive orders "doing what he said he would do", the most economically concrete ones we have seen so far is probably the review of Dodd-Frank and the DOL Fiduciary Rule, and of course the moves opposite NAFTA and the TPP. It seems an open question whether and when Trump will attempt an infrastructure package of any size and how aggressive her will be with China. One of Trump's fiercest critics, Paul Krugman, thinks infra will be paltry in scale.
Another consideration is the extent to which Trumpists, of which I would guess Steve Bannon will be important, will offset any increase in the budget deficit with cuts to welfare programs.
It's easy (and sensible) to ask how Trump might rapidly descend into a nightmare scenario for investors of strong protectionism, against a china crisis caused by said protectionism with offsetting infra stimulus ramping deficits and failing to produce compensatory growth effects immediately. I think most investors are aware of that scenario though and simply differ from each other as to its probability. Anything that seems to move decisively toward it from Trump though will certainly do some damage to the equity market.
To end on a note of agreement with Klarman, his fund apparently holds 30% cash right now. The FIG Ideas US Financials Portfolio holds 23% cash. Perhaps I'm lower on cash since my sector has additional positives to equities in general, such as the supportive regulatory changes that are in the pipeline. Anyhow, cash is your friend in the face of prevailing uncertainty and this new kind of POTUS.
I would continue to prefer financials in general to the SPX and to consider hedging long SPX positions with short EM positions, for which the EEM ETF is suitable for individual investors.
Disclosure: I/we have no positions in any stocks mentioned, and no plans to initiate any positions within the next 72 hours.
I wrote this article myself, and it expresses my own opinions. I am not receiving compensation for it (other than from Seeking Alpha). I have no business relationship with any company whose stock is mentioned in this article.