As we all know, Bank of America is growing earnings and trades on a moderate P/E ratio. Is it waiting for legislative signals from the new administration?
The Financial Times the other day released details from a Morgan Stanley report in which MS' US Banks analysts estimated that BAC holds over $21bn of excess capital. With Gary Cohn (ex-Goldman) running the review by the Trump Administration of Dodd-Frank, the expectation must be that excess capital gets returned to investors (ore useful deployed).
If true, then that $21bn is a sizable chunk of change. It represents 12.1% of BAC's current fully phased in CET1 under Basel 3, and 7.9% of total shareholder equity. What would that mean if it went towards buybacks?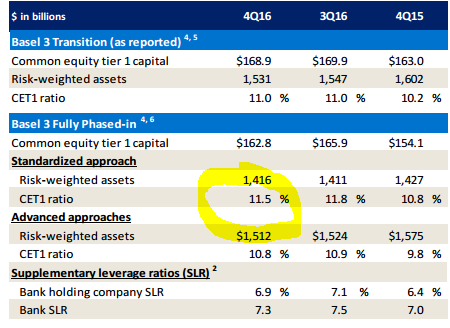 Company data
I expect BAC to post a bottom line of $23.4bn in 2018. Assume all of the excess capital is deployed to buy back shares at today's price. The stock would find itself on 9.27x EPS vs. 10.3x on my current assumption. BAC is currently on 12.6x current year EPS. If we thought that sort of PE should be maintained - and it isn't at all excessive in a sector context, we would expect 36% upside to our re-leveraged 2018 EPS target.
But wait a minute. Isn't an easier regulatory regime already in the price? BAC is up 33% since Trump's victory, after all.
We have three possible sources for improvement that are specific to Trump and (to my mind) a further reason that isn't specific to Trump.
One of the Trump factors is tax cuts.
Before Trump was elected I expected BAC to make a pre-tax line of $32.6bn in 2018, and a bottom line of $20.4bn (reflecting $10.4bn of tax and $1.75vb of preferred dividends). If (if, if, if) we saw a 20% tax rate rather than the 33% I used for those numbers in 2018, then BAC would make a bottom line of $24bn out of the lower tax rate alone. In fact, in running the numbers I have currently (bottom line $23.4n) I maintain a 29% tax rate. As The Heisenberg (to whose blog I seem recently to have become addicted) pointed out today, despite Trump's energy in his early days we haven't seen any action on tax cuts as yet.
What I did in response to Trump was to lift my assumptions for net interest margin, loan volume and advisory fees at BAC. The non Trump factor supporting optimism that I mentioned above is just the continued solid growth and inflation data. This would have supported some level of upgrade after 4Q results anyway.
I haven't assumed any capital rule changes and am running a modestly lower tax rate without going nuts. These relatively modest adjustments have a powerful effect in BAC because of its cost control and reduction program that looks for £53bn operating costs by 2018. In effect any additional modeled income drops through to the pre-tax line although I did allow for $0.5bn of extra costs assuming higher client activity.
Conclusion
While Trump has not delivered any early policy steps on tax cuts as yet, I think this will be necessary in order to underpin his protectionist rhetoric with a "carrot" for US firms to locate production to the US as well as being a source of support for him within the GOP establishment. As we roll forward with the legislative agenda, lower capital requirements and a lower tax rate will to my mind boost the fair value BAC shares beyond the lift already provided by the better operating outlook. Stay long BAC.
Disclosure: I am/we are long BAC.
I wrote this article myself, and it expresses my own opinions. I am not receiving compensation for it (other than from Seeking Alpha). I have no business relationship with any company whose stock is mentioned in this article.