As oil drilling activity has rebounded from its lows, so, too have oil field suppliers and services. Sand and proppant - used to literally prop open a horizontal well after fracturing - have seen a disproportionate uptick in use for two additional reasons: companies are drilling longer laterals (more feet) than before and are using more sand or proppant per foot. This has focused attention on sand and proppant companies for the last several months. The largest of these companies is U.S. Silica (NYSE:SLCA). The company will report its fourth quarter results February 22, 2017.
Sand vs. Proppant
While the word "proppant" is sometime used to include both sand and manufactured ceramic beads, here "proppant" is used to mean only manufactured ceramic or resin beads, and "sand" is used to mean mined sand. Sand is further divided into Northern White, from Wisconsin and Minnesota and Regional or Brown, from Texas. It also is divided by mesh sizes from very fine 100- mesh to coarser 16/30. Other important characteristics are crush resistance, conductivity, and permeability.
Oil Prices and Rig Count
In the last two years, the price for oil has ranged from $100 per barrel to as low as $26 per barrel. The futures close on February 8, 2017, for West Texas Intermediate oil at Cushing, Okla., was $52.38 per barrel. The horizontal rig count has climbed from a low of 314 in May 2016 to 579 on January 27, 2017.
Approval of the Keystone XL and Dakota Access Pipeline - which only lacks 1.5 miles to complete - will increase competition from North Dakota and Canadian crude oil with other domestic and OPEC production. According to Tudor, Pickering Holt Dakota Access Pipeline owners are pushing for a June 2017 in-service date. It has a capacity of 470,000-570,000 barrels per day and is designed to move North Dakota Bakken crude to market more safely and more cheaply than by rail. Keystone XL, with a later likely completion date, has a capacity of 830,000 barrels per day and will bring more Canadian and North Dakota crude to Gulf Coast markets.
OPEC is currently adhering to its promised cuts of 1.2 million barrels per day, although Saudi Arabia may have capacity beyond that. U.S. oil production reached 9.57 million barrels per day in March 2015 and had fallen to 8.9 million barrels per day by November 2016, so existing infrastructure can clearly handle another 700,000 barrels per day. These supply sources could increase U.S. oil competition and so depress price, thus drilling and sand demand.
Sand and Proppant Competitors
Several companies, both public and private, in addition to U.S. Silica, compete in this market, including Carbo Ceramics (NYSE:CRR), Emerge Energy Services (NYSE:EMES) limited partnership, Fairmount Santrol (NYSE:FMSA), Hi-Crush (NYSE:HCLP) limited partnership, and Smart Sand (NASDAQ:SND), which just went public in September 2016. Fairmount, Hi-Crush, and Smart Sand share a strong average analyst rating with U.S. Silica of 1.8-2.0.
Growing Use of Sand and Proppant
At its pre-crash peak in the fourth quarter of 2014, domestic oil and gas used 64 million tons (128 billion pounds) on an annualized basis. By first quarter of 2016, use was half as much, and sand companies' financials reflected the devastation. However, by June 2016, an increase to as much as 140-150 billion pounds per year was being predicted and is now being realized.
As explained above, sand and proppant use is rebounding not just with drilling, but with increased intensity (pounds of sand/foot of lateral length) and longer lateral lengths. For example, some companies are using up to 2,000 pounds (or one ton) of sand per foot of lateral length, and lateral lengths have increased from 4,500 feet to 7,000 feet or more; Tudor Pickering Holt suggests average proppant demand per well could be as much as 12.3 million pounds per well in the Eagle Ford.
One of the largest uses of sand per well so far was 30 million pounds, or 15,000 tons in a Haynesville natural gas well, enough to fill a 1.5-mile-long train of rail cars. Sand buyers are increasingly interested in longer-term (one- to five-year) contracts with prices indexed to items such as rig count and oil price.
Logistics
Given the need to move large amounts of sand, logistical access is also important. This can range from railroad proximity to, as noted, mine-to-oil field proximity to railroad car ownership, barge leases, and trucking (last-mile) capability.
Frac Sand Prices
Reflecting the downturn, sand prices at the mine face fell from a high of $65 per ton to as low as $10-15 per ton. Demand is now pulling the price above $30 per ton.
Description of U.S. Silica's Operations
At over 115 years old, with a 250-item product list and customer such as Occidental (NYSE:OXY), Sherwin-Williams (NYSE:SHW), ThyssenKrupp (OTCPK:TKAMY) and others, U.S. Silica is resilient. It has the largest market capitalization at $4.47 billion, a 40% diversification into non-petroleum business - its Industrial and Specialty Products division - and a growing logistics "last-mile" of delivery venture called SandBox which just signed a long-term agreement with Halliburton. SandBox is a container that can be trucked at a time when it can take as many as 400 truckloads of sand for a well; the business has 20 customers, 300 employees, a 10% market share and operates in six basins.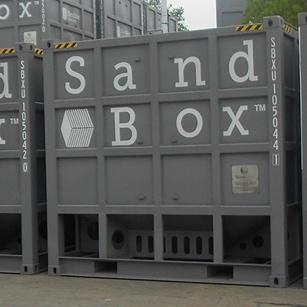 As of December 31, 2015, it had 400 million tons of proven and probable mineral reserves.
U.S. Silica's Operations
U.S. Silica estimates its 2016 revenues for oil and gas proppants (note that they are annualized from third quarter results and are not final) at $225 million, contributing a loss of -9.4 million on a volume of 5.8 million tons. It estimates its 2016 revenues for industrial and specialty products (again annualized from third quarter results and not final) at $202 million, contributing $80 million on a volume of 3.5 million tons.
The company's net loss for the third quarter of 2016 was -$11.5 million, similar to its losses in the first and second quarters of 2016. In 2016, it achieved over $50 million in cost reductions through activities such as headcount reduction; renegotiation of transload contracts; renegotiation of rail, barge, and truck rates; use of unit trains; and mine debottlenecking.
Strategy and Capital Expenditures
U.S. Silica management understands the importance of logistics. In fact, the company bought a company last summer for its regional or brown sand mines in Texas. Because so much drilling is done in Texas in the Permian Basin, operating a sand mine nearer the oil field close by cuts transportation costs. According to the company, which estimates it has a 20% share of the oil and gas sand market, the cost to deliver Northern White sand to a Texas well is $115 per ton and the cost to deliver Texas sand to a Texas well is $75 per ton.
Of course, note that if the completion and opening of Dakota Access Pipeline make Bakken crude more competitive, Northern White sand in Wisconsin and Minnesota will have the location advantage.
Stock and Financial Highlights
U.S. Silica's enterprise value is $4.16 billion and its market capitalization is $4.47 billion. At the end of September 30, 2016, the company had $264 million in cash and cash equivalents. The company's February 8, 2017, stock closing price was $56.18 per share. Its forward price-to-earnings ratio is 80. Its 52-week price range is $13.54 to $60.05 per share, so its Feb. 8 closing price is 94% of its one-year high. The company pays a dividend of $0.25 per share.
Per financial statements, as of September 30, 2016, U.S. Silica's liability-to-asset ratio is 50%. Its ratio of current assets divided by current liabilities is 4.2, on the strong side. The short position in the company's stock is 17% of shares outstanding. A very small percentage of its shares are held by 5% owners and insiders.
U.S. Silica's one-year target price is $58.82. Overall, the company's mean analyst rating is 1.8 - a "buy" trending toward "strong buy" - from the 20 analysts who follow it. Seven analysts rate the company a "strong buy," 10 analysts rate it a "buy," two rate it a "hold" and one rates it "underperform." Its most recent upgrade was in January 2017 by SunTrust, to "buy."
The percentage of shares held by insiders is negligible. The top six institutional holders are Vanguard (6.6%), BlackRock (5.7%), Capital World (5.4%), FMR or Fidelity (3.8%), Brenham Capital (3.2%), and Millennium Management (2.8%). Potential investors should consider their oil and natural gas price expectations as the factor most likely to affect U.S. Silica.
Disclosure: I am/we are long SLCA, SND.
I wrote this article myself, and it expresses my own opinions. I am not receiving compensation for it (other than from Seeking Alpha). I have no business relationship with any company whose stock is mentioned in this article.