Quick Take
Security technology company Imperva (NASDAQ:IMPV) has acquired the assets of Camouflage Software for an undisclosed amount. Most of Camouflage's employees have been hired by Imperva, too.
Camouflage has developed data masking or 'scrambling' technologies to help companies operate in a compliant manner while retaining the ability for various stakeholders to utilize ever-growing data and analysis.
The acquisition occurred only eight months after Imperva integrated Camouflage's data masking capabilities into its SecureSphere system, indicating a keen interest in acquiring the team and technology to beef up its enterprise offerings.
Target Company
St. John's, Canada-based Camouflage was founded by current CEO Kevin Duggan and Jackie Hennessey to disguise or mask sensitive data to allow organizations to share data for application testing, research, analysis and development without violating privacy laws.
The company has developed data masking technologies that can 'pinpoint the location of your sensitive data and transform it to behave just like real data without revealing sensitive information.'
Camouflage has an extensive partner base in the categories of:
Testing and Development
Cloud Services
IT Solutions
Professional Services
Below is a demonstration video about the company's data masking system:
(Source: CamouflageSW)
Competitors to Camouflage in the data masking space include the following companies:
Delphix
Oracle (NYSE:ORCL)
Informatica
Hexatier
DataSunrise
PKWARE
Acquisition Terms, Rationale and Commentary
Neither company disclosed the purchase price or terms of the deal, which was structured as an asset acquisition.
Imperva had previous experience with Camouflage through a partnership announced in May 2016 that integrated Camouflage's data masking solution with Imperva's SecureSphere system.
Below is a schematic of a data masking schematic used by SecureSphere with Camouflage's functionality operating in section [2]: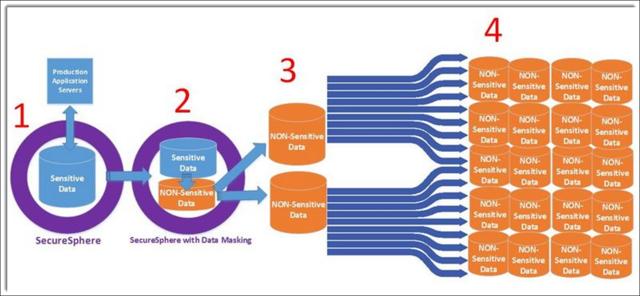 (Source: Imperva)
Since many disparate copies of data tend to 'float around' organizations, the data needs to be masked or 'scrambled' to avoid privacy violations regulated by such compliance requirements as HIPAA, SOX, and PCI, to name a few.
For interested readers, Imperva has an excellent and detailed blog post of the considerations involved in data masking. Imperva had only eight months experience with Camouflage's data masking capabilities before it decided to acquire the company, indicating a high degree of interest in the team and technology.
With the rise in various organization departments wanting to access and analyze data, the threat of data exfiltration grows significantly. Solutions like Camouflage's reduce that data loss security risk while enabling access to data by various stakeholders within the enterprise, a necessary function for continued efficient business operations.
The acquisition is a clear positive for Imperva as it bolsters its data security solutions offerings to enterprise clients. I'm optimistic about the value of this acquisition for Imperva, as security becomes an increasingly important aspect of cloud offerings for prospective customers transitioning from on-premise environments to the cloud.
I write about IPOs, M&A, follow-ons and secondaries. If you want to receive future articles automatically, click the +Follow link next to my name at the top of this article.
Disclosure: I/we have no positions in any stocks mentioned, and no plans to initiate any positions within the next 72 hours.
I wrote this article myself, and it expresses my own opinions. I am not receiving compensation for it (other than from Seeking Alpha). I have no business relationship with any company whose stock is mentioned in this article.