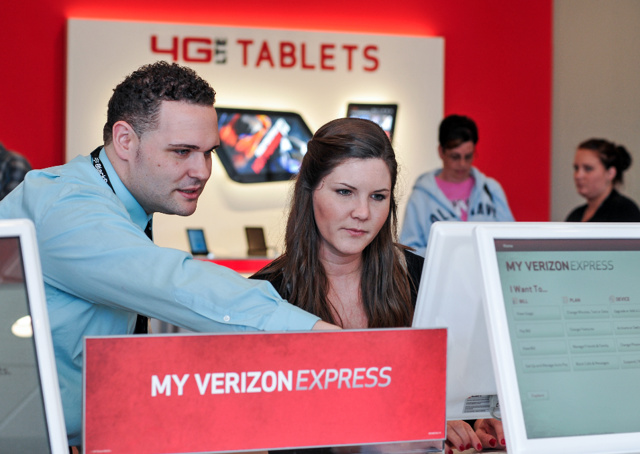 Another Stock Disgorged By Institutions In Dark Pools
Earlier this week, we noted that institutions had been unloading shares of Gilead Sciences (NASDAQ:GILD) in dark pools in all but two trading days this year (recall that dark pools are private exchanges where institutions trade shares away from front-runners on public exchanges). After Gilead's dissapointing earnings, the stock gapped down Wednesday.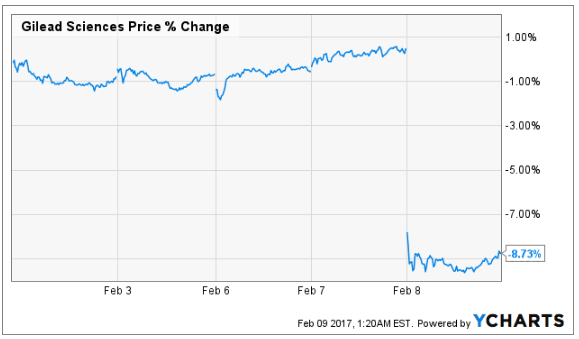 Verizon (NYSE:VZ) released its earnings a couple of weeks ago, but, like Gilead, institutions have been dumping its shares in dark pools all but two trading days this year. Given Verizon's slide year-to-date, and with its earnings in the rear view mirror, is this institutional bearishness already baked in to its share price?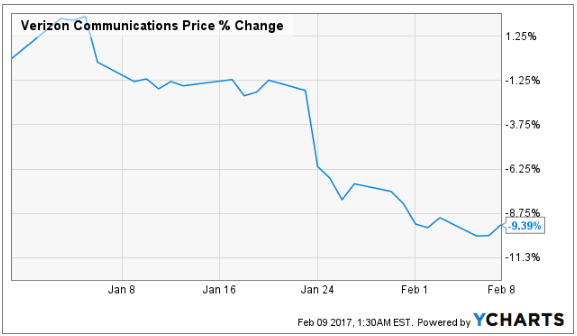 Perhaps not entirely. After the close on Wednesday, we received this email alert from Squeeze Metrics (we have an affiliate relationship with them and get lightly compensated when readers join their site):
Hey there,
Looks like there was some unusual dark pool activity in some of the tickers you follow.
TSLA had a DPI of 63%.

INTC had a DPI of 39%.

VZ had a DPI of 36%.

Click through to your dashboard for more info: here
Readers of our Gilead article may remember that "DPI" stands for "Dark Pool Indicator." That's the percentage of dark pool trades that are buys. Since dark pool sales often get routed to intermediaries such as high frequency trading market makers, there's often an unequal number of buys versus sells, which lets us gauge the relative bullishness or bearishness of institutions trading there. In the case of Tesla (NASDAQ:TSLA), with a DPI of 63%, institutions were bullish, but they were bearish on Intel (NASDAQ:INTC), with its DPI of 39%, and more bearish on Verizon, with its DPI of 36%.
The "unusual activity" in Verizon and the other two stocks that prompted the email alert was a one-standard-deviation move in the amount of dark pool activity relative to the last 120 trading days. Going to the link in the email, we pulled up this chart on VZ.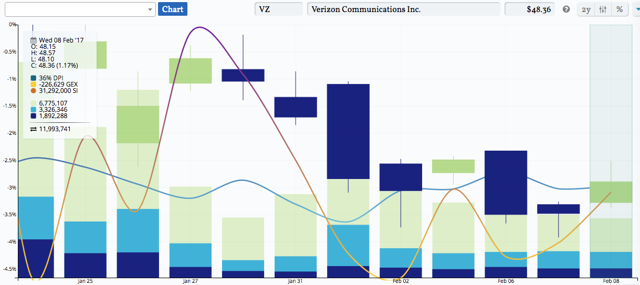 We went back to Verizon's earnings release for that chart, and we highlighted Wednesday, so you can see the 36% DPI shown in the box on the top left of the chart. That box appears when you mouse over any bar on the histogram on Squeeze Metrics, so you can drill down into each day's trading.
There was one other similarity between Verizon and Gilead: both failed one of Portfolio Armor's two screens to avoid risky investments.
Considerations
If you don't own Verizon, but it has been on your shopping list after reading Seeking Alpha contributor Nikhil Gupta's bullish case for it, you may want to wait to see if you can get in at the lower price target he mentioned (or possibly lower).
If you already own Verizon, and are still bullish on it, but want to limit your downside risk in the event it goes lower, we'll post two hedges for it below.
Hedging Verizon
If you'd like a refresher on hedging terms first, please see the section titled "Refresher on Hedging Terms" here). We'll present two optimal hedges for VZ, both designed for investors who are unwilling to tolerate drawdowns greater than 15% over the next several months. We used the Portfolio Armor iOS app to find these hedges, but you can find optimal hedges without it using the method explained here.
Uncapped Upside, Higher Cost
These were the optimal puts, as of Wednesday's close, to hedge 1,000 shares of VZ against a greater-than-15% drop by late July.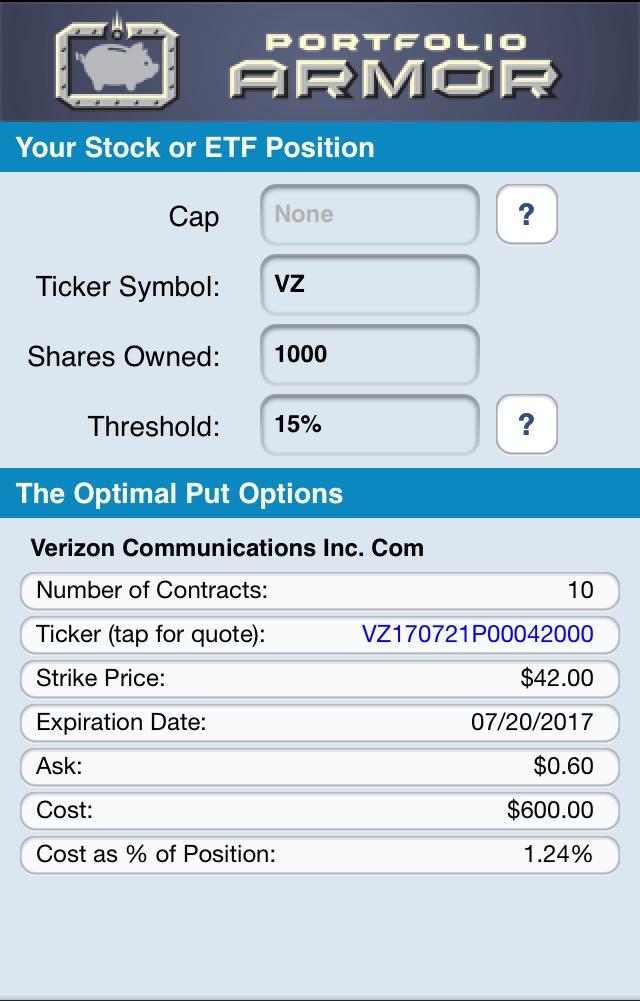 As you can see above, the cost was $600, or 1.24% of position value. Note that the cost here was calculated using the ask price of the puts and the bid price of the calls. In practice, you can often buy puts for less and sell calls for more (at some price between the bid and ask, in both cases).
Capped Upside, Lower Cost
This hedge caps your potential upside at 8% over the time frame of the hedge. 8% is twice the potential return implied over the next several months by Wall Street's consensus 12-month price target for Verizon (below, via Nasdaq).

As of Wednesday's close, this was the optimal collar to hedge 1,000 shares of VZ against a >15% drop while not capping an investor's upside at less than 8% by late July.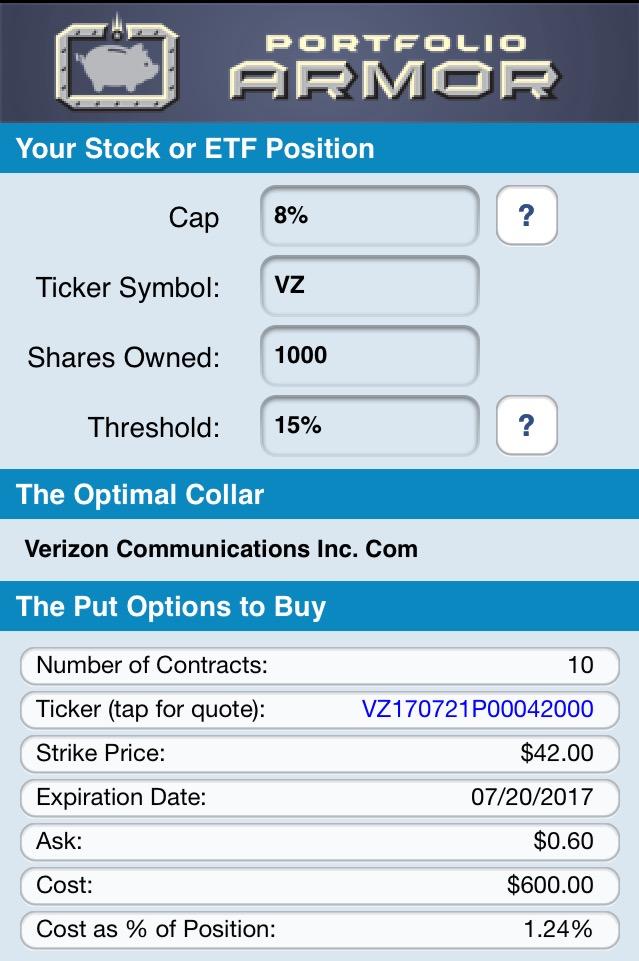 The put leg above has the same strike as in the previous hedge, so the cost was $600, or 1.24% of position value. But as you can see below, the income generated from the short call leg was $420, or 0.87% of position value.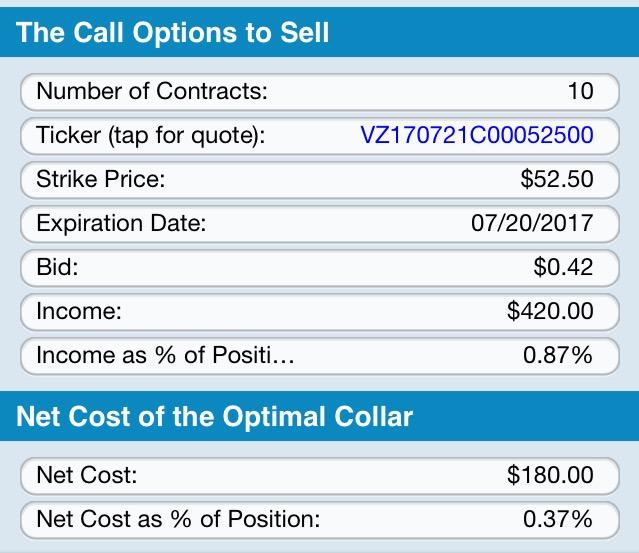 So the net cost here was $180, or 0.37% of position value. As in the optimal put hedge, the cost here was calculated conservatively, so, in reality, an investor opening this on Friday would likely have paid less than $180.
Disclosure: I/we have no positions in any stocks mentioned, and no plans to initiate any positions within the next 72 hours.
I wrote this article myself, and it expresses my own opinions. I am not receiving compensation for it (other than from Seeking Alpha). I have no business relationship with any company whose stock is mentioned in this article.