Gilead (NASDAQ:GILD) reported earnings on February 7th, and despite beating estimates on both the top and bottom line, it tanked. It's not hard to see why, with revenue down 14% YoY, the HCV franchise collapsing, and little direction or leadership from management.
But I'm sure you know all that. So far there are seven articles on Seeking Alpha covering every aspect of earnings and guidance. This article takes a different perspective and analyzes the technical side. By analyzing charts and the movements of price, we can try to understand what the participants have done, are doing, and most importantly, are likely to do. The idea is to follow in their footsteps.
Top Down
Every investor / trader has a different style and objectives. I sometimes write about 10% moves and am laughed at because some readers intend to hold for decades. On the other hand I sometimes write about very long term moves and am laughed at because the stock moves 5% the next day. The point is, different types of investor trade in different timeframes with information relevant to them. Technicals are no different. The big reversals happen because the participants in the higher timeframes are involved. If you want to know what they are doing, naturally you look at long term charts.
Monthly
A monthly chart of Gilead reveals a few interesting things for higher timeframe participants: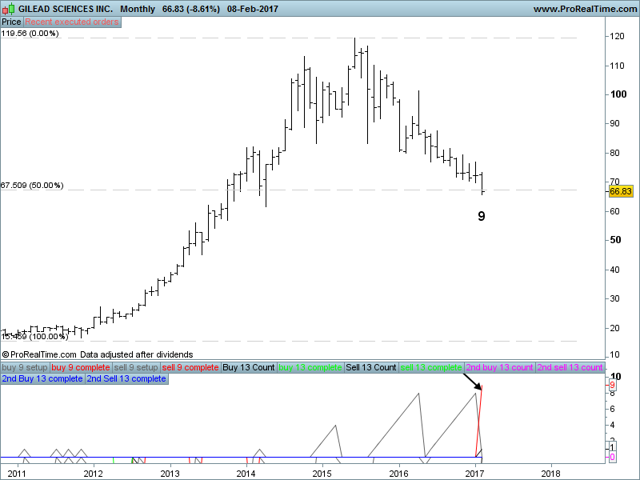 Firstly we can see price has retraced 50% of the 2010-2015 rally. Once a rally pulls back halfway, long term players often get interested again. You can also see price is in the price range where it reversed from in April 2014.
Secondly, there is a 'perfected' Demark buy signal. This takes at least 9 bars to complete and shows seller exhaustion. According to Jason Perl "prices should then experience a short-term reversal of the underlying trend, or at least a consolidation, lasting a minimum of one to four price bars." A more detailed explanation can be found in my article on 10 years bonds, which should also show the value of this indicator as it successfully called the top of the bond market last year.
Weekly
The dominant pattern on the weekly chart is not hard to spot: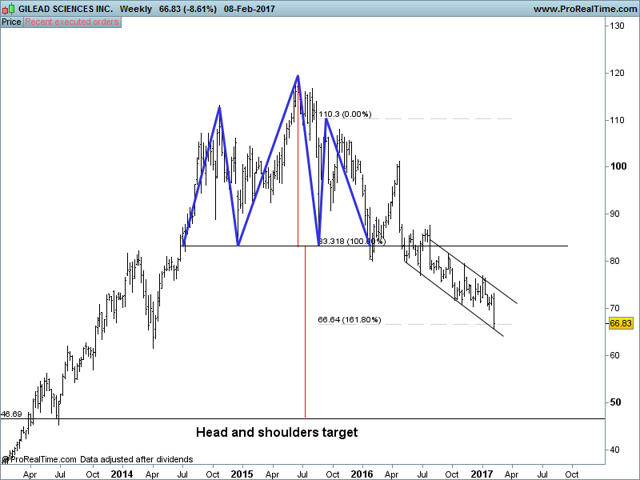 The head and shoulders pattern targets $46, which seems unlikely to be achieved in this particular phase of the decline given the monthly context. However, any objective analysis must at least recognize the possibility in the longer term.
The channel that has formed since the fall below the 'neckline' is choppy and overlapping, indicating a fairly weak effort by the sellers. Impulsive selling has a different structure and would look much like the move up (albeit in the opposite direction). The selling may not feel weak at the moment, but consider the neckline first broke over a year ago, and price is 'only' 20% lower.
One simple method to protect you from further declines is to wait until the channel is broken to the upside. This would represent a change in character and a shift in favor of the bulls.
Daily
The daily chart has been a sideways, choppy mess for many months. I have traded in this timeframe a few times with mixed results, most recently buying the new low on 25th January and selling before earnings based on this Elliott Wave 'map'.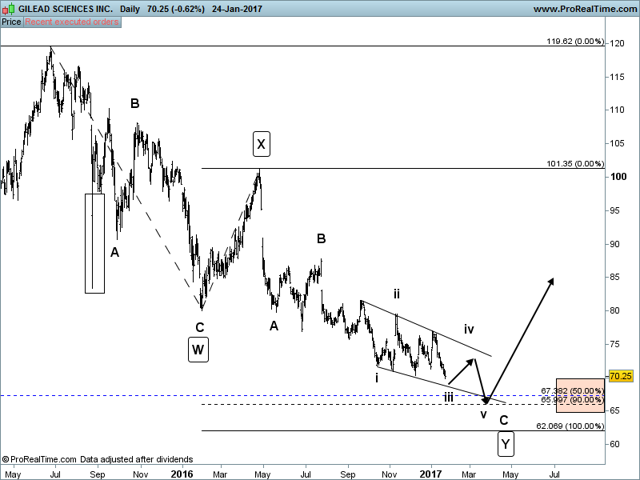 Price has now tested the $66 minimum projected for this pattern. This doesn't necessarily mean the low is in, just that traders in this timeframe may have met their objectives.
If I was luckily enough to have flipped short, I would be covering at $66.
Intra-day
If you are buying for a big swing on the higher timeframes there is absolutely no point in looking at intraday charts. Some traders try to perfect an entry using the shorter timeframes, but more often than not this will result in a stop out when if they had closed based on the intraday charts they would have made a profit.
The price action in the session after earnings was fairly positive. After ten minutes of heavy selling, long wicks could be seen on the candles indicating support below $66 as expected. Support held throughout the session, and with two hours to go selling pressure abated and trendline resistance broke: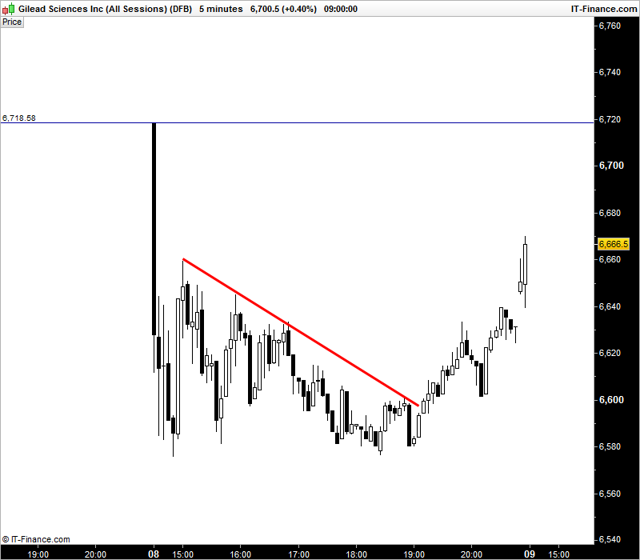 The target in this timeframe is only the gap window at $67.2. You could try and trail a stop and hold for higher, but the odds of success are 50/50.
Conclusions
This article tries to break down the technicals in each timeframe. It can be concluded that:
the monthly chart is at support and sellers in this timeframe are 'exhausted'. This suggests a stabilization and retrace is likely.
the weekly chart shows a head and shoulders chart with a $46 target. Given the higher timeframe context, this is unlikely to be met in the current down cycle (if at all). There is a channel taking price lower, but the price action is weak. A break-out would be a good signal that the weekly trend is changing.
the cycles on the daily chart targeted $66. This objective has now been met, and traders can look for reversal patterns in this timeframe. Yesterday's hammer candle was a decent start.
intraday price action confirmed the support below $66.
All in all, Gilead has a good chance of stabilizing in the current area. Upside targets are the previous support area of $83, and even as high as the $95 gap. I took out a starter position at $65.9 and will add on a break of the weekly channel.
Disclosure: I am/we are long GILD.
I wrote this article myself, and it expresses my own opinions. I am not receiving compensation for it (other than from Seeking Alpha). I have no business relationship with any company whose stock is mentioned in this article.