General Mills (NYSE:GIS) has been a speculated Warren Buffett and 3G Capital buyout target. Possibly a company that Buffett-3G might team up with Kraft (NASDAQ:KHC) to purchase. Or, General Mills is the maker of Pillsbury and Yoplait, with a stronghold in the U.S. snack aisle. So, General Mills would give Kraft a boost in the U.S. and a solid returns on investment/equity business. And with a $37 billion market cap and shares down 10% in the last six months, it'd be an 'easy' buy.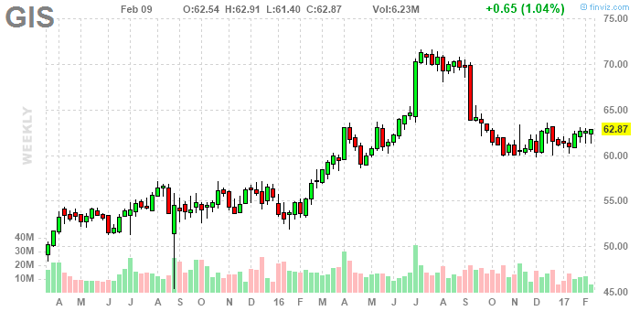 Then there's the activist investor angle.
An activist might show up and push for a buyout from one of the other major snack foods companies, namely Mondelez (NASDAQ:MDLZ). Recall that Mondelez tried to buy up Hershey (NYSE:HSY) last year, a move it hoped would keep its own activists (notably Bill Ackman and Nelson Peltz) at bay, as well as keeping a potential buyout from Kraft on the back burner. However, Hershey rebuffed the offer, but Mondelez could still be on the prowl, with the likes of General Mills as a potential target. Hershey managed to resist the overtures of a Mondelez buyout thanks to the large stake the Hershey Trust owns.
An activist showing up at General Mills isn't far fetched either, with its sub-$40 billion market cap - compared to Mondelez's $70 billion. General Mills is a simple corporate governance story as well, without a poison pill and a single class of stock. And in truth, it'd be relatively easy for an activist to push for board change quickly and easily as the company has annual elections for its directors. And there's no General Mills trust.
The operational activist.
One of General Mills' previous growth avenues, Yoplait and yogurt, is faltering. The yogurt market might be peaking and General Mills hasn't done enough to solidify its position. Nor has it tapped into the faster growing areas of the yogurt market. General Mills' U.S. yogurt sales were down nearly 20% last quarter. And retailers are dedicating less space to the product, while the likes of other players are continuing to take market share with more innovative products, i.e. Chobani flips and Dannon's zero.
Beyond yogurt, General Mills needs to figure out how to stem losses in its cereal business. Ready-to-eat cereal has been languishing for years, as other (more natural, organic, healthier, etc.) breakfast options take precedence in consumers shopping carts. General Mills might need some help navigating the ever change in consumer preferences, and cost cuts could help. As well, some aggressive product portfolio reconstruction - which might include spinning off underperforming business.
In the end, the activist push is to get General Mills to focus on margins and investing in growth categories - after dropping the ball in the yogurt space. As well, it could be an attractive buyout target, where it still has a solid food portfolio and well-installed manufacturing base. And activists could be at work via Mondelez to convince the companies that a merger is more than worthwhile. It's the likely partner, where Hershey and Kellogg (NYSE:K) both have large family stakes that can keep buyers at bay. And even if Mondelez doesn't come knocking, perhaps Kraft will.
Disclosure: I/we have no positions in any stocks mentioned, and no plans to initiate any positions within the next 72 hours.
I wrote this article myself, and it expresses my own opinions. I am not receiving compensation for it (other than from Seeking Alpha). I have no business relationship with any company whose stock is mentioned in this article.