More than anywhere else, success in the technology field depends on talent. Traditional analysis of return on capital and competitive edges become almost irrelevant when one hard-working innovator can disrupt billion dollar fields through sheer force of will. Therefore, predicting where the flow of talent will move next is the single most important factor when assessing future growth prospects.
A large portion of the tech talent pool in the US comes from immigration. It's been estimated that 51% of current billion-dollar startups were founded by immigrants, and the H1B visa program, in particular, is touted as a system for attracting the best and brightest to America in order to maintain our innovative edge. So when Donald Trump made reforming H1B visas a central issue in his campaign, the tech industry got rattled. It was taken as gospel that any changes would throttle the flow of foreign talent and exacerbate the supposed skill shortage that plagues the industry. The benefits of H1B visas are often directly conflated with the successes of all immigrants, with little attention given to the drawbacks and flaws of the current system. In this article, I'll attempt to summarize the state of the labor market and give a fair assessment of which companies stand to gain from H1B reforms, and which will suffer long-term pain.
The first order of business is to analyze the nature of the talent pool that already exists. Although we often hear about the STEM major shortage in our colleges, the reality is that we already graduate more of those majors than we can employ. For computer science majors, only 64.5% of them find employment in their field.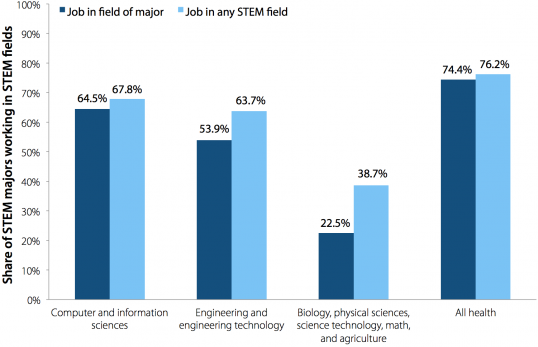 (Source: Economic Policy Institute)
Out of those graduates that found jobs in different fields, almost one third of them reported there were simply no jobs available to them that utilized their major.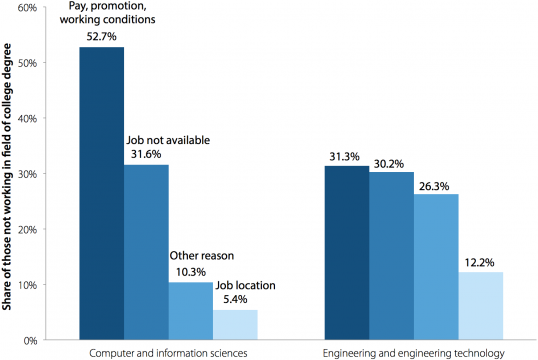 (Source: Economic Policy Institute)
If there were truly a shortage of skilled IT professionals, we would also expect to see a low unemployment rate among programmers and a rising salary. The opposite is happening. Since the dot-com bubble burst salaries have been slowly declining, while the unemployment rate is actually higher than the general US rate.
(Source: Economic Policy Institute)
Does this mean that there is actually a skills-glut permeating the software industry? No, of course not. The reality is that the skills shortage that the tech firms are referring to is only for very highly creative specialized skills, where there is always a need for more talent. Unfortunately, the way the H1B is currently structured, the workers with those skills are not prioritized. Because of the lottery system, a large chunk of H1B visas goes to generic IT and outsourcing firms - jobs that could be done by any average computer science graduate.
Trump's H1B Reforms
During a fiery campaign based on the promise of bringing back jobs to US citizens, H1B reform was one of Trump's core issues. There is seemingly cause for investor concern, given the international nature of tech businesses and reliance on immigrant labor. With news coming out now about specific legislation in the works, we're finally getting a chance to see exactly what these labor force changes will look like.
The first bill proposed in January was the "Protect and Grow American Jobs Act." It's a fairly straightforward bill that raises the minimum salary for displacing US workers from $60,000 to $100,000 and removes the Master's degree requirement. This is a relatively minor reform and unlikely to be the one that gains traction, since it doesn't live up to the promises that Trump made on the campaign trail.
The second (still unnamed) potential legislation works to give an advantage to advanced degree holders, high wage earners and those with valuable skills. It also specifically cracks down on outsourcing firms and prohibits companies from having more than half of their employees be H1B holders. Most importantly, this bill replaces the lottery altogether in lieu of a preference system that takes all of these factors into account. This would be a massive advantage for companies which use H1Bs to fill highly technical positions, since it would all but eliminate the H1B mills from contention.
The final legislation, proposed just a few days ago, is called the "High-Skilled Integrity and Fairness Act of 2017." Under this bill, H1Bs would be distributed in a purely market-based manner. Preference would be given to those willing to pay 200% of the prevailing wage, with a minimum salary of $130,000. There has also been talk of Trump coming out with an executive order to curb H1B visa fraud for the time being, but it appears that this idea has been losing steam. According to one of Trump's top supporters, an Indian-American businessman named Shalabh Kumar, the H1B program might even be expanding in the future. Whether this is true or not, it appears that we are safe from any executive action for the time being.
Winners
Regardless of what the final legislation looks like when it passes, the effects are similar. They all fit into the vision Trump has been pushing: reducing wage pressures on middle-class Americans, while enhancing economic growth overall. The firms that will benefit from this are all large innovators that already use the H1B program for highly skilled technical roles. Companies like Facebook (NASDAQ:FB), Google (GOOG, GOOGL), Microsoft (NASDAQ:MSFT) and Apple (NASDAQ:AAPL) pay their H1B employees a salary that puts them above any proposed thresholds. Since they have considerable resources and need for top skills, removing the lottery component would allow them to gain a much larger share of the H1B talent pool. Because labor supply for general computer science skills is very healthy, there are few potential drawbacks for these firms. Facebook, in particular, would benefit as the highest paying employer. Having their former angel investor Peter Thiel as Trump's top technology advocate means that their perspective is surely well represented.
Losers
The most obvious is Cognizant (NASDAQ:CTSH), a target of national hatred after the Disney scandal where American employees were forced to train their Indian replacements. At 95,815 H1B application, they are by far the most prolific employer - this is 3 times higher than the 2nd place Wipro (NYSE:WIT) with 30,530 applications. Since they have an average salary of only $75,641, it is unlikely that they will be able to continue to operate as profitably after any of the proposed legislation passes.
Conclusion
None of the potential changes on the horizon attempts to reduce the number of visas allocated. Reforming the H1B program has been a bi-partisan issue for years now, and the current attention it's being given is a good thing for reputable companies and entry-level IT workers alike. This is a great time to bet on innovate industry-leading names, while divesting from temporarily profitable bottom-feeders.
Disclosure: I/we have no positions in any stocks mentioned, but may initiate a long position in FB over the next 72 hours.
I wrote this article myself, and it expresses my own opinions. I am not receiving compensation for it (other than from Seeking Alpha). I have no business relationship with any company whose stock is mentioned in this article.