Introduction
A while back, I wrote this article about Teva (NYSE:TEVA), analyzing their acquisition of Actavis [the generic unit of Allergan (NYSE:AGN)]. It was a +$40 Billion acquisition, and I commented about investor overreaction to the delay in FTC approval. When that approval came, I expected the company to rebound in the short term, and for Teva to continue to grow inorganically for the future. After circling back to Teva, I recognize that this is a company I certainly would refrain from investing in, and I will use this piece to explain why.
Healthcare Consolidation May Become More Difficult
Humana (NYSE:HUM) and Aetna (NYSE:AET), two leading healthcare insurance corporations, hit a snag in their deal a few weeks back when a Federal judge halted the merger. According to Seeking Alpha's Wall Street Breakfast, the key reason was that:
The mergers would have lead to less competition and higher prices for Americans
This was a big blow to consolidation in the healthcare industry, something that has been happening at rapid speed over the past few years. And then, late yesterday, Anthem's $48 Billion proposal for purchasing Cigna (NYSE:CI) was blocked by a Federal judge. These two mega-deals in the industry are now considered dead, and all these companies only have hefty legal fees to show for it, not to mention the resources allocated towards the merger in other departments in the organizations. While Teva is not a healthcare provider, they will still see a more difficult path ahead, as Federal judges are looking into competition in the industry more closely than before. Just the long delay for the Activis deal caused Teva's stock to drop over 20% as seen in this graph: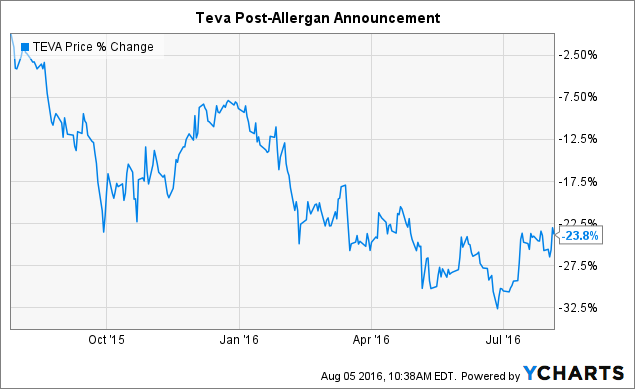 The stage is set for new regulations in the industry, and it will be difficult for Teva to continue to grow inorganically.
Why the Copaxone Ruling Matters...A Lot
Last year, Copaxone helped Teva reach peak performance in their specialty segment. Now, the nightmare ruling in the US Federal District Court in Delaware, which invalidated "all asserted claims of four patents" covering Copaxone, Teva is at risk of losing a key cog of their specialty segment. Teva will certainly appeal the ruling, but generic competition is about to enter the market courtesy of Mylan (NASDAQ:MYL), Novartis (NYSE:NVS) and Momenta Pharmaceuticals (NASDAQ:MNTA). They have rushed to develop the generic, despite the pending appellate case, as they believe that these are appeals that are rarely won. This drug is very important: it contributes approximately $4 Billion in revenue, and generics clearly want a slice in it. With such quick entry into the market, Teva stands to lose between 25%-50% of Copaxone's business this year, which is quite material.
CEO Steps Down
There is no denying that the past 18 months have been brutal ones for Teva believers: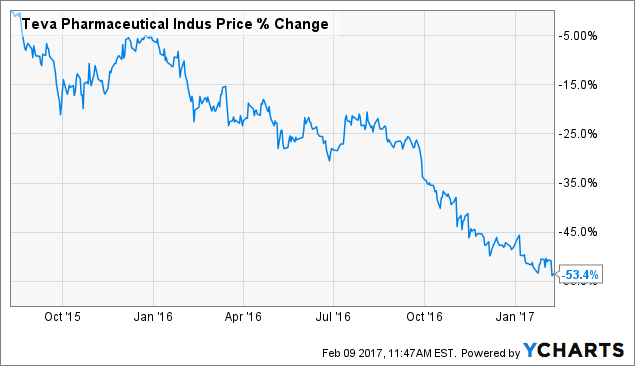 TEVA data by YCharts
Earlier this week CEO Erez Vigodman announced that he will step down from his post. This is a tremendous development, and another reason for concern. The strategic direction for Teva is now unclear, after difficulties with Copaxone, the Activis deal, and the bribery scandal. Losing an experienced member at the helm will not help in the least bit. The company's shares dropped immediately after the announcement.
This Bribery Scandal Is Very Important and Damaging
Teva was caught bribing officials in Russia, Ukraine, and Mexico, and are now in the middle of a police investigation in Israel as a result. They already paid the United States Justice Department over $500 Million in fees after they settled in a case determining whether they violated the Foreign Corrupt Practices Act. They were able to hide these bribes under lines such as "sales and marketing" or "consulting" fees, and they have been accused of falsifying documents to conceal bribes as well. Back in 2009, Teva signed an OECD agreement against bribing officials in foreign countries, and now violators can face up to seven years in jail. This is bad news for Teva, a company that has barely been retaining the good faith that investors were already losing.
Conclusion
Teva has a lot going wrong for it, and the landscape for their business is changing for the worse. I think that there are other companies much more worthy of pharma investors' money than Teva, and that fundamental changes in their business will harm them in the long run.
Disclosure: I/we have no positions in any stocks mentioned, and no plans to initiate any positions within the next 72 hours.
I wrote this article myself, and it expresses my own opinions. I am not receiving compensation for it (other than from Seeking Alpha). I have no business relationship with any company whose stock is mentioned in this article.