Despite recent gains for U.S. stocks, the U.S. market recorded its first relative-strength improvement against other global benchmarks in the past eight weeks. Financials moved back to the top of the sector rankings, and High Beta continues its factor reign.
Sectors: Financials retook the top spot after a brief two-week absence. However, it now faces a new challenge from Technology, which has climbed into the #2 spot. Materials provided the leadership for the past two weeks, and now it has slipped to third. Health Care and Telecom were the big movers this week, although in different directions. Health Care jumped from 10th to fifth as pharmaceuticals and biotech regained their footings. Telecom dropped four places to 10th and is now posting a negative momentum score. Energy also slipped into the red and remains on the bottom for a second week.
Factors: There was little movement among the factors this past week. High Beta remains firmly in the lead, but second place has turned into a near five-way tie. Small Size, Value, Market Cap, Momentum, and Fundamental all posted momentum readings within a point of each other, nearly eliminating any differences between the second and sixth positions in the relative-strength ranking. Momentum climbed out of last place five weeks ago and is now in the upper half. Meanwhile, Yield was at the midpoint five weeks ago but has been on the bottom for the past four weeks. The Low Volatility, Dividend Growth, and Yield factors provided the leadership from late 2015 to mid-2016, but they have been among the laggards the past seven months.
Global: Latin America holds onto the #1 spot for a third week, but its leadership margin is shrinking. Emerging Markets holds its second-place spot as China climbed two places higher and Asian and European emerging markets added to recent gains. Upside movers included Pacific ex-Japan, the U.S., and EAFE. This is the first relative-strength improvement for the U.S. in the past eight weeks. Canada and the Eurozone lost relative strength with Canada slipping from third to fifth and Eurozone dropping from fifth to ninth. Energy sector weakness was a contributing factor for Canada's slip, and a falling euro was the cause of the Eurozone's drop. The U.K. and Japan are hovering near the bottom, but they are still registering positive momentum. The Global Benchmark ETFs article defines and describes the 11 global categories used here.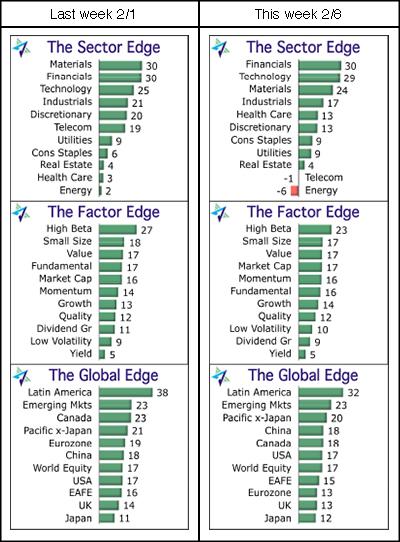 Disclosure: Author has no positions in any of the securities mentioned and no positions in any of the companies or ETF sponsors mentioned. No income, revenue, or other compensation (either directly or indirectly) is received from, or on behalf of, any of the companies or ETF sponsors mentioned.