Frontier Communications (NASDAQ: FTR) is one of the highest-yielding companies with a forward dividend yield of 12.3%. In the past year, the company's stock has trailed the industry and the main market benchmarks as shown below. The company's short interest of 223 million shares is near its all-time high. In this analysis, I will highlight the reasons why dividend investors should not be deceived by the high yield. I will also explain the reasons I believe the company's dividend is not sustainable in the short and long term.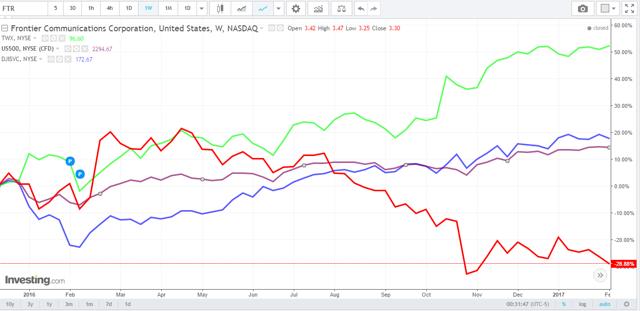 Source. Investing.com
About Frontier
FTR describes itself as the fourth largest Incumbent Local Exchange Carrier (ILEC) in the US. The company has more than 3.5 million customers and more than 2.5 million broadband subscribers. FTR serves both residential and corporate clients, providing them with data, voice, switched access services, video services, and customer premise equipment. The company generates all its revenues from the United States. The map below shows the areas the company operates.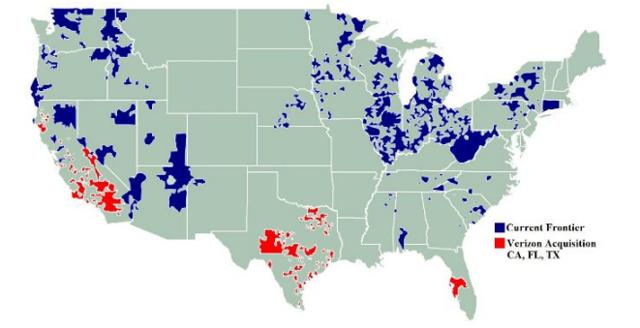 Source. Frontier
Frontier operates in a very competitive industry. Key competitors include: Time Warner (NYSE: TWX), AT&T (NYSE: T), CenturyLink (NYSE: CTL), and Sprint (NYSE: S) among others. In video, the company also competes with relatively new companies such as Alphabet (NASDAQ: GOOG) (NASDAQ:GOOGL), Amazon (NASDAQ: AMZN), and Netflix (NASDAQ: NFLX).
To compete effectively in this industry, it is important for any company to have the best services at the right price. The reputation of a company is equally important. Publicly available information does not rank Frontier well. Its Better Business Bureau (BBB) rating is F which is the lowest a company can get. At the Consumer Affairs, the company has a one-star rating. In Yelp (NASDAQ: YELP), the company has a 1.5-star rating. In this industry, these ratings should not be ignored because these are the websites would-be subscribers visit to find reviews by other customers.
Dividend not sustainable
In this part, I have created the table below comparing FTR with some of its competitors.
| | | | | | | |
| --- | --- | --- | --- | --- | --- | --- |
| | FTR | CenturyLink | Cogent Communications (NASDAQ: CCOI) | 8x8 (NASDAQ: EGHT) | AT&T | Verizon (NYSE: VZ) |
| Market Cap ($) | 3.871B | 13.13B | 1.865B | 1.383B | 253B | 197B |
| Enterprise Value ($) | 21.45B | 33.18B | 2.17B | 1.240B | 371B | 302B |
| P/E (TTM) | - | 14.21 | 132.26 | - | 19.74 | 15.02 |
| P/E (forward 1 year) | - | 11.03 | 36.98 | 58.78 | 13.51 | 12.17 |
| Dividend Yield | 12.73% | 8.99% | 3.68% | 0 | 4.68% | 4.72% |
| Dividend Yield (forward) | 12.73% | 8.84% | 3.90% | - | 4.76% | 4.78% |
| Payout Ratio | -178.5% | 126.8% | 488.7% | 0.00 | 90.91% | 70.56% |
| Profit Margin (%) | -3.17 | 3.47 | 3.06 | -2.08 | 5.82 | 13.9 |
| Operating Margin (%) | 10.32 | 15.23 | 15.00 | -2.44 | 14.87 | 21.48 |
Source. Author+YCharts
From the table above, a few things are evident. First, FTR has a negative trailing payout ratio of -178.5%. This means the company is borrowing to pay its dividend which is usually not a good sign. Investors want a company that pays dividends or repurchases its stock using free cash flow. Frontier's free cash flow has declined from $105 million in September 2015 to -$93 million in September 2016. From the annual cash flow statement found here, in 2015, the company's long-term debt went up to $6.48 billion from $1.87 billion in the previous year. In the same year, FTR sold stocks worth $2.67 billion.
In the table above, it is also clear that the company has the highest trailing and forward dividend yields. Before following the money, this would be attractive to many dividend investors. If you Look at the company closely and scrutinize its cash flow position, then you will realize that it's a value trap. A high dividend yield company is only desirable if a company is able to pay it with FCF.
In terms of profitability, Frontier has a profit margin of -3.17% and an operating margin of 10.32%. This profit margin, which is lower than the competitors analyzed, shows the company is losing money. The operating margin is also less than the closest competitors shown above. This is not good, especially for a company that does not have a unique competitive advantage.
Back to the financial position. In November 2016, the company was downgraded by Moody's to B1 from Ba3. The downgrade was attributed to disappointing Q3 results. This was particularly in the company's California, Texas, and Florida (CTF) markets which the company had acquired. CTF areas experienced huge subscriber losses. In conclusion, Moody's said this about the company:
Frontier's common dividend consumes approximately $500 million in cash annually. A dividend cut would improve Frontier's liquidity and its ability to repay debt. Moody's believes that a dividend cut represents an opportunity for Frontier to offset its operational weakness, reduce debt and maintain a strong liquidity position in advance of the large annual maturities that begin in 2020.
Final Thoughts
Investing in high-yield stocks is desired by many investors. However, before buying a company because of its yield, it is important for investors to have a look at the company's financial statements. The cash flow statement can easily tell you whether a company is a value trap. Frontier is currently in a tight spot. As shown above, the company has the highest forward and trailing dividend yield compared to its peers.
However, this yield does not come from its cash flow but from debt, which is not desirable. Also, the company's profitability margins are less than the closest competitors. Therefore, while the company is trading near its all-time low, it's still not a buy.
Disclosure: I/we have no positions in any stocks mentioned, but may initiate a short position in FTR over the next 72 hours.
I wrote this article myself, and it expresses my own opinions. I am not receiving compensation for it (other than from Seeking Alpha). I have no business relationship with any company whose stock is mentioned in this article.
Additional disclosure: Crispus Nyaga is a Wall Street writer focusing on companies in different sectors. While most of my recommendations have turned out well, some have not been quite successful. Therefore, before you buy or short a company, I recommend that you do your own independent research. Also, I am not a native English Speaker so kindly excuse any grammar and spelling mistakes. I do my best to publish on a regular basis. So, kindly follow me to receive instant updates when I publish.